Archived Arts & Entertainment
Take it or leave it: Foghat to headline Cherokee Blue Ridge Run
Tuesday, September 05, 2017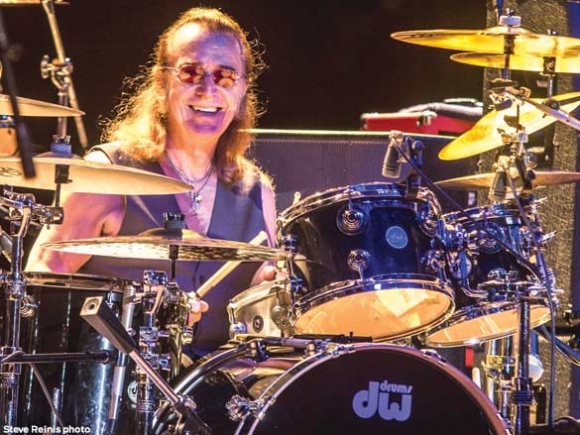 It's the intersection of American blues and British rock.
When you throw some Foghat onto the stereo, you're entering a realm as big and powerful as the tunes radiating from a quartet that was at the heart of the soundtrack of the 1970s.
Whether it's the dueling guitars of "I Just Want To Make Love To You" or the knock-down-drag-out drumming that kicks off "Slow Ride," Foghat remains culturally relevant and melodically wondrous, even some 46 years since their inception.
For decades, rock-n-rollers from every corner of this planet have cranked up and maxed out the volume dial when Foghat echoes from the speakers. The tone immediately gets into your bloodstream, where you find yourself pushing down a little harder on the gas pedal, blasting down the highway while riding high on razor-sharp guitar riffs, your voice trying in earnest to rise to the arena-filling vocals of the late, great "Lonesome Dave" Peverett.
The Smoky Mountain News recently caught up with Foghat drummer Roger Earl. The last remaining original member of the group, Earl is as jovial in conversation as he is candid about the rollercoaster ride of a band he's been part of for most of his life, and his love of the blues, which has always been at the core of Foghat.
Garret K. Woodward: [At 71], do you see any rebirth in how you view the world, and life itself?
Roger Earl: No. It's pretty much the same. My wife accuses me of acting like a 16-year-old sometimes. But, I think secretly she's enjoys it.
GKW: Well, it's that childlike wonder that makes great music…
RE: Yeah. Actually, I was always fortunate, even from the very beginning, when I played in my first band. It was with some friends I went to school with. They had a band before I started playing, and I joined them when I was 17. Me and the bass player were best friends at school. And the lead singer, Ray Dorset, went on to become the lead singer in a band called Mungo Jerry with my brother. And I always played with real good players, so I think that helped raised the bar, or keep it up there. Then, I joined Savoy Brown when I was 20. They were already an established band in London. I always played in bands that played the kind of music I enjoyed — blues, rock-n-roll, rhythm and blues. That's what I wanted to do. I didn't play in bands that played the popular music of the day. So, in some ways, I kind of missed out on it. Everybody else I knew, they played in bands that had done contemporary music, or contemporary for the time, and played other's bands stuff, whereas I didn't do that. You know, a couple of [our] songs were done by other people, but we always did our own arrangements. I gained something from it, and I think I also missed out.
GKW: It's funny that you mention pursuing blues and rock-n-roll rather than pop, because I guess in my perspective, it would show why your music is still relevant — with the blues it only gets better with age, at least in my opinion.
RE: Yeah. You know, one of the things a number of the folks in the States don't quite realize, is that America gave music to the world, and it has ever since the turn of the [19th] century. Blues, jazz, bebop, all the way through. Especially the 1940s to 1960s, there was a huge amount of music going on. And it crept over to Europe with the G.I.s [coming here in World War II].
GKW: Someone had talked to me about why I thought The Rolling Stones were still relevant today. And I said a big reason was that they have this big thread of blues [running] through them. Blues is always going to be that music that evolves, it's always going to be cool.
RE: Lonesome Dave was once asked why he thought blues music was relevant. And he said, "Because it's honest." And there is a certain honesty, there's a simplicity to it. You wake up and you start dealing with the world. And you either riot, or you tell stories about it, or you're involved in it.
GKW: What was the original intent with Foghat? What did you want the band to be right out of the gate?
RE: A blues band, but we turned it up to "11." [Laughs]. It was always rock-n-roll and blues. That's what myself and Dave grew up on and loved. Occasionally we veered off, but that was always the mainstay of the band.
Editor's Note: To listen to a free audio stream of the entire conversation with Foghat drummer Roger Earl, go to www.youtube.com and search: "Roger Earl Garret K. Woodward."
Want to go?
Foghat, Blue Oyster Cult and The Michael Allman Band will headline the Cherokee Blue Ridge Run on Sept. 8-10 at the Cherokee Fairgrounds.
Blue Oyster Cult will take the stage Friday, Sept. 8, with Foghat Saturday, Sept. 9, and The Michael Allman Band Sunday, Sept. 10. There will also be motorcycle shows and demonstrations, stunt performances, food and craft beer vendors onsite, with other activities to take place throughout the weekend.
Tickets are $15 per day, with kids ages 16 and under free with adult ticket purchase. For a full schedule of events, stage times, and to purchase tickets, visit www.blueridgerun.com.