Archived Arts & Entertainment
When my last song is sung: A conversation with Rob Ickes
Thursday, August 31, 2017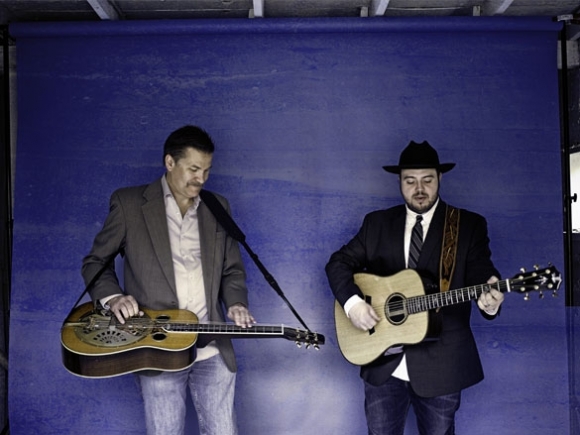 In the bluegrass world, it doesn't get much bigger than Rob Ickes.
Fifteen-time "Dobro Player of the Year" by the International Bluegrass Music Association (IBMA), Ickes was a founding member of Blue Highway, a group as innovative to the genre as they were successful.
After departing Blue Highway in 2015, Ickes has been crisscrossing the country with singer/guitarist Trey Hensley. The duo's album, "Before the Sun Goes Down, earned them a 2016 Grammy nomination for "Best Bluegrass Album."
Where Ickes' instrument bears the fingerprints of collaborations with Merle Haggard, Alison Krauss and Patty Loveless (to name a few), Hensley's performance background is a redwood forest of giants (Marty Stuart, Earl Scruggs, Johnny & June Carter Cash, Ricky Skaggs, etc.)
And yet, accolades aside, what remains between the two highly-acclaimed musicians is a sense of not only passion and pride in their work, but also of musical history and honoring the past in their tone.
Smoky Mountain News: What sets bluegrass apart from other genres?

Rob Ickes: When it's done well, it's pretty hard to beat. I enjoy that it's acoustic music. Any sounds or feeling you get out of your instrument are created solely by you, some wood, and some wires. There are no electronic amps or anything involved, so I think a good acoustic musician is part musician and part magician. It's like, "How are they getting all of those sounds and emotions out of wood and wires?" That's the challenge, and the fun of playing bluegrass.
SMN: With bluegrass, some might say there are two camps: neo-traditional and progressive. What do you see currently going on in the genre? Is it the same ole argument about the evolution of bluegrass? Or are we in a new era?

RI: Good question. I think back to when I was a kid and getting into it, there's was a lot of variety in the genre. You had very progressive groups like New Grass Revival and David Grisman's Quintet, but you also had more traditional sounds like Nashville Bluegrass Band and Hot Rize. And then you had Tony Rice, who was doing the real traditional Bluegrass Album Band stuff, but also the jazz instrumental albums. What I enjoyed about it was that each group had their own sound. You could not confuse NBB with Hot Rize. These days — to my ear — a lot of the bands have a very similar sound. I think the Bluegrass Album Band and Alison Krauss and Union Station have been such a big influence on today's bluegrass that a lot of folks are following that lead. And that's cool. But, one of the things that I really enjoy with this project with Trey Hensley, is that we're doing a lot of different, new stuff in our shows. We do some country, some blues things, and I think a lot of jazz-type improvisations on our instrumental stuff. So, it's been fun to try out some new things and try and figure out what's new that we can bring to the table.
SMN: What does the dobro allow you to do, musically and artistically, that, perhaps, other instruments don't?

RI: Well, the slide is pretty special. It allows a very vocal, soulful sound to happen. It's all I've ever played, so it always made sense to me, but playing with a slide makes it quite different from most instruments. I think it's the versatility that I enjoy. The dobro can work well in lots of different styles. I also love backing up a great singer. There is a conversation that happens — [and] it's pretty deep.

SMN: When you're in a pickin' circle, onstage or in a field with friends, what is that feeling like for you? What goes through your head when it all aligns seamlessly?

RI: Yeah, sitting in a circle and playing music with friends is always the best. When you perform a lot, it's nice to just play off stage because you're just enjoying it. You're not in a recording studio, there's no pressure, you don't have to listen back to anything you played and decide whether you want to redo it or not. You don't have to critique yourself. We tour so much that it's hard to find time for those relaxed situations. But, we did just have a nice jam with a couple other bands in Washington State a few weeks ago. It was a beautiful night and we were not in a hurry to leave the next day, so we stayed backstage after the festival and had great time picking with some of the other musicians — it was a blast.
Want to go?
Bluegrass act Rob Ickes & Trey Hensley will perform at 8 p.m. Saturday, Sept. 2, at the Cataloochee Ranch in Maggie Valley.
Tickets for the intimate performance are $35. A gourmet mountain dinner will be available for purchase before the show. Reservations are highly suggested. This show will sellout.
To RSVP, call 828.926.1401 or click on www.cataloocheeranch.com.