Archived Outdoors
'We never gave up hope': After 11 days missing, Tennessee teen walks himself out of the Smokies
Wednesday, August 30, 2017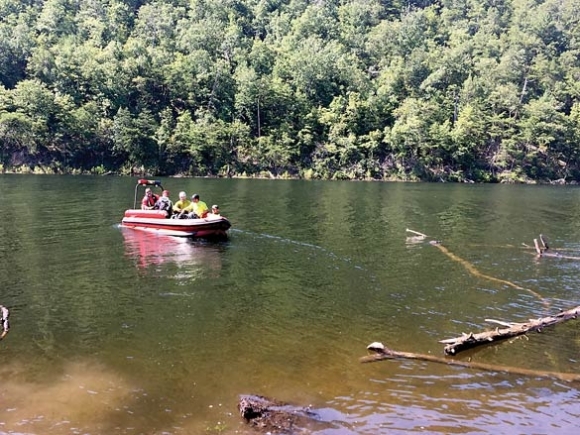 Austin Bohanan, 18, had been lost in the wilderness for 11 days when he woke up the morning of Aug. 22 to see boats floating on the water below the ridge where he'd slept.
Those boats were his ticket out of the nightmare that began Aug. 11 when he'd gotten separated from his stepfather Hubert Dyer, Jr., during an off-trail excursion in the Great Smoky Mountains National Park near Chilhowee Lake. Bohanan scrambled down to the water, which turned out to be the tail end of Abrams Creek, and waved down one of the boats. The boaters gave him a ride down to Shop Creek, where his family was gathered to support the crews searching for him.
"I was ecstatic," said Jamie Sanders, executive assistant at the park who had served as both a searcher and a public information officer over the course of the 11 days. "I got very close to the family, and every single day they were here in the morning when we went out. They had snacks and fruits and stuff that people who love them had brought them to give to us … That just made it that much more real when you get to know the family."
Though uninjured, Bohanan was transported to Blount Memorial Hospital in Maryville, Tennessee, for assessment and released a few hours later.
"So very thankful for a wonderful church service this morning," his mother Brooke Bohanan wrote on her Facebook page Aug. 27. "And very blessed to have the four of us sitting together for this service."
Eleven days in the wild
The search for Bohanan, which encompassed a 6,700-acre area, spanned 11 days and involved more than 100 searchers from multiple agencies, began following an off-trail day hike Bohanan and Dyer had made Friday, Aug. 11.
"At some point they got distance between them out of sight of each other, and that's one of the things that we see routinely even with people that are hiking on trail," Sanders said. "It's imperative for folks — especially if you have small children — to stay within sight of each other."
As to what Bohanan and his stepfather were doing out in this remote and rugged section of the park, Dyer told investigators they were looking for ginseng, Chief Ranger Steve Kloster said during a press conference Aug. 23.
"Right now our investigation reveals that possibly they could have been out there looking for ginseng, but what I want to tell you is that Austin (Bohanan) made it very clear to our investigators he's never done that before, so we need to do a lot more work and follow up on that because we don't know exactly," Kloster said.
Ginseng grows wild in the Smokies region and the dried roots can sell for hundreds of dollars per pound. However, removing any plant or plant part from the park is illegal.
Kloster said Aug. 23 that so far efforts had been focused solely on search and rescue efforts to bring Bohanan back to his family but added that law enforcement is also part of his job.
"Later on we'll look at the law enforcement component, but we're not there right now," he said.
After getting separated from his stepfather, Kloster said, Bohanan climbed to the top of the ridge and tried to call his mom — but the calls did not go through. So he spent the night on the ridge and the next day started walking down until he came to a creek, which Kloster believes was probably Tabcat Creek. He walked up the creek until it intersected with a larger creek, likely Panther Creek, and then spent two or three days hiking up Panther Creek until he realized he should have been going down the creek instead. He turned around.
"That is a very difficult area to hike," Kloster said. "There's a lot of steep gorges in that area, a lot of waterfalls in that area. Just saying he hiked down the creek sounds like it's easy. It's not. There's a lot of areas he had to get up off the creek, get up on the hill and hike around then go back."
Through it all, Bohanan had no food — he consumed nothing but untreated water from the creeks he was following.
"He told us he was getting this close to start eating bugs," Kloster said.
As the ordeal unfolded, Bohanan could see some evidence of the efforts to find him. At one point he heard one of the search helicopters and tried to wave it down, but the canopy was too thick for anybody to see him.
"Austin was a moving target," Kloster said. "We were either just ahead of Austin or just behind Austin."
However, actual signs of Bohanan's trail were few and far between. In 11 days with 15-30 people looking for him at any one time, the boaters on Abrams Creek were the first people Bohanan saw.
A relentless search effort
While Bohanan and Dyer were separated the evening of Aug. 11, Bohanan wasn't reported missing until about 6:30 p.m. Sunday, Aug. 13, with the ground search commencing the following morning. According to a Facebook post from Brooke Bohanan, she didn't find out her son was missing until Sunday evening either. Kloster said that initially the family had been confident they could find Bohanan themselves but that they called authorities when they realized they wouldn't be able to.
The search started with 13 members of the park's Search and Rescue Team looking in the woods near U.S. 129, with the number of searchers and organizations involved increasing with each passing day as the search unfolded. By Aug. 22, the search involved two search and rescue dog teams and 28 trained emergency responders representing Tennessee State Parks, Big South Fork National River and Recreation Area, Obed Wild and Scenic River, Backcountry Unit Search and Rescue, Blount Special Operations Response Team and the park itself. The Eastern National Incident Coordination Center and Virginia's Black Diamond Search and Rescue assisted with search management.
Search teams put in long hours to navigate the rugged topography of the search area, made even more difficult by the many downed trees toppled by beetle kills, the hemlock wooly adelgid, various windstorms through the years and a 2011 tornado. The downed trees often made the search more like climbing than hiking, with the accompanying holes in the forest canopy allowing rhododendron and mountain laurel to grow thickly throughout.
Sanders had done boundary work in that area before and was familiar with the challenges of penetrating that section of the park.
"I've done boundary work before where it shows I've done 2 miles worth of hiking and I've been hiking all day long," Sanders said. "Typically I can easily walk 3 miles an hour on a trail and literally doing 2 miles in an eight-hour day — that's the difference."
Some teams even camped out overnight in an effort to delve further into the search area. Crews focused on drainages, as people who are lost typically take the path of least resistance, avoiding steep climbs and thickets.
Kloster said that the teams were indeed looking in places that Bohanan had been or would soon be — they just kept missing him. By the time Bohanan emerged from the wilderness, the search had stretched on longer than any that Kloster can recall in his 29 years with the park.
But, while the public at large may have doubted the search would have a happy ending, the search team never entertained such doubts. Bohanan was young, he was fit and he didn't have any health concerns. Add in that temperatures stayed above 60 degrees throughout the search and that the area contained plenty of water, and odds were in his favor.
"We never gave up hope," Kloster said. "I was confident that he was in our search area and I was confident he was alive and we were going to continue with this until we found Austin (Bohanan)."
"I can say from all the searchers, the tenor never changed," Sanders added. "All of us knew that this was something he could survive."
The family, too, remained hopeful.
Every day, family members were there first thing in the morning to hand out snacks and fruit when the search teams left, and at the end of the day they had hot meals ready for dinner.
"Anything they could do to help us, they were supporting us 100 percent," Sanders said.
Back in Maryville, members of Bohanan's youth group were hiding rocks bearing his photograph and description. A candlelight prayer vigil was held one week after he was last seen. The community rallied in support.
"This event has brought our family and friends closer as well as opened my eyes to the unlimited love and caring from our neighbors," Bohanan's aunt Carrie Bohanan wrote on Facebook. "The park rangers, the search teams, the investigators, the TRWA agents, the churches, the hunters, the former Marines and just numerous others that are just too many to count showed such caring and compassion to others they had never met before. It was beyond moving."