Archived Arts & Entertainment
The music of the heart: 48th annual Smoky Mountain Folk Festival
Wednesday, August 30, 2017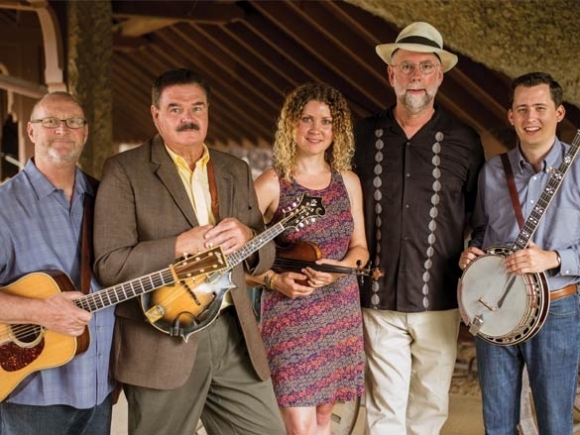 It gets to the point without distraction.
Folk music — the intersection of the human heart and the greater world — lies at the foundation of American culture. From the folk traditions and musicians of the British Isles that eventually made their way to the high peaks and low valleys of Southern Appalachia centuries ago, folk music is a timeless sound nurturing urgent lyrics.
"Music is both a piece of history and ever evolving," said singer-songwriter Lorraine Conard. "Some performers are historians who beautifully preserve snapshots of music as it was at a particular time and place, [while] others are part of the ebb and flow of the evolution of tradition, growing and stretching its borders — many performers are both."
Celebrating its 48th installment, the Smoky Mountain Folk Festival in Lake Junaluska is a testament to the strength and importance of these types of music (folk, bluegrass, mountain, Americana) as we push further into the 21st century, a time and place nowadays where so much noise tends to drown out our thoughts, concerns, hopes, and dreams.
"Well, I think that folk music especially resonates with a lot of people that are searching for some kind of authenticity, particularly in a time when so much of this country's culture has become homogenized," said William Ritter. "It's also a participatory music. So, much of it is meant for singing along, or dancing with. I think that millennials especially are drawn to creative outlets that they can be a part of and that's an important aspect of what folk music is all about."
A popular regional musician in his own right, Ritter was recently awarded an M.A. in Appalachian Culture and Music from Appalachian State University in Boone. He not only plays traditional music, he also deeply studies and researches it, sharing with the others the intricate and rich history of these tones and our ancestors who played them.
"I think that as a whole, our culture is suffering from this ironic crisis — we have all of these digital outlets to share our voice, but so many people feel like no one is listening." Ritter said. "Folk music can provide a real outlet, and you don't need to be a brilliant player to belong in that world. You can write your own songs, or draw on a rich universe of music by past musicians. And, there's no stigma of being a 'cover' artist. No, 'Oh, you play other people's music,' but rather, 'You play our music.'"
And as the festival nears the half-century mark, longtime mountain musician Carol Rifkin (also a beloved radio personality for WNCW 88.7 FM) recognizes the importance of the yearly event, especially as it finds footing in a modern world.
"The festival is not only entertaining and fun, it gives us that sense of security and continuity," Rifkin said. "Thousands of people will come to see the flash and whirl of dancers, hear the clatter of taps, ring of the banjo, hear fiddlers playing tunes that are centuries old. We know that we'll come together to perform in the long-time string band tradition and share that joy together as a community, for the public to see — that's priceless and important to preserve for the future."
Swirling around this year's festival will undoubtedly be memories of Steve Sutton. Long-time banjoist for festival staple Whitewater Bluegrass Co., Sutton unexpectedly passed away in May at age 60. A Grammy-nominated and multiple award-winner in the International Bluegrass Music Association, Sutton (a Waynesville native) was as talented as he was a jokester, and boy-o-boy could Sutton spin a yarn.
"Steve was not only my good friend for 40-plus years, but he was also a coach, teacher, arranger, and solid musician for Whitewater Bluegrass Co. and other regional bands," said Sutton's WBC bandmate Bill Byerly. "One thing I've learned about myself (with Steve's passing) is to appreciate every moment, especially with friends and musical family. I know without a doubt Steve would look down right now and say, 'Get with it' — the show must go on."
Want to go?
The 48th annual Smoky Mountain Folk Festival will be held Sept. 1-2 at the Stuart Auditorium in the Lake Junaluska Conference & Retreat Center.
Two nights of the finest traditional music and dance of the Southern Appalachian region, including Whitewater Bluegrass Co., The Trantham Family, Carol Rifkin, William Ritter, Lorraine Conard, Possum on a Whale, and many more.
The main shows begin at 6:30 p.m. both Friday and Saturday on the grand stage of Stuart Auditorium overlooking beautiful Lake Junaluska. Both nights will include a rich variety of the region's finest fiddlers, banjo players, string bands, ballad singers, buck dancers, and square dance teams as well as the marvelous sounds of dulcimer, harmonica, jew's harp, bagpipes, spoons, saws, and folk ensembles.
Tickets are $12 per person, with lodging packages available.
For more information, to see the full performance schedule and/or to purchase tickets, call 828.452.2881 or visit www.lakejunaluska.com.