Archived News
What's in the cards? Holdin' or foldin' — Haywood economic developers play to win
Wednesday, August 30, 2017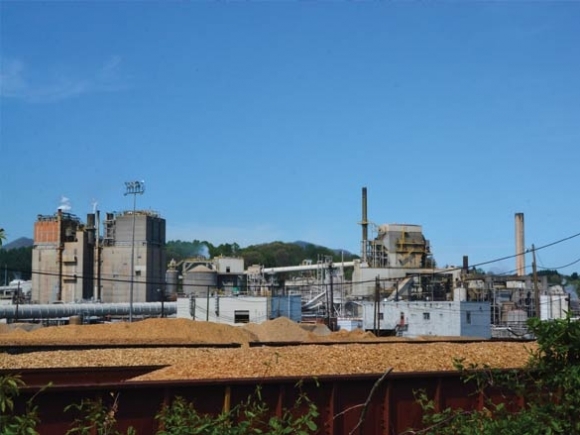 Since late spring, this Smoky Mountain News series on economic development has attempted to define the landscape in which Haywood County's economy operates.
Using one analogy — a bathtub filled with water — to illustrate the flow of cash into and out of the county, we've explored how some businesses contribute to the overall level of prosperity and other businesses detract from it by closing down or moving away.
Another analogy — that of a high-stakes card game — seems suitable to describe the competition amongst counties and cities across the nation for attracting or retaining those businesses.
Haywood County isn't an economic powerhouse, relatively speaking; it's easily dwarfed by regional neighbors like Asheville, to say nothing of the major metropolises like Atlanta, New York or Los Angeles.
But as with a card game, there's a certain level of buy-in required. And in the face of such regional and national competition, Haywood's bankroll is relatively small, which begs the question — is it even worth playing?
That answer is a resounding yes.
Wage growth is moderate to strong across all economic sectors, job growth remains steady, new businesses are opening, existing businesses are prospering, lagging sectors like health care are growing stronger, traditional sectors like agriculture are finding new markets and, most importantly, diversification continues unabated.
While all the rosy results aren't directly attributable to the county's economic development organizations, some of the biggest ones are, and as the Haywood Economic Development Council and Haywood Chamber of Commerce continue to play the hand they're dealt, the players — Mark Clasby of the EDC and CeCe Hipps of the Chamber — have a pretty good idea of what's in the cards for Haywood County's economy.
The ROI
The Haywood County EDC operates on a yearly budget of $223,000 — almost all of which comes from the county, with the exception of $750 from the tiny town of Clyde.
What would Clasby do with a budget double that size?
"You could add staff," Clasby said, somewhat taken aback at the unusual question — economic development funding can be a tough sell in many communities. "What I see in a lot of operations is somebody who's working full time with existing industry. Or, you could increase the advertising and marketing budget as well, or the travel budget. Before the recession, when the county had to cut back a lot of expenses, I decreased the travel budget pretty significantly."
Even with the decreased budget and the slim operation run by Clasby, county residents pay an average of $3.72 each year to fund the efforts of the EDC.
So what do they have to show for it?
"Definitely the Dayco project — turning that into a mega-retail center for us," Clasby said. "Phase one was the Walmart and the Best Buy, and phase two was the Belk, Michael's and PetSmart. They've been very successful."
It's hard to imagine Waynesville without a Walmart, but it didn't just happen of its own accord.
"It was very challenging," he said. "We had an old manufacturing building, but it was also a brownfield. So I worked on that for three or four years, finding the right developer, and then dealing with the environmental problems."
Over those three or four years, there was plenty of opportunity for that deal to fall apart, including the remediation of the toxic byproducts left behind; with constant effort — and a fair amount of travel. Clasby served as a central point of contact — a liaison, if you will — with all parties involved in the development.
Another success story comes from one of Haywood County's best-known brands —Sunburst Trout Farms.
"Trying to help them with their operation and expanding into the Waynesville industrial park was very important," Clasby said.
But maybe the most important, from a retention standpoint, was Plus Linen and Uniform Service, which was washed out of Canton during the 2004 floods, and could have been washed out of the county altogether were it not for Clasby and the EDC.
"They have another operation in South Carolina, so they were ready to roll," Clasby said.
Plus Linen eventually found a new home in the Beaverdam Industrial Park, which was partially paid for with proceeds from the development of the old Dayco site.
"It takes a lot of partners," Clasby said. "It involves a lot of cooperation. I didn't do it all. It involves the county as well as the municipalities."
How does a county do that without a dedicated development authority? The obvious answer is, it doesn't.
The Haywood Chamber of Commerce is part of that equation as well, but the Chamber's numbers don't quite add up the way the EDC's do.
"We don't get any help from the city [of Waynesville] which is very unusual in the chamber world," said CeCe Hipps of her organization's $239,000 annual budget. "Unfortunately, we are put into the melting pot of all other nonprofits, so when you're making decisions on who to fund, it doesn't pull at anyone's heartstrings."
Like, say, an animal shelter.
But the efforts of the Chamber don't cost taxpayers a cent.
"We raise all of that through membership dues, sponsorships and events," she said. "It's very important though. Can you imagine this community being without a Chamber of Commerce?"
So what, exactly, do county residents get for that $0 per year cost?
"The main thing we go back to is we're a certified entrepreneurial community. This means we have all the resources in place to help any business succeed on any different level," Hipps said. "It's not one individual — it's not the Chamber doing everything, it's partnerships."
As an example, Hipps cited the Aug. 21 solar eclipse — a regional tourist event years in the making — as how the Chamber helps Haywood businesses compete for tourist dollars that literally could have gone anywhere along the path of totality from Oregon to South Carolina.
"It was nonstop phones ringing, nonstop people walking in wanting eclipse glasses," she said in the days leading up to the celestial show that drew visitors from across the region to Haywood County. "We had to coordinate all the events with the merchants on Main Street — we worked with Buffy [Phillips] at the Downtown Waynesville Association. We worked with Theresa [Smith] at the Maggie Valley Chamber. We worked with Lynn [Collins] at the Haywood Tourism Development Authority. We talked to Canton and to Clyde, to pull together all the different events that were going on. We communicated with emergency management, communicated with our hotels — are they full?"
Not answering those phones means many tourists may have passed right by Haywood County without leaving any of their dollars at BearWaters Brewing in Canton, or the Sunburst Market in Waynesville, or, of course, the Walmart — all businesses that have benefitted from that $3.72 Haywood residents pay each year to support economic development activity.
Based on what's spent and what's returned, it remains clear what's in the cards for Haywood County, which is one hand that's hard to beat.