Archived Reading Room
None too likeable characters, but a good story
Wednesday, August 23, 2017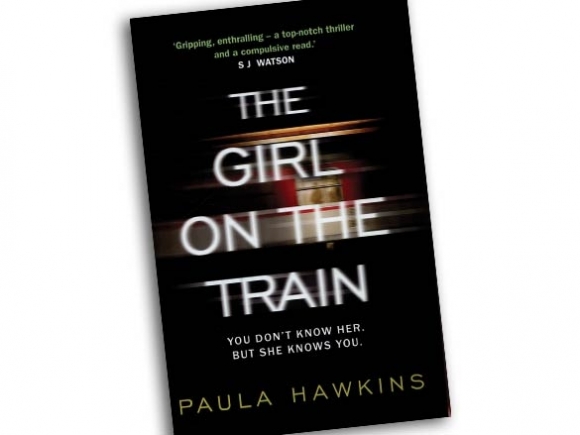 Alcohol, alcoholism, and alcoholics appear frequently in literature.
Shakespeare's Falstaff is a son of Bacchus. Lawrence Block's Matthew Scudder and James Lee Burke's Dave Robicheaux are both detectives who emerge from the dark, beer-damp bars of New York and New Orleans, respectively, to join AA and battle their demons as well as murderers and thieves.
In Ernest Hemingway's The Sun Also Rises, so many glasses are hoisted and so many bottles emptied that alcohol nearly becomes a character in and of itself. Jack London, Jack Kerouac, Stephen King, and dozens of other writers have written memoirs and novels about their affinity for juice. In Under The Volcano, considered by many one of the great novels of the twentieth century, Malcom Lowry gives us the penultimate picture of an alcoholic, Geoffey Firmin, an Englishman and ex-consul living in Mexico, cuckold and drinker extraordinaire.
Now we can add another book to this list: Paula Hawkins' The Girl On The Train (Penguin Group, 2015, 323 pages).
Off on a road trip 10 days ago, I snatched up an audio copy of The Girl On The Train from the public library. The title rang a bell, the description on the casing grabbed my attention, and I gave it a shot. For approximately six hours, I listened to the story while driving on my trip and about town, but impatience turned me once again to the library, where I checked out the book, brought it home, and read in a frenzy to its finish.
Three female characters narrate this tale of murder, lies, wishes, and love. One is Meagan, a woman in her late twenties with a checkered past, haunted by ghosts of regret, driven by so strong a need for affection that she inevitably cheats on those who do love her. The next is Anna, uptight but willing to steal away a woman's husband, a loving wife and mother who is plagued by the ex-wife.
Which brings us to Rachel, "the girl on the train," whose drinking has cost her both her job and the husband she loves. While traveling to and fro by train between her flat and London, pretending to go to work to fool her landlord and friend Cathy, Rachel daily watches for Meagan and her husband Scott, strangers to her who spend a great deal of time on their terrace. Seeing that the couple appears madly in love, Rachel obsessively fantasizes about her ex-husband, Tom, who has married Anna. She makes drunken phone calls to Tom in the middle of the night, sends him emails full of rage and despair, and threatens Anna and her baby.
And then Meagan goes missing.
Her disappearance brings all of the novel's main characters — Rachel, Tom and Anna, Scott, a psychiatrist named Kamal, a red-haired man who once rescued Rachel while she was drunk — together in a series of clashes and revelations. When the police become involved, the reader is as mystified as they are about Meagan's fate.
To tell more of the story would be to destroy the ending. The last 30 pages packed a powerful punch, and even to the last few pages I was reading without a clue as to what might happen.
Some comments on the book in general, however, are in order.
First, the characters are none too likeable. I came away with distaste for all of them. Too many lies, too many stupid moves. At one point, when I was listening to the book on CD, Rachel lies to the police in front of her friend Cathy, and I audibly moaned, turning off the disc for a while and wondering whether continuing the book was worthwhile. (It was.)
In addition, several of the characters come across as obsessively jealous or psychotic. Scott's brief imprisonment of Rachel; Tom's behavior toward women; Anna's adultery and marriage; Meagan's yearning for men; Rachel's drinking and lies: only a newborn baby and a detective in A Girl On The Train seem innocent of borderline psychosis.
That said, the depiction of Rachel's drinking by Hawkins should strike home for anyone who is an alcoholic or who is close to someone who drinks heavily. Whenever she encounters stress, Rachel turns to wine or stronger stuff, preferably gin and tonics. She falls down from drink, suffers bruises on her legs from bumping into furniture, becomes angry and violent while drinking (or does she?), and worst of all, suffers from blackouts.
Hawkins finely dissects a drunkard's blackout. A blackout is not forgetfulness. It is not waking up and having trouble remembering some incident, only to have the light click on when a friend or a loved one tells you what you did. Thorough Rachel, Hawkins gives us a true blackout: a hole in the memory beyond forgetfulness, a gap of time beyond replacement. Rachel really doesn't remember until late in the book what took place on a crucial night because those events are gone, rubbed away by alcohol.
Though we eventually learn that her blackouts are partly contrived by another party, who lies to her about her behavior while drinking, Hawkins does give us what the drinker feels, the confusion, the absence of all memory, the knowledge that something has gone wrong without knowing what that something is.
Looking for a book to keep you up and reading late at night? The Girl On The Train may do the trick.