Archived Arts & Entertainment
Play by your own rules
Wednesday, August 23, 2017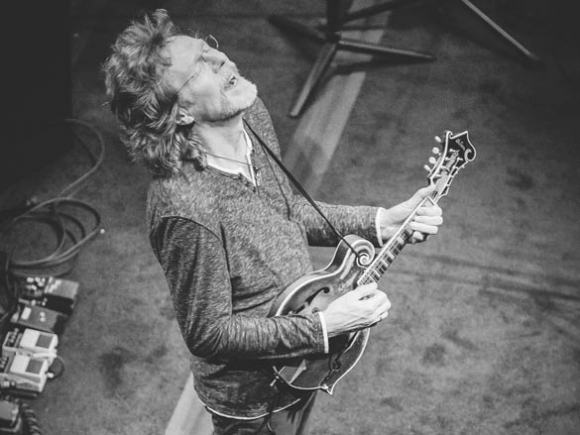 An iconic mandolin and fiddle player, Sam Bush has rewritten the game of bluegrass, especially when it comes to live performance within the genres of string, acoustic and rock-n-roll music.
Among his many accolades and awards was his 2001 "Album of the Year" Grammy as part of the "O Brother, Where Art Thou" film soundtrack. With his early days as a member of the groundbreaking New Grass Revival, to his current role fronting the endless touring juggernaut that is the Sam Bush Band, he continues to be an open book — in inspiration and in conversation.
Garret K. Woodward: One of the themes I've been writing a lot about over the years with bluegrass is [about] these two camps — the neo-traditional and the progressive. You as a performer have always been able to straddle that line and be accepted by both camps. What do you see right now when you look at where bluegrass is? And if the lines are getting blurry, is that a good or a bad thing?
Sam Bush: I mean, what is and what isn't bluegrass? I know what I think bluegrass is. Our band can have an appeal to bluegrass style audiences, as well as progressive audiences who have never heard bluegrass before. So, to a young rock-n-roll style audience, they see us come on. We've got a banjo, acoustic guitar, mandolin, up right bass, then, as far as they're concerned, no matter what we play, we're a bluegrass band. You put us in a traditional bluegrass situation, and we play like we normally play, we're a rock band to them. As far as the lines being blurred, maybe that is true. But, if you take a listen to satellite radio and the bluegrass channel on Sirius XM, it's a wide variety. But, it's funny how what is now kind of accepted more as "what bluegrass is" amongst younger bands — and by younger I mean under 40 years old — they sound a lot like newgrass music like New Grass Revival, J.D. Crowe & The New South, The Seldom Scene.
GKW: When you came up, you were considered maybe a threat to bluegrass because maybe you didn't "look the part." But, you were a man of the times [back then]…
SB: Well, we were just playing and dressing like people our age. But, one of the things is that people were aware how much we respect the bluegrass tradition. Even the band I have now, when we play a bluegrass style number — it's bluegrass. We know the bluegrass rules. The musicians always treated us great in the [1970s and 1980s], because they knew we loved bluegrass. I mean, Bill Monroe himself didn't really expect everyone to play just like him.
GKW: And [Bill] was a rebel, too, at heart.
SB: Totally. I would've loved to have been standing around in 1946 when [Bill] hit the Grand Ole Opry with Flatt & Scruggs and Chubby Wise on fiddle. That must have been like string band jazz to the audience who only ever heard old-time string bands like The Skillet Lickers and The Possum Trotters. What Monroe was playing must've been hillbilly jazz for those people.
GKW: What is your definition of bluegrass?
SB: The music that Bill Monroe started in 1946 with Lester Flatt and Earl Scruggs, and Chubby Wise, and later Benny Martin on the fiddle. That is your classic style bluegrass ensemble. And as you and I are doing this interview, a few walls away from us, The Del McCoury Band is playing. Del is a direct descendant of the Blue Grass Boys from 1963 as Bill's guitar player then. Del's quintet is the classic bluegrass quintet that Bill Monroe started. Nobody has done more for Bill Monroe's music in the last 30 years than Del McCoury.
GKW: What do you see with the IBMAs (International Bluegrass Music Association)? Some people might seem [like] it's a little too rigid…
SB: I think bluegrass can be a sensitive issue for some people. [They] want it to grow, but they also want it to stay their own little club that we're the only ones that are in it. So, for someone like me, that always made a living with a mandolin and a fiddle, it's just an interesting dance you do to accomplish that. But, with IBMA and satellite radio, that's done nothing but help all of us musicians, give us more opportunities to work. As we look (points to nearby corner), there are two Fender mandolins on stands and my slide mandolin. I'm a boundary stretcher, obviously.
GKW: Is it weird, in a good way, being that boundary stretcher, now you're looked at as part of the pillars of the genre these days rather than just an outsider?
SB: Oh, yeah. It's kind of an interesting situation. In less than a month, I'll be 65 years old and I'm the "establishment." But, that's the great part — there's room for all of it. Del is 75 [years old] or more. So, it's a great time, because we have youngsters that are playing progressively and doing their own thing, and you have youngsters that are doing their own thing and they're playing really traditionally, and they're influenced by Del. I think it's a pretty healthy time. I saw Alison Krauss last night on a late night show. It wasn't with Union Station. She's made a country record. She's been great for the genre of bluegrass music, and has really influenced a lot of ladies to sing and play, and get out there and do it. Now Alison is "establishment," and I'm sure somebody might criticize her for what she did last night, when, in fact, I applaud her. You know, you just want to try new things throughout your career.