Archived Arts & Entertainment
Balsam Range turns 10 atop IBMA nominations
Wednesday, August 23, 2017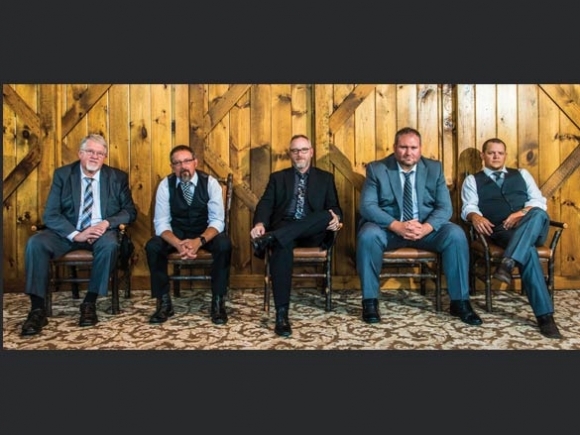 Leading this year's International Bluegrass Music Association awards with eight nominations, Haywood County group Balsam Range is atop the mountain of bluegrass.
Winning IBMA "Entertainer of the Year" in 2014 solidified Balsam Range's place in the bluegrass world as one of the most important and innovative acts of its kind out there. But, awards aside, the quintet broke new ground with their 2016 album "Mountain Voodoo," a step in the right direction, especially in terms of blurring the lines between bluegrass, country, and Americana sounds.
This "catch me if you can" attitude has always been part of the identity of Balsam Range. But, these days, that attitude has become something of a feather in their caps, especially when the possibilities are wide open for them moving forward.
Though the IBMA award showcase is next month in Raleigh, Balsam Range guitarist Caleb Smith is already reflecting on not only the nominations, but also where his band stands after its first decade together.
Smoky Mountain News: 2017 marks the 10-year anniversary of Balsam Range. What does that number – 10 – mean to you, personally and professionally? As well, how does this decade period measure up against other long-term projects and groups you've been part of?
Caleb Smith: You can look historically at any genre of music and 10 years in the business is a huge feat, much more with the same five members. It's a testament of dedication and reward. Balsam Range has accomplished more than I would've ever imagined possible due to dedication. Dedication to presenting the greatest music we can create to the world.
SMN: Balsam Range has been nominated for eight IBMA awards this year, leading the pack with Earls of Leicester. You guys have literally won every award possible already in the IBMAs. But, what does leading in nominations this year mean to you? And how do you avoid losing the enthusiasm for the nominations and awards when some might look at it as "old hat"?
CS: I don't think any of us take for granted the nominations. It's a great honor to be nominated by our peers year after year. It says to me that we continue to do something right. We strive to find great lyrics to set our music apart in the genre, in that when someone hears our music on the airwaves there's no doubt that they know it's Balsam Range.
SMN: The IBMA has vocally mentioned its mission to ensuring its future by becoming more inclusive towards others either on the fence of bluegrass or just outside the lines of the genre. What are your thoughts on that? What does that say about the direction of the IBMAs, of trying to straddle traditional values and sounds, but also keeping one foot in the inevitable progressing of the genre?
CS: It's a must. All music evolves and grows with each new generation. It keeps the tradition healthy for everyone. I feel that there needs to be more awards geared toward the newer generation of bluegrass. Newgrass awards. Jamband awards. Jazzgrass, and so on. I know a lot of traditional minded bluegrass fans would never adhere to it, but I believe it would strengthen the genre and make it more healthy and solid.
SMN: Now that Balsam Range is entering its second decade, a decade where y'all are at the top of your game, in recording and touring, where do you see the ship moving towards?
CS: We'll continue to strive to create great music and reach new ears at any level possible.