Archived Arts & Entertainment
The 'Canton Comeback'
Wednesday, August 23, 2017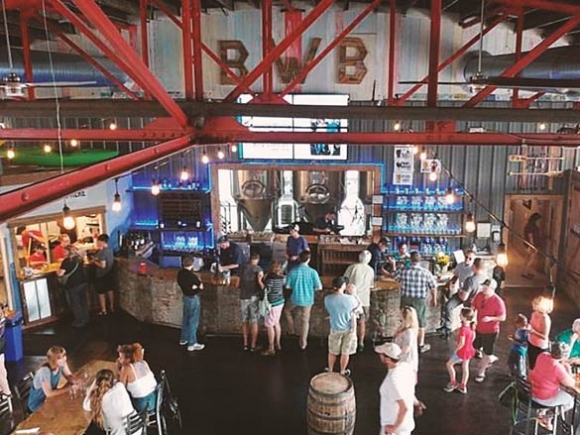 When the Town of Canton relaunched its Labor Day Festival a couple years ago, it was in a crucial move to reinvent the century-old event — and also the downtown itself.
The story of Canton is something of a template for countless small towns in America looking to find a new footing and identity to navigate an uncertain economic future. For a downtown that was — by most accounts — seemingly written off by the rest of the region as "dead" and "abandoned," things sure have changed for Canton in recent memory.
"Of course, I think everyone is becoming aware of the growth and updated identity that Canton is taking on," said Kevin Sandefur, co-owner of BearWaters Brewing, which recently opened its new brewpub on the Pigeon River in downtown. "Soon, there will be a whole new age demographic in leadership positions. The pride that comes from a town that continues to make American products now has a serious music festival and a contender of a craft brewery. It's like the ultimate Bruce Springsteen town — things are only going to get better."
Just the last couple years, several new businesses have popped up in Canton. Anchoring both ends of downtown are the Southern Porch and BearWaters Brewing. The restaurant and the brewery have each become beacons of commerce, social hubs of energy and enthusiasm, where locals and visitors alike find themselves not just passing through Canton anymore, but actually stopping and enjoying themselves.
"The Town of Canton has put forth the effort, and it really shows everyone — locally and regionally — that they really care about the people of Canton," said Nathan Lowe, co-owner of Southern Porch. "Our goal when we opened was to help get the ball rolling in the Town of Canton, so that other businesses would consider opening in Canton. And since we opened in April 2016, we've seen several new businesses come to Canton — that in itself is exciting."
And with national bluegrass headliners lined up for this year's Labor Day Festival, town officials will be the first to say that though the road is long, it's also bountiful, especially with the right attitudes and folks ready to make something of pride and progress for their community.
"To have Sam Bush and Ricky Skaggs join Balsam Range and others at Labor Day is further proof of the 'Canton Comeback.' The whole celebration is a dedicated effort to show the whole region that a small mill town can fight its way back," said Canton Town Alderman and mayoral candidate Zeb Smathers. "With the opening of many new businesses including the success of our first brewery, BearWaters, we are excited to show off our success through great music and food. We hope by doing so that we encourage people to move to Canton, open businesses, and join us as we keep pushing forward."