Archived Arts & Entertainment
This must be the place: 'Tired, but wiser for the time'
Wednesday, August 23, 2017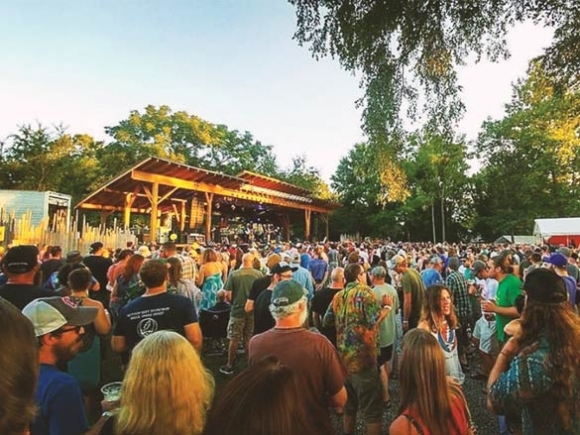 The trifecta.
By this past Monday morning, I was running on fumes heading back to my humble abode in downtown Waynesville in preparation for the solar eclipse. Three nights. Three bands. Three genres of music — and also attitudes — that shaped who I ultimately am today.
It all started late Friday afternoon. Sneaking out of the newsroom early, I jumped into my old rusty, musty pickup truck and bolted for Knoxville, Tennessee. A recently opened large-scale venue in the Old City, The Mill & Mine is similar to The Orange Peel in Asheville, but you can actually move around during a filled-to-the-brim event.
Southern California punk rock legends Social Distortion turned The Mill & Mine into a scene I haven't really been immersed in since I was a teenager. It was a crowd of beautiful chaos, wrinkled faces forever young in the presence of songs immortal, and the decades-old melodies of one of the great, innovative bands of the 1990s.
You see, back in the 1990s, this journalist was a punker. Still am, in many ways. I had the blonde mohawk atop my black hair. Scuffed Converse shoes. Studded belt. Snarky t-shirt two sizes too small. And, most importantly, an attitude of anarchy in its purest form: You do you. I do me. It's as simple as that.
Back in high school, which was a mile or so from the Canadian Border in Upstate New York, my cronies and I would skip across the international barrier and shoot up to Montreal less than 45 minutes north. A punk rock haven, we'd pig-pile into these shady mechanic's garages turned rock clubs. A cloud of cigarette smoke billowing over the restless crowd. Cheap Canadian pilsners poured out for any and all within reach. And the sounds of some of the loudest and most wildly vivacious bands I've ever had the pleasure of witnessing live.
Heading back to Waynesville this past Saturday morning, the memories of my mohawk and studded belt were quickly swapped out for ripped tie-dye shirts and sandals as the nose of the pickup was aimed for Dark Star Orchestra at Pisgah Brewing in Black Mountains. With 2,300 in attendance, the sold-out performance conjured another 33-percent of my adolescent musical and social DNA: The Grateful Dead.
What DSO does is not only play the beloved Dead tunes, they aim to seamlessly recreate the ambiance of love and freedom solely unique to a Dead show. It's one of those things where if you closed your eyes and just suspended your imagination, you'd swear Jerry and Bobby were right up there, radiated the band's message of hope and compassion — something in far too much demand these days.
Growing up within an hour of Burlington, Vermont (and on the Vermont border itself), the music of the jam-band scene was always there, as a kid and even now. I swear, those born in the North Country come out of the womb and are handed a copy of Strangefolk's "Weightless in Water," Phish's "Lawn Boy" and the Dead's "Skeletons from the Closet" as parting gifts from the hospital.
It was finding a ride to the nearest Ratdog or Assembly of Dust gig, or driving 12 hours straight to see Phish play a weekend festival on an abandoned Air Force base in northern Maine (which my best friend and I did on a last-minute whim in 2003). It was wandering into a crowd of tens of thousands, all strangers soon to become fast friends over a friendly joint being passed on down the line. Puff, puff, pass, my brothers and sisters. It was standing in the mud of an extended encore jam, smiles all around, and realizing you could do or be whatever you wanted to do or be in your life, so long as you never forget the most important voice — your own.
By the time this past Sunday night rolled around, I was headlong into a set by The Magpie Salute at the Diana Wortham Theatre in Asheville. Emerging from the ashes of The Black Crowes (who broke up in 2015), co-founder Rich Robinson and former members Sven Pipien and Marc Ford have found new, fertile footing in one of the premier rock acts out there — anywhere — with this ever-evolving project.
The Magpie Salute is a juggernaut of pure rock-n-roll swagger, the shock and awe of a triple-guitar assault on the audience, fueled by thunderous kick-drums and songbird backup soul singers. It's not only a "salute" to the Crowes and their legacy as one of America's greatest rock acts, it's also a wave goodbye — and also hello — to those legions of folks (myself included) whose lives are forever impacted by the music created by the Crowes, melodies that make up a good chunk of the soundtrack of my life ("Wiser Time," my all-time favorite song, was the show opener Sunday).
"To me, the thing that is most humbling … is that there literally is a generation or two of people that have grown up, and the music that I got to make with my friends is their music," Ford recently told The Smoky Mountain News. "Meaning, that's the music that they came of age to, which is the music that stays your music forever — until the day you die."
Life is beautiful, grasp for it, y'all.
Hot picks
1 Americana/bluegrass icon Peter Rowan will perform at 8 p.m. Sunday, Aug. 27, at the Cataloochee Ranch in Maggie Valley.
2 Popular Western North Carolina funk/soul act Lyric will perform during Concerts on the Creek at 7 p.m. Friday, Aug. 25, in Sylva.
3 Kentucky Americana honky-tonk act Nick Dittmeier & The Sawdusters will perform at 7 p.m. Friday, Aug. 25, at BearWaters Brewing in Canton; and at 8 p.m. Saturday, Aug. 26, at Nantahala Brewing in Bryson City.
4 The next Creating Community Workshop will be "Fluid Watercolors" with Allan Grant at 10:30 a.m. Saturday, Aug. 26, in the Atrium of the Jackson County Public Library in Sylva.
5 Soul Infusion Tea House & Bistro (Sylva) will host The Maggie Valley Band (Americana) 8 p.m. Saturday, Aug. 26.