Archived News
Governments across the nation consider removing Confederate monuments
Wednesday, August 23, 2017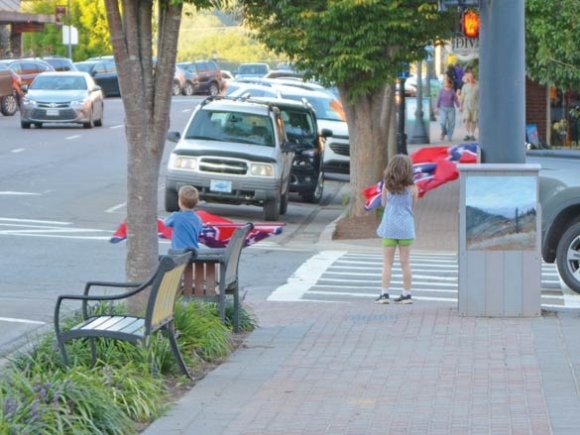 The demonstrations in Charlottesville are already shaping up to be a watershed moment in American history; consequently, local governments across the United States — and even Canada — have begun reacting to the monumental issue of Confederate memorials in varying ways, and to varying degrees.
Beginning in the Civil War border state of Maryland, where Baltimore Mayor Catherine Pugh ordered the removal of four Confederate monuments including those honoring Robert E. Lee and Thomas "Stonewall" Jackson Aug. 16, proposals to eradiate Confederate imagery have not only surfaced, but in some cases been enacted.
Duke University President Vincent E. Price approved the removal of a statue of Robert E. Lee that had been literally defaced by protestors days prior.
A statue in Gainesville, Florida, was removed from the grounds of a county administration building to a private cemetery Aug. 15.
In St. Petersburg, Florida, a marker for the Stonewall Jackson Memorial Highway was also removed Aug. 15 along with a Confederate monument in Los Angeles' Hollywood Forever cemetery and a plaque in Montreal, Quebec, commemorating Confederate President Jefferson Davis' postwar residence there.
On Aug. 16, the San Diego City Council removed makers denoting the Jefferson Davis Memorial Highway just as two markers honoring Robert E. Lee were being removed from a Brooklyn, New York, park.
A Franklin, Ohio, monument was removed Aug. 17, as was one in Madison, Wisconsin.
One day later, Helena, Montana's Confederate Memorial Fountain was removed.
Although the number of Confederate monuments being removed and relocated grows by the day, there are still almost 1,500 remaining. In the jurisdictions that play home to them, calls for removal greatly outnumber the actual removals that have already taken place — for now.
U. S. Senator Cory Booker (D-N.J.) said last week he intends to introduce legislation proposing the removal of several Confederate statues in the Capitol; House Minority Leader Nancy Pelosi also supports the notion.
Charlottesville, Virginia, Mayor Mike Signer recently changed his position and called for the removal of the statue of Robert E. Lee at the center of his town's demonstrations Aug. 12.
Richmond, Virginia, was the Confederacy's capital until it fell to Union forces on April 3, 1865, but the Confederacy is alive and well on Monument Avenue, where imposing statues of major Confederates Lee, Jackson, J.E.B Stuart and Confederate Naval Commander Matthew Fontaine Maury stand prominently. Mayor Levar Stoney has called for their removal.
On Aug. 14, the Memphis, Tennessee, city council again called for the removal of a statue of Nathan Bedford Forest, a brilliant military strategist who was also a slave trader and a high-ranking member of the postwar Ku Klux Klan. The town was thwarted in a similar 2015 attempt by the Tennessee Historic Commission.
Republican Tennessee Gov. Bill Haslam has likewise called for the removal of a bust of Forrest in the state capitol.
Chapel Hill Mayor Pam Hemminger asked UNC Chancellor Carol Folt Aug. 16 to request approval from the North Carolina Historical Commission for the removal of "Silent Sam," the campus' Confederate monument.
At the same time, commissioners in Hillsborough County, Florida, said that a Tampa statue could only be removed if half of the cost was raised from private sources within 30 days; former Tampa Bay Buccaneers football Coach Tony Dungy immediately pledged $5,000 towards the estimated $140,000 needed. A day later, he was joined by the area's professional sports teams, MLB's Tampa Bay Rays, the NHL's Lightning and the NFL's Buccaneers.
Savannah, Georgia Mayor Eddie DeLoach told city council Aug. 17 he thought that the city should reassess the towering Confederate in the city's sprawling Forsyth Park and also ask the state to rename a bridge into South Carolina originally named for a segregationist former governor, Eugene Talmadge.
A Kansas City, Missouri, Confederate memorial that was vandalized is now scheduled to be removed, as are busts of Lee and Jackson at Bronx Community College's Hall of Fame for Great Americans.
Jacksonville, Florida's city council president called for removal of the city's three monuments, but the town also has several highways, parks and schools named after Confederates.
Lexington, Kentucky leaders also called for the relocation of two Confederate statues from the town's historic courthouse.
And although protestors tried to pry a plaque from a rock in Asheville's Pack Square, it will remain for now, as will the two others in the square.
Asheville Mayor Esther Mannheimer said that Asheville's City Council looks forward to hearing from the community about removing, renaming or otherwise contextualizing the monuments.