Archived News
Eighty-six seconds of sunlessness: Eclipse viewers throng to Clingmans Dome
Wednesday, August 23, 2017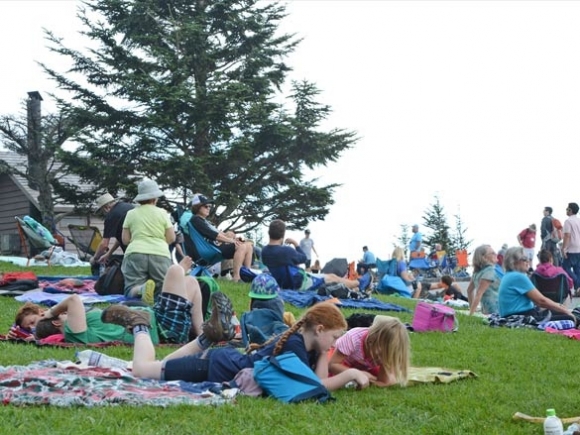 Expectation reigned at Clingmans Dome the morning of Aug. 21 as buses rolled in carrying the 1,325 people lucky enough to snag tickets for the solar eclipse event at the highest point in the Great Smoky Mountains National Park.
Some had driven hours, while others had been traveling for days, and all had woken up early to guarantee their timely presence at the bus stop against forecasts of heavy traffic.
But despite all that preparation, few of the people sitting on blankets and fold-up chairs along the perimeter of the Clingmans Dome Parking Lot truly knew what they were in for when the day began.
"I'm not sure what it will look or be like, but I'm told it's a once-in-a-lifetime thing having a solar eclipse coming this close to where we live," said Paul Lamine, 21, of Ann Arbor, Michigan.
SEE ALSO:
• A day with two sunrises
• 'Just wait a while, for the right day'
• Game of chance
• We shall go on playing
Unlike most of the people at Clingmans that day, Lamine hadn't gotten a ticket to the event. He and Allie Macciomei, also 21 and also from Michigan, had opted to hike instead. They'd planned to take the Mountains-to-Sea Trail up from Smokemont Campground near Cherokee but got lost en route and wound up hitchhiking to Newfound Gap, where they took the Appalachian Trail to the Mount Collins Shelter. They camped there the night before the eclipse and planned to return for a second night afterward.
Mel Feit, 66, of Long Island, New York, had a better idea of what he was in for. As a 12-year-old kid, he'd almost experienced a solar eclipse. The people he was with at the time decided to stop just short of totality, at 97 percent — 54 years later, the same eclipse had returned to the U.S. and he had another chance to see it.
"For me this is a repeat of something that I missed as a child," Feit said. "It's a science and poetry combined for me."
Science and poetry both took the stage at Clingmans Dome that day, with talks from multiple NASA scientists, stories from various Cherokee storytellers, musical performances and words from Southwestern Community College President Don Tomas and Great Smoky Mountains National Park Superintendent Cassius Cash, among others.
"It's just like a carnival," said Danny Bernstein, an Asheville-based writer and hiking enthusiast, praising the planning that went into the event.
The carnival ceased, though, as the eclipse neared totality. Ever since 1:06 p.m., the moon had been taking steadily larger bites out of the sun as it wended its way in front of our closest star, and by 2:20 p.m. the impending darkness had become palpable, skies dimming as though sunset had suddenly decided to fall midday.
For many at Clingmans Dome, the world changed in the course of the minute-and-a-half totality that plunged the landscape into twilight and revealed the sun's corona shimmering around the edge of the moon.
"It was really amazing. Words can't really describe it," said Jennifer Cox, 34, who had driven 11 hours from Maryland with her husband and 4-year-old son.
"I knew it would get dark, I knew all that, but there was this kind of eerie half-sunset that happened and half-sunrise," added flutist Emlyn Johnson of Rochester, New York, who'd come to perform at the event as part of Music in the American Wild. "That corona sparkle around the moon was really just wild."
For Lamine and Macciomei, the trek was worth it, 100 percent.
"You just kind of sit there afterwards for like 15 minutes, like wow," Lamine said. "It just kind of takes your breath away."
Douglas Morton, Ph.D. and a NASA physical scientist, would agree. Morton's been excited for years about the scientific opportunities the eclipse would afford. The moon covers the sun better than do NASA's best filters, giving the clearest possible view of the sun's corona.
But for all his expertise, Morton had never seen a total solar eclipse before Aug. 21. The experience was unforgettable.
"I'm still kind of processing it," he said about an hour after totality ended. "But I'll be honest and say during the totality and during the time when everything seems other-worldly, I think it's just a powerful set of emotions that comes along with the idea that we don't often feel our connection to the sun, but it's undeniable in a moment like that."
Science knows surprisingly little about the sun and about its corona, and the heliophysics community is hopeful that post-eclipse data will shed new light on these mysteries. NASA deployed a jet to chase the moon's shadow across the country, launched balloons to look at it from the atmosphere and is using citizen science to learn more about how the sounds of nature change during an eclipse.
"Scientists today don't have all the answers, so hopefully some of those answers are out there today in this group (at Clingmans) that will be inspired today by the amazing beauty of a total solar eclipse to be a part of solving those outstanding mysteries," Morton said.