Archived News
Solar eclipse: Game of chance
Wednesday, August 23, 2017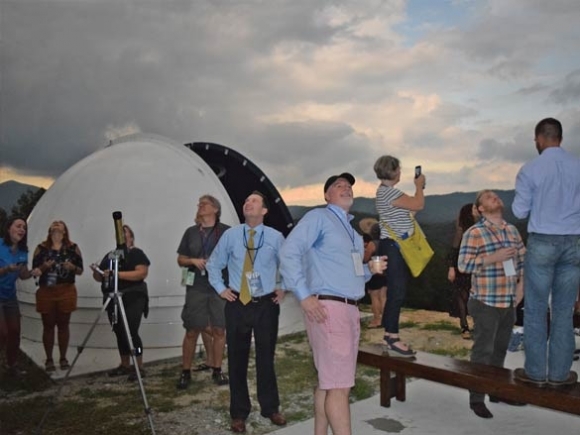 It was like watching the slowest sporting event ever. Spectators with their eyes toward the sky shouted in excitement and booed with disappointment as the clouds passed over the sun.
"Come on, come on," I said to the clouds. "Get out of the way! Move!"
It was a beautiful clear day when I arrived at the PARI — Pisgah Astronomical Research Institute — in Rosman that morning, but by the time we got shuttled to the top of Optical Ridge around 1 p.m. the clouds were getting thicker and darker.
But still, they were moving quickly across the sky and hundreds of people attending the special PARI event were still hopeful for a chance to see the once-in-a-lifetime solar event.
Everyone put their wine glasses down and put their eclipse glasses on just around 1:07 p.m. as the moon began to move in front of the sun on the right side. We all knew at that point seeing the diamond ring effect NASA scientists had been talking about all morning was going to be hit or miss.
Everyone got great views of the crescent shape of the sun as the moon eclipsed but those clouds just weren't moving fast enough for us to get the entire picture of totality. Next thing we knew we had a 360-degree view of what seemed like a sped-up time-lapse sunset/sunrise video. The brutal heat gave way to a cool evening breeze at 2:37 p.m.
We all laughed and gasped in awe and before I could even comprehend what was happening it was daylight again — just like it had never happened. No one seemed too disappointed with their experience at PARI even though the clouds didn't cooperate. On the other hand, who could complain with the views we had from Optical Ridge in the middle of the Pisgah National Forest?
As I fought the traffic back to Waynesville through Brevard, I couldn't help but think how incredible it was scientists could pinpoint down to the exact minute when all of this would take place. This was the first eclipse to happen directly over PARI's scientific equipment, but PARI's campus looks like it's been preparing for this event since the site was first developed in 1962. Even though I still couldn't explain in clear terms what kind of data PARI's 26 telescopes were collecting during the event, it was still amazing to see it all in action.