Archived News
Public, private sectors tackle affordable housing crisis
Wednesday, August 16, 2017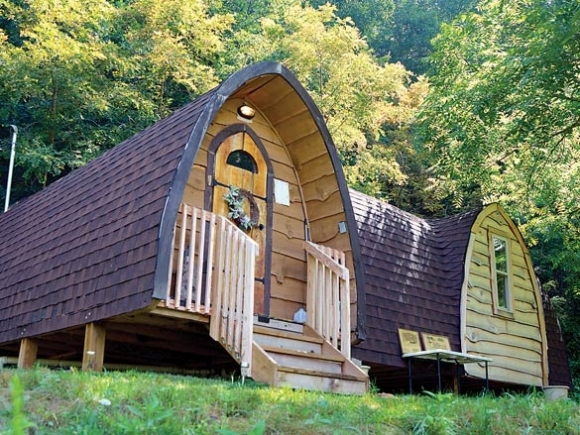 The Haywood County Affordable Housing Task Force has run its course, completing an assessment and presenting recommendations designed to ameliorate what has been called a "crisis" in local housing affordability.
Those recommendations show an emphasis on creating public-private partnerships, but the visibility the AHTF has brought to the issue has also galvanized the private sector into providing market solutions that weren't previously considered.
Established in March 2016 by the Haywood County Board of County Commissioners, the AHTF was first charged with creating an assessment of the heretofore anecdotal supposition that there wasn't enough housing available for working-class residents.
That assessment confirmed that dated housing stock and a lack of multi-unit developments have contributed to substantial housing cost burden, defined as spending more than 30 percent of one's income on housing.
This past June, the AHTF presented to commissioners its draft strategic plan, which was accepted unanimously by commissioners Aug. 7.
"I'm thrilled with it," said AHTF co-chair Patsy Davis, who also serves as executive director of local social service agency Mountain Projects. "We have a plan, and we have something to go on."
That plan sets a 2028 goal of increasing the supply of affordable housing in the county by 400 units, prioritizing the creation of studios, 1- and 2-bedroom spaces.
A goal without a plan, however, is just a dream, which is all that Haywood had prior to the AHTF's work; issued with the plan was a series of nearly 20 recommendations by the AHTF meant to help make that dream a reality.
While some are rather pedestrian — such as joining the North Carolina Housing Coalition and marketing the county to developers — some of the more concrete recommendations contained in the plan are already being tackled by local entrepreneurs.
Observe the curve
As winding Chinquapin Road traces its course from the Cruso Fire and Rescue building up a modest mountainside, it seems that each curve brings with it yet another stunning view of the Pigeon River, Cold Mountain or idyllic cattle pastures dotted with red barns and black cows.
Coming around one final turn, drivers are immediately presented with a most unusual scene – Dan O'Neal's Quon.
"I wanted to come up with something unique and different, and if I couldn't do that, I was wasting my time as far as I'm concerned," O'Neal said. "And, I love curves."
His small, curving, contoured building is evocative of its namesake Quonset hut — the iconic spheroid structures that stand at airports, industrial parks and military bases across the world.
"It originally started real close to a hunting cabin, but then the concept of the tiny home community came into play," he continued.
One of the AHTF's more actionable recommendations is to promote higher density development — something the minimal footprint of the Quon seems ideally suited for; framed with 14 layers of laminated plywood, O'Neal's prototype is 307 square feet and is actually two units combined.
A similar model could be purchased fully finished for "in the neighborhood of $40,000," he said.
O'Neal also noted that a 180-square-foot single unit – basically half of his prototype – can be built for about $25,000 finished, or as a shell for about $12,000.
Affordability is obviously at the heart of the AHTF's work; most Haywood County residents can't even pay a year's worth of rent with $12,000, but the cost savings don't stop there.
"The curve drives the heat roof down, which is where all the heat rises to," he said. "They're insulated fairly well, and the floor system is a three-layer setup. Right now, we can heat one side of this with an under-desk space heater. One time, it was 15 below zero, and we had this thing up to 50 degrees. That's pushing it, but that's with a little 1,200-watt space heater."
Ready to realize those savings is Dan O'Neal's 27 year-old-son Elan, who lives in the Quon with his wife.
"We both kind of have a similar view; we look at it as, prior to the last couple hundred years, people lived in small confined spaces anyway, so it's really not that much of a stretch for us."
Elan helped build the prototype out of pocket, as most banks won't finance such structures — a problem the entire industry is currently facing.
But once that hurdle's overcome, it's hard to ignore the cost benefits of Quon living.
"You get to save a lot, depending on where you go," Elan said. "You can get spring-fed water as we do, and we can build these things to be energy efficient. We use a much smaller amperage box than a typical large house would. Pretty much everything in here you have to downsize, so you can't have a huge fridge and you can't have a huge dishwasher, so you're not using as much energy as your typical house would."
Elan said he liked that the lifestyle itself is "far more budgeted" than what most people experience, and thinks it will give him an advantage further on down the road.
"A lot of people my age — most people I know — are living in small apartments that can run anywhere from $500 to $2,000 per month, and that's just not attractive to me personally," he said. "I'd rather live in something that if I'm going to be spending any money, it's going to be on keeping food on the table or planning for the future."
Aging in place
Planning for the future as a 27-year-old is one thing, but for those more advanced in age, saving money later involves spending money now.
"The private rate today in Western North Carolina — bottom dollar private pay for assisted living — is $3,000 to $5,000 a month," said Brian Strum, a licensed healthcare administrator with 20 years industry experience from dishwasher and janitor on up to administration.
The AHTF's recommendation to support the rehabilitation of existing affordable housing is pretty clear-cut, but the Task Force may not have been thinking of Hearthstone Senior Housing's customers when they made it.
Strum now runs Franklin-based Hearthstone with his partner Bob Blauner, a builder with 20 years experience; together, their work saves people from injury, thereby saving them money.
Hearthstone specializes in the construction and retrofitting of homes specifically designed to keep older residents out of nursing homes as long as possible.
The concept is called "aging in place," and it's difficult to ignore the financial implications thereof; as Baby Boomers enter their golden years, they'll face a litany of issues related to mobility, balance and even vision.
"Things as simple as a gravel driveway you've used for 40 years can become a life-threatening hazard," Strum said.
Hearthstone constructs custom exterior ramping for homeowners who can no longer safely climb or descend stairs, especially in inclement weather.
The aesthetic nature of the designs also important, Blauner said; not everyone wants to announce to the world that they suffer from a disability.
"We built an 85-foot entrance ramp that looks like more of a deck," Strum said. "There are small gazebos along the way; they don't even call it a ramp, they call it a walkway."
Interior safety is also important, said Blauner, and Hearthstone sees robust demand for things like wider doorways, centralized communications systems and even under-cabinet lighting.
"My wife is legally blind from diabetic retinopathy, so lighting is especially important for people like that," he said.
Toilets and showers can also become especially deadly obstacles that must be negotiated on a daily basis.
"Between 25 and 37 percent of seniors living at home will experience a fall or multiple falls in their home this year. If someone breaks a hip and ends up in assisted living at $3,000 a month for three or four months, well, we can retrofit your bathroom for about $10,000," said Strum, who added that the average stay in assisted living is much, much longer.
Such retrofitting is also an asset, while putting $10,000 into a nursing home is not.
Haywood County's population is aging rapidly, bolstered by the second-home crowd that tends to be retirement-age; as such, Strum and Blauner say that their industry can only grow as Americans are now living longer than ever before.
A safe home, they say, can forestall the eventual move to assisted living and prevent accidents from sending homeowners there prematurely.
"It's hard to put a return on investment to it, but to those people, it's priceless," he said.