Archived Arts & Entertainment
WNC welcomes 'The Great American Solar Eclipse'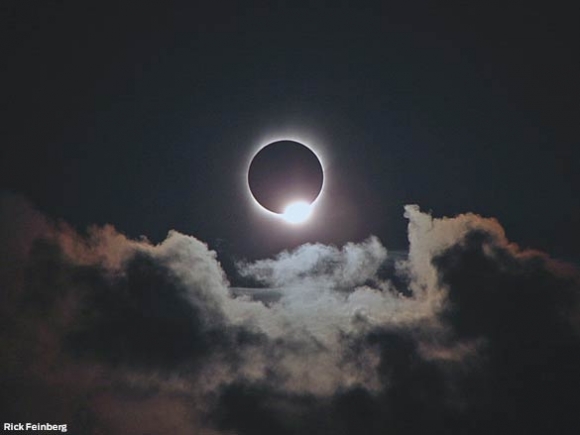 At 2:35 p.m. on Aug. 21, Western North Carolina residents and visitors will have the chance to watch as the moon moves fully in front of the sun for the first time in 26 years.
For those inside the 70-mile-wide path of the solar eclipse, the sky will turn pitch black, the air will cool, and stars will be visible in the middle of the day. This is the first time in 26 years that America has seen a total solar eclipse, and it is one of the few that will sweep the nation from Atlantic to Pacific coasts. The last time a total solar eclipse crossed from one coast to the other of the continental United States was June 8, 1918.
SEE ALSO:
• What to do, where to go?
• Eclipse photography takes research, preparation
• Local governments plan for the worst, hope for the best
• How to prepare for the eclipse
The eclipse event will take place between 1 and 3 p.m. with totality expected to occur around 2:30 p.m. Haywood, Jackson, Macon and Swain counties are fortunate enough to all be within the path of totality to some degree in Jackson County will have the longest view of the eclipse with almost 2 minutes while Haywood County's view will only last about 1 minute.
The Smoky Mountain News has compiled an eclipse guide containing all you need to know about how to prepare for, view, photograph and enjoy this once-in-a-lifetime event. Throughout the weekend leading up to the solar eclipse, an array of activities centered around the main event on Aug. 21 will be held throughout WNC.
Events include:
Friday, Aug. 18
• Concerts on the Creek – Porch 40 (rock/funk) will perform from 7 to 9 p.m. at Bridge Park. Free admission (donation encouraged). Bring a chair/blanket.
Saturday, Aug. 19
• A Social Function will perform from 6:30 to 8:30 p.m. at Bridge Park. Food trucks onsite will be NGN 52 (pizza) and Chili Chomper Mobile (tacos). Dancing Bear Ice cream will serve ice cream. Free admission. Following the concert, Main Street merchants will be open late for moonlight madness shopping with special deals, offerings and discounts.
• Participate in the 2k (1.1 mile) Moonlight Fun Run at 9:30 p.m. at the Jackson County Parks and Recreation Complex in Cullowhee. This is a self-timed run (no timing services will be offered). Included in your registration fee of $10 will be a t-shirt (glow in the dark ink), a glow in the dark necklace or bracelet.
Sunday, Aug. 20
• Learn the science behind the eclipse at a panel with area astronomers, astrophysicists, and professors at 6 p.m. in the Southwestern Community College Myer's auditorium (Balsam Building). Admission is free. The panel is moderated by Southwestern Community College's NASA Project Director and Physics Instructor Matt Cass. Panelists will include: Dr. Rachel Smith, Head of the Astronomy & Astrophysics Research Lab, Appalachian State University; Dr. Dan Caton, Director of Observatories, Appalachian State University; Dr. Enrique Alberto Gómez, Associate Professor of Physics and Astronomy, Western Carolina University; Dr. Paul Heckert, Astronomy Professor, Western Carolina University; and Dr. David Sitar, Astronomy Professor, Appalachian State University.
Monday, Aug. 21
• Sylva lies in the path of totality and will experience 1 minute and 47 seconds of darkness. Activities for this celestial event will take place at the Bridge Park Solar Eclipse fest beginning at 11 a.m. and will include live music from The Colby Deitz Band (Americana/rock) and children's activities from 11 a.m. to 1 p.m. Onsite food vendors are: Brew Dawgz (gourmet hotdogs), Al's BBQ and Ginny's Concessions (funnel cakes).
• Don't miss the planetary walk of the Solar System scaled to fit on Sylva's Main Street. Children's activities at Poteet Park (a one-minute walk from Bridge Park) are: 1. Creating Shadows (ages 4 & up); 2. Eclipse Art (ages 4 & up); 3. Modeling an Eclipse (ages 7 & up); 4. Solar System Scale (3-foot) Presentations: 11:30 a.m. – Reading book Moonbear's Shadow; 12:30 p.m. – Solar System Scale. Adult events following kids' events held at Bridge Park: 1. UV bead bracelets 2. Eclipse Stories; 3. Solar System Scale (6-foot)
• Bridge Park's subject matter expert, Dr. Amy Fagan, will instruct crowds, starting at 1 p.m. on safe viewing techniques and guide them through eclipse science. Onsite food trucks will be serving up tacos, tasty bites and more.
• The event starts at 11 a.m. and runs to 4 p.m. Shuttles to the site will run from the Jackson County Justice Center from 10 a.m. to 5 p.m. Shuttle rides are $1 per ride per segment and parking is free at those sites.
For Sylva, the start of the partial eclipse will be at 1:06 p.m. with a maximum eclipse at 2:36 p.m. and total eclipse at 2:37 p.m.
Learn more about Jackson County's solar eclipse events by visiting www.ncsolareclipse.com. The Jackson County Chamber of Commerce has safety viewing glasses for sale for $3 each at the chamber. Proceeds will benefit Concerts on the Creek.