Archived Arts & Entertainment
Behold the Seer: Chris Robinson Brotherhood roll on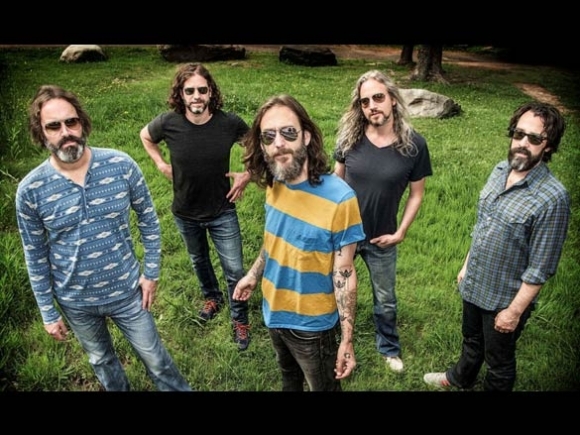 The CRB sports a curious and mischievous grin these days, whistling a tune near-and-dear to their hearts, all while slowing down a few notches to take it all in, to take a deep breath and relax, for life is a lot longer than the chaos of today may suggest.
It's not about the fact that the lead singer used to front The Black Crowes, where you see Robinson revel in this ever-evolving platform of creativity and possibility, finally in place of peace and independence he's chased after for decades.
It's not about guitarist Neal Casal, quite possibly the most underrated six-string ace in rock music nowadays, who is the personal and professional ying to Robinson's yang with his soaring solos and harmonic vocal talents.
It's not even about keyboardist Adam MacDougall (also formerly of the Crowes), who provides the swirling breeze that carries the CRB into flight each evening, gliding into the melodic cosmos amid a stage spectacle that's taken on a life of its own since its inception in 2011.
It's about their new album, "Barefoot in the Head," the group's sixth in the last five years, a rollicking adventure through the eyes and ears of Robinson, Casal and MacDougall, a writing trio from as different of backgrounds as they are positive contributors to the artistic process.
It's about the musical intersection of CRB, where the roads of hard rock, Americana, jam and funk collide as if each genre push the pedal down towards the upcoming intersection, without any regard as to what the outcome might be.
And it's about, most importantly, the audience that flocks to the CRB, a touring juggernaut seemingly out to play every corner of the United State, providing a message of compassion and hope greatly missing from our current national dialogue, where faces known and unknown find their own personal bliss within the atmosphere created and explored by Robinson & Co.
The Smoky Mountain News recently interviewed MacDougall. In the three-part interview, he spoke of how the CRB is learning to become more concise in their material, how his New York City upbringing of jazz and fun fits the ensemble like a missing puzzle piece, and what his teenage self would say about his career today.
Editor's Note: The Chris Robinson Brotherhood is currently on tour throughout the Southeast. They'll be performing on Aug. 10 at The Orange Peel in Asheville, Sept. 14-15 at the Variety Playhouse in Atlanta, Sept. 19 at the Revelry Room in Chattanooga, Sept. 22 at the Neighborhood Theatre in Charlotte and Sept. 24 at the Bijou Theatre in Knoxville. For more information or to purchase tickets, click on www.chrisrobinsonbrotherhood.com