Archived News
Knowing your neighbors: Vecinos health program is a bridge between migrant workers and the outside community
Wednesday, August 09, 2017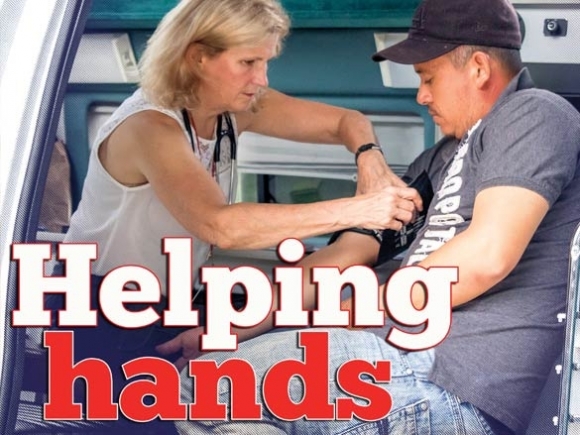 Whittier has been home to Elda Chafoya DePaz and her three children for less than a year, but it's not their first summer in Western North Carolina.
In November, it will have been 12 years since DePaz, 36, left her native Guatamala to seek a better life in the United States. Life was hard in Guatamala, she said, with poverty everywhere you looked. She worked for a banana company there, tasked with separating 17 bunches per minute from the giant clumps of fruit that come from a banana tree. The work was done manually, with just a knife.
Since coming to the U.S., DePaz has stuck with farmwork. Before being offered a year-round gig at Shelton Family Farm last year, she and her children would follow the harvest from Florida to Georgia to North Carolina to Ohio to Michigan, and then head south to do it all over again.
She still has two children left in the country where she hasn't lived since she was 24, but she doesn't see herself moving back there. Her two youngest were born in the U.S., and they'll have better opportunities here than in Guatamala.
"Life is very difficult there," she said in Spanish.
DePaz is just one member of this country's sizable — yet often invisible — population of migrant farmworkers. They can be found most anywhere with farms producing harvests in need of picking, processing and packing, from Florida to Michigan to California. Some of them live in the U.S. year-round, traveling from state to state with families in tow. Others, typically men traveling alone, come to the U.S. for part of each year on H2A visas to work the harvest and then return to their families until it's time to leave again. Some are in the country legally; others are not. Some spend their nights on cots crowded into a spare corner of a packinghouse; others share a trailer, or an RV, or a hotel room.
The language barrier — migrant workers are overwhelmingly Latino — and the long hours the harvest season demands could be enough to keep this group of people to the periphery of the general population. But on the mountain farms of WNC, topography isolates them even further.
"A lot of the places where the workers live are really far back in the mountains, and they don't interact often with the rest of the community," explained Amy Schmidt, a Sylva native who until July was director of the Vecinos Farmworker Health Program. Schmidt directed the program for five years before leaving to pursue a master's degree.
The Vecinos mission
Vecinos, which in Spanish means "neighbors," seeks to fill in some of the gaps created by the hard lifestyle migrant farmworkers live — particularly when it comes to health care. When the harvest comes in, farmworkers work seven days a week, sunup to sundown. They often live far outside of town and have to rely on others for transportation — few have their own vehicles.
"It's not very realistic that they're going to access health care unless it's an emergency and they go to the emergency room," Schmidt said.
That's why Vecinos runs a mobile clinic, an examining room contained in a van that can travel from farm to farm, seeing patients for everything from back pain to blood pressure issues and making referrals when something more serious comes up. Funded by the state's Farmworker Health Program with support from a variety of local organizations — Vecinios' administrative offices are on the Western Carolina University campus — Vecinos has been around since 2001, when Jackson County residents Josie Ellis, RN, and Dr. Mark Heffington began visiting migrant labor camps in their county. The organization officially incorporated as a nonprofit in 2004.
Since then, numbers — and staffing — have risen steadily. Vecinos now has a fulltime staff of four, with 10-12 paid staff during peak season. The 2017 season is just starting, but during 2016, Vecinos enrolled 750 people in the program — more than the 700 who enrolled in 2015, which is more than the 680 who enrolled in 2014. Vecinos' service area includes eight counties, from Haywood and Transylvania west to Cherokee County, but they're most active in Jackson, Macon and Haywood counties.
"I don't think there's been a great increase in farmworkers in North Carolina since I've started," Schimidt said. "I think we've just been able to reach more people."
A lot of that has to do with building trust. Among migrant communities, there's a lot of fear involved when it comes to outsiders with clipboards asking people to come to a central location and give information like their name and age. That's been especially true over the last year, Schmidt said, with tougher immigration policy a central part of President Donald Trump's platform. Vecinos saw decreased participation in the clinics right after the inauguration, Schmidt said.
"When people are concerned about maybe getting grabbed and not being able to see their family for however many months, getting their blood pressure under control is a lower priority," Vecinos nurse Jonathan Bentley said.
Trust can take years to build. There's a camp in Haywood County that Vecinos has been visiting for half a decade, and this is the first year it's really felt like the workers trusted them, Schmidt said.
"Last year there was a woman at the camp who had some more serious stuff going on, and we spent some time with her and we did a lot for her," Schmidt said. "I think just having one patient who benefitted a lot from our services being able to advocate for us to the workers — I feel like this year a lot more people are wanting our services and wanting to enroll."
Source of support
The sun is still a couple hours away from setting on a muggy late-July day when the Vecinos van pulls into Shelton Farm, three staff members jumping out to get the clinic set up before the workday ends. A few farmworkers, including DePaz, are around, but most people are still out in the field.
"We make sure we get back early enough so we're waiting for them, so when they get back we're ready to go," Bentley explained. "But sometimes in the times of year when the daylight is extended, we have to kind of hang out."
Hanging out isn't hard. There's plenty to talk about. The Vecinos folks and the farmworkers know each other well, having spent many evenings like this, shooting the breeze. And DePaz's little girls, Greidyss, 7, and Amy — nearly 2 and named after Schmidt — are always looking for playmates.
The sun goes down and darkness falls, but still no workers show up. Then Karla Mendoza, an outreach worker with Vecinos, gets word that it was a long day of work, the men are tired, and they'll stay home tonight. That happens sometimes, Bentley said — the harvest season is nothing if not chaotic, and so planning must be flexible.
Vecinos does see at least one patient before heading out. A woman who's been there since the van arrived takes advantage of the lull to get a checkup from James, and to talk about her diabetes medication. She'd gotten a prescription from a different migrant support organization in Florida, where she would return in three months. But the bottle was empty, had been for three days.
The organization had promised to send another three-month supply in the mail, but there was some debate as to whether that's a promise that could be relied upon, or whether Vecinos should issue its own prescription. Mailed prescriptions don't always work so well for people whose cell phone number changes every few months and check the mail sporadically at best.
"There are a lot of ways for the system to get fouled up," Bentley said. "It's good that there's a little redundancy so we can make sure she gets something."
Regardless, the meds will cost her about $75 per month. That's pretty cheap compared to what some diabetes medications cost, but a lot for a farmworker's budget.
The woman appears grateful for the consultation, comfortable in the presence of Bentley, Mendoza and Vecinos nurse practitioner Janet James.
"We're a source of support," James explained. "Even if I'm not writing a prescription, it's a relief for her to be able to get in the van and talk about what's going on."
That's a statement to which DePaz could attest. Just a month ago, she was traveling with only two children, not three. Her 13-year-old son stayed in Guatemala when she first came to the U.S. but made his own trip north starting early this year. Authorities caught him crossing the desert and placed him in a shelter, where he stayed for four months. But when Vecinos learned the news, the organization stepped in to get all the paperwork in order to release him to his mother.
"It all went very quickly," DePaz said in Spanish. "They accepted everything quickly."
Beyond medicine
Life as a farmworker is not an easy existence. Workers wake up with the sun and head out to the fields, where they work hour after hour, filling buckets as quickly as they can — pay is often based on production, not hours. This time of year, production is based on tomatoes.
There's a lot of squatting, a lot of bending, and the workday lasts as long as the sun is up. Harvest is a race against time, a race to bring in the produce before it's too late, before the ripening process has gone on too long and the backlog of unpicked tomatoes piled too high.
"I imagine to some extent you can get used to a lot. We'd probably be surprised what we can get used to, but at the end of the day it takes a piece out of you, and at the end of a week of those days and at the end of a whole season it must take a toll on a body," Bentley said.
Musculoskeletal issues are common in the clinic, said James. She sees a lot of issues with lower backs, tendons in the hands and knees, as well as diabetes, high cholesterol and hypertension.
"Basically our goal is to keep them healthy so they can do their job and work," she said.
The workers have families who are depending on them. If they can't work, then they can't provide.
But the reality is that James' job involves a lot more than just prescribing pills and diagnosing injuries.
"It's medicine in its purest form for us to be able to make these house calls and be with people right where they are," she said. "When you really see their whole life situation, you just have so much more compassion for their story. It's just different when you're in a clinical setting and you're seeing patient after patient. You're seeing them so much out of context from their life."
Setting up shop just a stone's throw away from where the workers lay their heads at night, the Vecinos folks have an inside look at the lives of the people they serve. They know what's going on in their marriages and in their workplaces, as well as in their bodies. It's impossible not to get attached.
And it's hard not to wonder what will have changed since the fall when workers return in July. Many of them work the same farms year after year. In the space between tomato harvests, children are born, marriages celebrated, divorces mourned and a host of other life events marked.
"You've got to learn about what's going on inside people's lives, because it makes a difference," James said.
Sometimes, when one of those lives finds itself facing an obstacle much bigger than the typical challenges of the migrant life, the impact ripples throughout the entire community.
Hanging around one of the camps at Shelton Farms, for example, it didn't take long to hear talk of an explosion that had recently happened at a packing plant in Florida. One of the workers was badly burned, and died. Now, the emotional fallout is affecting everybody in North Carolina.
"So many people were connected with that person who died in Florida," James said.
James herself is still reeling from a painful goodbye she said to a young man who's battling metastatic cancer.
Vecinos had been by his side through the whole ordeal, getting him to and from doctor's appointments and working with local churches to help with expenses. But in the end, it wasn't enough. He became too weak to continue chemotherapy and a couple weeks ago he was put on a plane back to Mexico, to be with family.
James went over to see him before he left. He said, "So this will probably be the last time I'll see you." They both knew that it was true, but neither of them wanted to face it. Instead they talked about how he could send her pictures of his life in Mexico, and she could send him ones of life in North Carolina. Maybe, James told him, she could come visit someday.
Situations like this, James said, affect the migrant community as a whole.
"They really do all stay together like a family and really support each other," she said.
Reasons to pick
The migrant life isn't always a field of last resort. Sometimes, it's a choice. At least, that's the way Jorge Perez, 31, tells it.
"I graduated high school and they gave me a scholarship to go to college," Perez said. "But I never liked it because I was always in the fields. I liked doing that."
Born in Ohio, Perez is the son of migrant workers from Mexico. He's done fieldwork since he was 14, making the rounds from Florida north to Michigan and back again year after year. He's picked tomatoes, cherries, grapes, squash, zucchini, bell peppers, jalapeños — a little bit of everything.
He met the Shelton family during his youth, when his family picked for them.
"They showed me how to do everything, from the forklifts to the mow trucks," he said. "That's why I am where I am right now."
As of last year, Perez is a migrant no longer. He's a business owner, head of J. Perez Produce, living in North Carolina full-time. He contracts with farmers like Shelton to oversee the harvesting process, moving the workers they need and getting the tomatoes picked. Once the season's underway, it's all-encompassing.
"Here there's no holidays, no Sundays, no Mondays — nothing," Perez said. "It's the same thing every day. The tomatoes have to be picked."
Still, it's what he knows, and it's what he likes — especially now that he's his own boss. And once the tomatoes are done, there's usually some time before the next thing. Most years, Perez takes a month to go visit family in Mexico. You wouldn't get that at an office job.
It's all better with a strong community around you, though, and at Shelton Farms that includes the boss — Perez says William Shelton treats him more like a son than an employee. That's not the case with all the farmers Perez has worked with in his lifetime.
"He takes real good care of us," Perez said.
From Shelton's perspective, there are plenty of good reasons to treat his workers with respect.
"Everything we do is labor-intensive. I'm just thankful to have workers, and I think everybody that eats should be thankful for them — in particular fruits and vegetables because by and large the harvest is not mechanized," Shelton said.
And while many of the people who do the harvesting share common struggles — language barriers and physically exhausting work and separation from family — they're far from being a monolithic group of identical individuals. Perez, DePaz, the young man with cancer, and everybody else in the migrant community is an individual with a unique story, and a unique set of hopes, needs and desires.
For Schmidt, a Sylva native who thought she knew her community inside and out, discovering the size and complexity of this world — which goes largely unseen by those who aren't part of it — was the biggest gift she took from her time with Vecinos.
"What keeps me enjoying my work is the stories we hear from our patients and our clients," she said. "It just always reminds me that everyone has a unique and complex story, but a lot of those stories go unheard because people are living in the shadows of their communities … This is my hometown, and suddenly I'm exposed to a completely different population in my hometown that I didn't know existed."
Help the cause
Though the bulk of Vecinos' funding comes from the N.C. Farmworker Health Program, the organization is always in need of donations to help provide for the medical needs of people who often have a hard time affording them. To donate, visit www.vecinos.org.
Vecinos' new director
With the departure of former director Amy Schmidt, Marianne Martinez has taken over the helm as leader of the Vecinos Farmworker Health Program.
Martinez, of Asheville, has worked with farmworkers and migrants in some capacity for over 10 years, beginning at 19 with a farmworker health program in Watauga County. After that, she moved out to the Puget Sound in Washington, where she worked with a community health center, and for the past five years she'd been working with a migrant education program in Henderson County.
"It's one of my passions," Martinez said of serving the migrant community. "I wanted to use my master's degree and nonprofit management certification and get into this fulltime."