Archived News
Mine safety training saves a life
Wednesday, August 09, 2017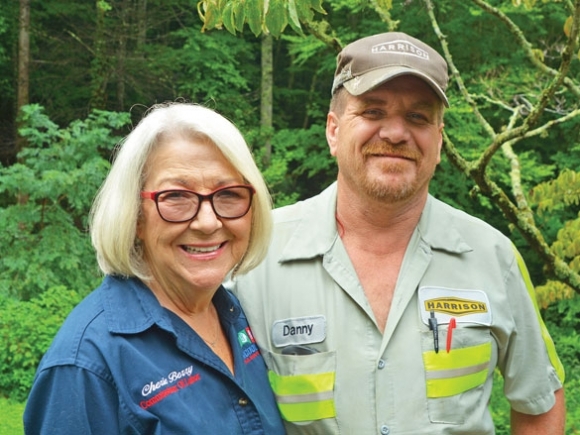 Wresting huge chunks of granite from a hillside is inherently dangerous work, but the safety training provided at one Waynesville quarry has seeped out from behind the stonewalls to benefit area citizens.
"What we do is we extract the rock, take it down, and size it," said Foreman Bradley, safety manager at Harrison Construction.
Harrison's Waynesville quarry off Allens Creek Road collects and disburses rock for a variety of applications — anything from gravel roads to the sand that makes Lenox crystal.
With eight quarries spanning Western North Carolina and Eastern Tennessee, there are plenty of employees and plenty of opportunities for fatality, but Bradley hasn't seen one in his 11 years with Harrison.
"We go out and look for good, competent people that want to work in this environment and be a part of our family," Bradley said. "When you get those types of people, they look out for one another, they care about one another."
Industry-wide, that wasn't always so; before 1977, there was no federal safety oversight of mining until the Mine Safety and Health Administration was created.
"When they got together, they decided that the most valuable resource on any mining property — underground or surface — was the miner," Bradley said. "I'm thankful that this is one company that puts human life above everything else."
Encouraging that culture of safety has resulted in Harrison passing nine straight MSHA inspections without a citation.
"It's unheard of," Bradley said.
"It really is," said North Carolina Commissioner of Labor Cherie Berry, who visited Harrison employees Aug. 8 at the Waynesville quarry. "That's just how good they are."
First elected in 2000, Berry lauded the company's safety efforts, saying that she brags about them everywhere she goes — but that wasn't her only reason for coming.
"I'm up here just to pay them a visit. I like to travel around the state to meet people, but I came to meet Danny because I'd heard the story about how he saved that 13 year-old boy's life because of the training he had."
Early one morning around the beginning of June, Harrison stockpile hauler and Haywood County native Danny Conner was driving on his way to work and happened upon an unexpected situation.
"I just come around the curve, and there it was," Conner said.
A woman and a teen boy from Mobile, Alabama, were in a small car that had flipped.
"I don't know what happened," he said. "I remember a woman coming down the road hollerin' 'Anybody know CPR?'"
Conner hopped out of his vehicle and ran up to the scene. When he arrived, the boy wasn't breathing.
"I couldn't find no pulse," he said.
He began to administer CPR using the training he'd received from Harrison when he was hired just nine months earlier.
"When they put him in the ambulance, he was conscious," said Conner, who added that he was grateful for the opportunity to use his training to possibly save a life, even though it wasn't on the job site.
"They have developed a safety culture that everybody needs to have," Berry said. "It's their responsibility that everybody goes home safe and healthy at the end of the day to their loved ones. That's what safety is all about."