Archived News
Antique toy museum moves into Cowee School
Wednesday, August 09, 2017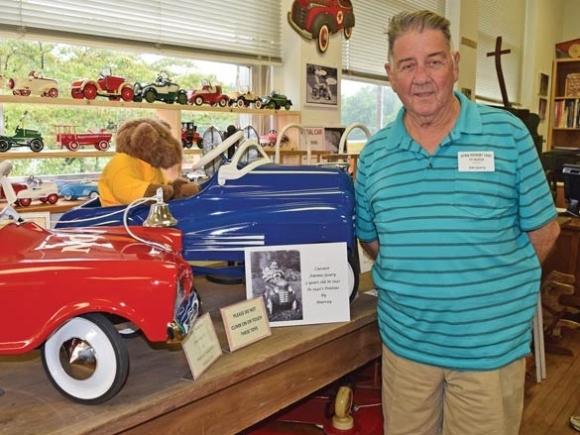 Jim Geary has been collecting toys since he was a boy in 1950. The fascination and hobby that has stuck with him throughout his life all started with a 1911 Rolls Royce model car kit.
"I'm from Latrobe, Pennsylvania, and when we had our Centennial in town, there was a parade with antique cars and ever since then I've had an interest in pre-World War II automobiles," Geary said. "I just started collecting from then on and studying the history of it all."
Geary still has the Rolls Royce model car, and now everyone can see it along with the rest of his impressive antique toy collection at the Down Memory Lane Toy Museum located inside of the Cowee School Arts and Heritage Center.
Jim and his wife, Sandy, have been collecting for more than 60 years, but until now their massive toy collection has been stored in every nook and cranny of their home and multiple storage buildings. After looking for a location to open a museum for the last couple of years, the Gearys are happy to have a home in the Cowee School.
"We still have stuff at home we're going through and want to bring in if we had the space," Jim said, looking around at all the filled glass displays in the small museum space. "And we're still adding to the collection."
The largest part of his collection — about 600 pieces — includes Studebaker model cars, trucks and military equipment, but the museum also includes many train sets, children's pedal cars, dolls, airplanes and many other toys folks will remember playing with as a child.
Jim is a wealth of knowledge when it comes to his collection — he can tell you where he got it, where it originated and how old it might be. Many of his pieces were donated from other museums or found at flea markets, toy shows and other unexpected locations.
The oldest piece in his collection is a Studebaker Jr. Farm Wagon that was made between 1905-1910. It was originally purchased by the grandfather of Leonard Woznicki of California when he worked for Studebaker of Los Angeles and eventually purchased by Geary in Franklin some hundred years later.
Geary has spent a lot of time restoring many of the pedal cars and other toys he now proudly displays. While they may be 100 years old, the glossy new paint makes some of them look brand new.
Geary also has more sentimental toys in the museum, including a pedal car just like the one he had as a child. He even has an old black and white photo of himself riding the pedal car displayed next to the royal blue Pontiac car in his museum. Also displayed is a wooden tractor Geary's father made for him in the 1940s.
The girls toys were only added to the collection after Geary married his wife Sandy in 1976 and they started collecting items for their grandchildren and now great-grandchildren. The museum contains the 12 Beautiful Dolls of the World, several miniature tea sets, Cabbage Patch dolls, dollhouses and more.
As in most museums, the items in the glass cases and the pedal cars are not to be touched, but the museum does include a children's play area to give tiny visitors a more hands-on experience. One pedal car is available for children to ride.
The museum celebrated its grand opening Monday, and a large crowd — surprisingly no children — came to marvel at the nostalgia of the toys they played with growing up.
Jim and Sandy Geary are happy to finally share their toy collection with the community after searching for a location for several years. When the Cowee School reached out offering them a location, Jim said he jumped at the chance even though ideally he wanted to be closer to town.
"This is a great start for us and I hope to grow and expand into larger space," he said, adding that the antique toy museum will be a good addition to other history museums in Macon County and will give tourists another unique attraction to visit when they're in town.
The museum will be open Saturday, Aug. 19, during the Franklin Folk Festival at Cowee School.
The museum is open normally from 10 a.m. to 4 p.m. Wednesday through Friday; 10 a.m. to 2 p.m. or by appointment. For more information, call 828.421.7280 or visit www.dmltoymuseum.org.