Archived News
Meadows gets an earful at town hall
Wednesday, August 09, 2017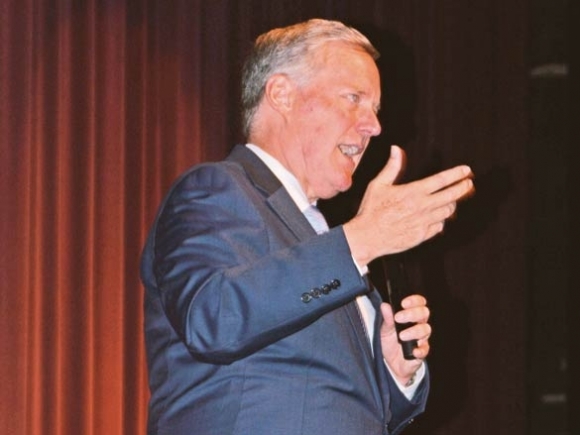 A boisterous crowd in a packed auditorium on the campus of Blue Ridge Community College engaged in a lively two-hour give-and-take with Congressman Mark Meadows over the economy, gun laws and the Mexican border wall, but most of the audience had just one thing on their minds — health care.
Meadows, R-Asheville, answered almost 30 pre-submitted questions from audience members, but nearly half of those were related to Medicare, Medicaid and the Affordable Care Act.
"There are some who believe in Medicare for all," Meadows said from the stage, drawing a huge response from the liberal contingent of the crowd, coincidentally seated to his left.
"But with Obamacare, there are some who believe in 'repeal and replace,'" he continued, eliciting big cheers from the conservative members of the more-or-less evenly split crowd.
Throughout the night, Meadows reiterated that any change to Obamacare would have to meet his two personal benchmarks — covering pre-existing conditions, and lowering premiums.
Meadows has been consistent in that position for some time now, but at his Aug. 7 town hall, he revealed that there won't be a perfect solution until some underlying issues are solved.
"The fundamental problem is health care cost," he said.
Until then, Meadows said there are four options — Medicare for all, free market options, the expansion of association plans and a plan floated recently by South Carolina Sen. Lindsey Graham.
Graham's plan would take federal Obamacare dollars and block grant them back to the states, while repealing the individual and employer mandates.
That proposition sent the left into hysterics, so much so that Henderson County Sheriff Charles McDonald took the microphone from Meadows and told the crowd to be respectful.
Medicare for all, Meadows said, wouldn't be financially feasible even if the top 1 percent of earners were taxed at 100 percent.
And government intervention in health care hasn't worked out that efficiently anyway, Meadows continued, citing the much maligned but improving U.S. Veterans Administration as an example.
It's hard to tell what sort of bill Meadows might support, but that's not because he hasn't been listening. His staff has received more than 29,900 emails this year, and fielded 17,000 phone calls in March alone.
Medicare for all seems unlikely, and Graham's proposal has been seen by some as extreme; leaning back toward free-market solutions, Meadows gave as an example the telephone industry's deregulation, which he said dropped long-distance rates by 95 percent and opened up investments that led to the proliferation of cell phones.
Nevertheless, Meadows told The Smoky Mountain News in January that he wasn't going to "pull the rug out from under anyone" on health care, a position he reiterated at the town hall.
"We don't want a decision in D.C. to cause a crisis for anyone," he said.
That decision may come this year — or not.
The next two weeks, Meadows said, will be critical. Although Congress is in recess and President Trump is on vacation, both are said to be working during the respite.
Repeal and/or replace was a campaign issue for President Trump, and remains a priority.
Meadows thinks that if a bill comes from the Senate soon, legislators could get it worked up and on the president's desk by early September, and could get it signed before October.
If that doesn't happen, it's "unlikely," according to Meadows, that repeal and/or replace would occur this year.
That would sit just fine with the left; a crowd of about 30 people held signs outside the event urging Meadows not to alter the health care status quo.
"There was a call for all progressives and liberals to show up and protest Meadows," said Waynesville resident Chuck Zimmerman, who, like many, traveled more than 50 miles to attend; he held a sign that said, "When injustice becomes law, resistance becomes duty."
When asked, Zimmerman said that he disagreed with Meadows on "everything."
One rare piece of common ground shared by Meadows, his supporters and his opponents was his desire to lower prescription drug prices, but there was another area where it seemed that most everyone could agree.
Back in January, Meadows made waves by announcing his support for term limits — a long time sacred cow in Congress.
He said since the proposal had little support from either party, some parliamentary maneuvering might need to take place were it to be enacted. Perhaps, said Meadows, it could be attached to a piece of "must-pass" legislation, or it could grandfather incumbents.
Other questions from the audience were broad and varied in scope, again underscoring the importance of health care; no other topic was addressed more than once. Meadows said he'd been active on several fronts to make sure voters in his district could still afford whatever health care solution would ultimately come from Washington.
Audience members were concerned about the role the influential House Freedom Caucus — of which Meadows is chair — would play in a unified Republican government currently warring with itself.
Bipartisanship was addressed as well, with Meadows saying he was always more than willing to reach across the aisle in collaboration with his Democratic colleagues, including Rep. Elijah Cummings, D-Baltimore.
The Second Amendment predictably came up, but in a far cry from the days of the Obama administration, concerns about the issue seemed muted, even in the wake of the attempted political assassination of Louisiana Republican Congressman and House Majority Whip Steve Scalise earlier this summer.
Aside from health care, the regional economy is often any congressman's greatest concern. Workforce development continues to dog Western North Carolina employers. Meadows said that there are currently more than 1,000 good-paying jobs available in the 11th Congressional District to anyone who can simply pass a drug test and show up for work on time.
"I can get you a job in a week," he said.
Throughout the night, Meadows remarked on the importance of personal responsibility and the dignity of work, even floating a 20-hours per week requirement for those on public assistance who are able-bodied and not saddled with childcare responsibilities.
He said he's also working with the Secretary of the U.S. Department of Commerce to get federal regulations out of the way. President Trump has demanded that two existing regulations be removed for every one new regulation created.
High-speed internet access — or lack thereof — is also holding Western North Carolina back, according to Meadows, although he didn't explore the concept deeply other than to say that other congressmen in Washington had trouble believing how bad it really was.
On the topic of a looming government shutdown over President Trump's proposed budget, Meadows said he didn't want to shut down anything, and that raising the debt ceiling could be acceptable, but only if comprehensive spending and tax reform was part of the deal.
And on another of President Trump's pet projects — the border wall with Mexico — Meadows said he agreed with the concept, but didn't think Mexico would end up paying for it.
The town hall held in Henderson County is the only town hall Meadows' staff has announced so far. It is unknown whether a town hall will be held in the other counties he represents, including the seven counties west of Buncombe County.