Archived Opinion
Supermarket flowers
Wednesday, August 02, 2017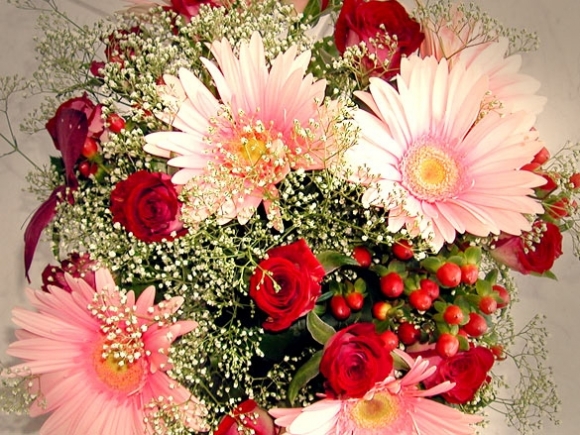 My mom loved fresh flowers. It was a fun routine for my dad, sister and I to pick up a bouquet from Ingles or Trader Joe's or whatever supermarket we happen to be visiting. Her face would light up when we walked in the door holding a rainbow of petals. She would smile to herself while arranging the flowers just the way she liked.
Over the past year in the wake of my mom's death, I've written a lot about her and my grief in this column. As I stumbled along, month by month, trying to remember and forget at the same time, life and work propelled me forward.
Even though my heart felt weak and the world felt heavy, I still arose every day to meet deadlines and take care of two little boys. And it seemed each time I completed one of these columns, my mom or my feelings about her death was somehow woven throughout.
We all process heartache in different ways. For me, writing is healing and therapeutic. Whatever I'm struggling with, getting my thoughts onto a page releases some of the burden.
I could never thank every reader who sent me an encouraging email, prayed for me or hugged me in the middle of Main Street. Many of those individuals learned about my mom through this column. Some had lost their own mom or dad. And when I meet other people who've lost a parent, we don't say anything, we just embrace with knowing arms, like we're part of a secret club we never signed up for.
This is the last column I'll write within the year timeframe of her death, so I felt compelled to honor her and those of you who've helped me survive this dark time of my life. The love and compassion of others has carried me through the past 12 months.
Last week a friend shared the song "Supermarket Flowers" by Ed Sheeran. He sings about taking the supermarket flowers down from the window sill and pouring out her day-old tea. My friend didn't know this, but when I walked into my parents' house after she passed, a vase with fresh flowers was still sitting on the counter and her coffee cup was beside the sink.
Sometimes I try to be too tough and refrain from crying, but when I do allow myself to cry, it's very cleansing. This song makes me cry in a way that I need. So, with the date of her death looming ahead, I've been listening to this song a lot. And I've been crying a lot, but it feels okay to do that.
If you've ever lost someone very close to you like a child or parent, you know walking into the empty, quiet house afterward is grueling, heart-wrenching. When I made that entrance, I felt like time was going in slow motion. As I looked around the house exactly as she'd left it, it felt like she'd walk in at any moment and we'd realize it was all a nightmare.
The finality of death seems counterintuitive to the human persona. By nature, people are adaptive and are skilled problem solvers, but with death, it's nearly impossible to adapt and it's a problem with no opportunity for a solution.
As I've learned to dance with grief over this past year, I've realized something.
When my own heart is completely lost, I can acutely feel the hearts of others. And this altruistic reliance has been such a gift. A lifeline, actually.
The funny thing about grief is that it's nothing like you expect. Along with the darkness comes light. Along with the sadness comes love. Along with the loneliness comes friendship. Along with the solitude comes a new self-awareness. Along with the heartache comes strength.
In the song, Sheeran sings, "A heart that's broke is a heart that's been loved. Hallelujah, you were an angel in the shape of my mom. When I fell down, you'd be there holding me up. Spread your wings as you go. When God takes you back, I'll say hallelujah."
I wouldn't wish grief on anyone, and I know my personal journey with this complex emotion is far from over, but the concern of others and surprise glimpses of God's grace continually keeps me afloat when I feel like drowning.
Readers of this column, thank you for being patient with me as I've worked through so many feelings on the pages of this paper. I'm not sure what year number two without her will be like, but I feel grateful for having survived year one.
At first glance, a newspaper is merely black on white but for writers and readers alike, the pages are alive and vibrant. They are an avenue to connect one to another. They have been an avenue to connect me to you and you to me.
And for that, I'll be forever thankful.
(Susanna Barbee is a writer who lives in Haywood County. This email address is being protected from spambots. You need JavaScript enabled to view it..)