Archived Outdoors
The Naturalist's Corner: Rock Hill on the river
Wednesday, August 02, 2017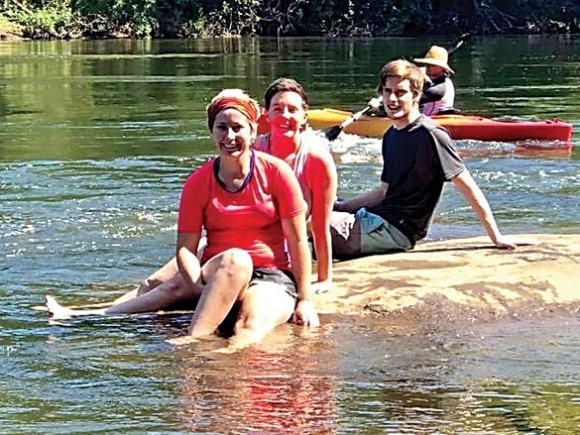 My family and I were in the Rock Hill, S.C.-Charlotte area a few weeks back to visit my sister and catch my niece, Haley Barfield (one of the triplets, yeah, as in three, Allison and Jess round out the trifecta) in Shakespeare Carolina's production of Macbeth. We also got to enjoy a birthday dinner with Matt, the triplets' older brother.
So we were back and forth a lot from Rock Hill to my sister's house and to and from Charlotte and on one of these trips, I looked out as we were crossing the Catawba River to see a flotilla of tubers. I watched as we continued and I could see some buildings along the river. We've been going to Rock Hill for years and this was the first time I recalled seeing this kind of river traffic. I mentioned it at my sister's and my brother-in-law, Tom Barfield, told me that there had been some recent development along the river, with restaurants and shops and trails for running, hiking and biking.
So I did a little sleuthing. I found a July article in Rock Hill's newspaper The Herald. According to the article, natives and guests have "rediscovered" the Catawba River. The impetus, according to the paper, was in 2010 when developers of Riverwalk, a $600 million mixed-use development, demolished an old industrial complex along the river. Then it looks like the city and developers partnered to open the 3.35-mile Piedmont Medical Trail in Riverwalk, The trail connects to Rock Hill's greenway system and to the Carolina Thread Trail in the 70-acre River Park.
River Park offers more than just trails. There is a boardwalk through a wetlands area, restrooms, picnic tables, a canoe/kayak launch and more. Rock Hill's Park Recreation & Tourism department offers many environmental education classes including the Leopold Education Project and a popular paddling program.
I didn't get to visit River Park and/or Riverwalk on this visit but as luck would have it, I got a firsthand account from some intrepid paddlers. While Haley was prepping to go on stage, her two sisters (always there for moral support) decided it would be a good day to hit the river. According to Allison, a group put in at the dam on the Catawba River near Fort Mill and floated down to Riverwalk. She said the trip took them about 2.5 hours with some time for rock hopping and swimming in the river. She said she has hiked the nature trail before and hopes to hit the bike trails soon.
"The water was very clean and I like the way the park is introducing new activities to Rock Hill and getting more people out and active," Allison said. I guess she must be one of those who has "rediscovered" the Catawba River. And according to the article in The Herald, she's not alone.
C.C. Williams, Rock Hill's outdoor recreation coordinator told The Herald, "The tubing on the Catawba River has really just exploded." Most of the traffic is on the weekends when Duke Energy releases water for recreational use. Williams credited Riverwalk for part of the increase in tubers and paddlers. The launch at Riverwalk is 3.5 miles from the dam where Allison and her group put in, making it a relaxing 2-3 hour trip. It's 6.5 miles if you're going all the way to River Park, requiring a greater time allotment.
We will be headed back in September to see our favorite thespian in another Shakespeare Carolina production — "The Comedy of Errors" and hopefully we can also rediscover the Catawba.
(Don Hendershot is a naturalist and a writer who lives in Haywood County. He can be reached at This email address is being protected from spambots. You need JavaScript enabled to view it.)