Archived News
Elected officials in Swain proud to pray
Wednesday, August 02, 2017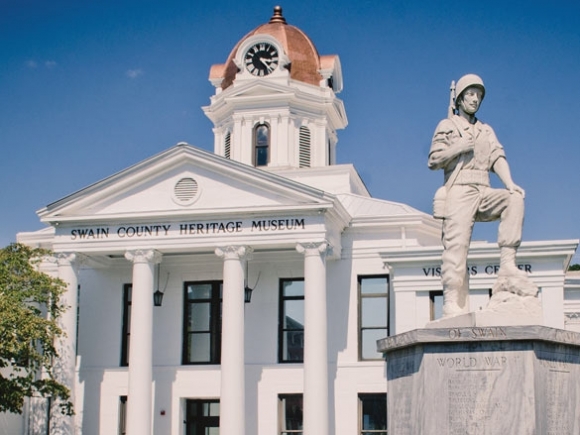 Praying in public has never been something politicians in Swain County have shied away from and it's unlikely the recent court ruling will change that ritual anytime soon.
Before calling any meeting into order, the Swain County Board of Commissioners stand for a prayer — usually led by one of the commissioners themselves. Chairman Phil Carson then calls the meeting to order, the Pledge of Allegiance is recited and then the board gets down to business.
The Bryson City Board of Aldermen also opens each meeting with a prayer and the pledge. Alderman Rick Bryson said the town's prayer hasn't been challenged in his four years in office.
"I think the unspoken agreement is that prayer represents free speech," Bryson said.
He said the measuring stick for public prayer and other references to religion is a community standard type of variable. While some communities may not feel comfortable with their elected officials offering a Christian-centered prayer before a meeting, it seems like a natural occurrence in rural, majority Christian communities like Bryson City.
"I feel that a community should be allowed to do what it is comfortable with on this issue," Bryson said. "What works in Bryson City might not work in a more secular community. But in Bryson City, we seem comfortable opening Board of Aldermen meetings with a prayer."
While Bryson understands the idea behind separation of church and state, he said that isn't a strong argument against prayer at government meetings considering how often God is included in government functions from the local to the federal level.
"It is hard to argue that prayer is a violation of the separation of church and state because references to God are on our money and elsewhere in government," he said. "Congressional sessions are opened with prayer. It is a tradition that we have accepted since the country was founded."
But the latest ruling from the 4th Circuit Court of Appeals didn't rule against prayer — it ruled that the way Rowan County Commissioners were praying violated the First Amendment, which prohibits governments from establishing a religion. The majority of the judges felt that allowing commissioners to lead a Christian prayer at the beginning of the meeting — and inviting spectators to participate — violated The Constitution by excluding people of other faiths.
Even though Rowan County officials argued that audience members were not pressured to participate, a majority of judges found it to be exclusionary and could be considered proselytizing because of language used like "Please pray with me" and "I pray that the citizens of Rowan County will love you, Lord."
This same language is often used when Swain County commissioners pray before meetings. When a court ruling in 2010 said public prayers should avoid evoking the name of Jesus, Swain commissioners said it wouldn't stop them — even if it meant breaking the law.
An email sent to Swain County's attorney Kim Carpenter seeking comment wasn't returned by press time.