Archived News
Macon governments avoid praying at meetings
Wednesday, August 02, 2017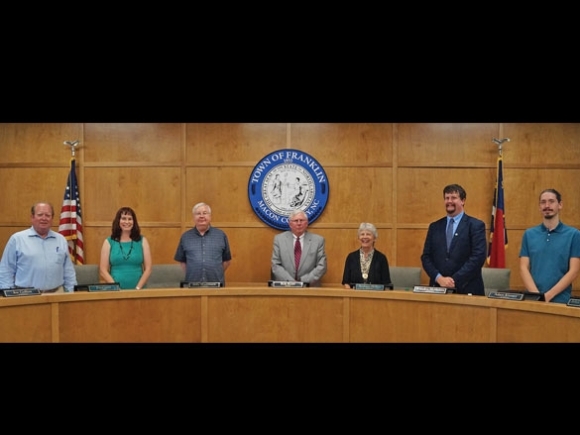 With all the controversy and uncertainty about the right and wrong way to do it, the town and county governments in Macon County err on the side of caution when it comes to praying at meetings.
Macon County Commissioners typically call the meeting to order, go around the dais for announcements, stand for a moment of silence and say the Pledge of Allegiance before getting down to business.
It's not that the Macon County commissioners aren't religious men — most of them are proud to tell constituents where they go to church and even include it in their biographies on the county website — but having a moment of silence allows everyone to pray or not pray in a fashion they see fit.
The county government has shown its Christian leanings in other ways — like installing "In God We Trust" insignia on the front of the courthouse and on sheriff patrol vehicles. It could have been considered unconstitutional for the county to spend public money on such a project, but the project was privately funded through the U.S. Motto Action Committee. The committee has been approaching every county and town in the state offering to pay for and install the motto on county-owned buildings. Macon and Swain counties have chosen to do it, but Jackson and Haywood counties declined.
The Franklin Town Council skips the moment of silence altogether — the board simply stands for the pledge before opening the meeting up for public comment.
Mayor Bob Scott, who served on the town board for 11 years and is currently in his fourth year as mayor, said a public prayer — or lack of one — has never been an issue during his years of service. For Scott, a prayer of any kind doesn't have a place in government proceedings.
"Public officials take an oath to uphold a secular constitution and in most cases they are tax-paid positions. I feel (prayer) is inappropriate. We represent everyone, regardless of their religious beliefs or those having no religious beliefs whatever," he said.
Scott caught some heat from Christians in the community last time he was sworn into office. Instead of following the long-abided tradition of placing his right hand on the Bible, he placed it on the Constitution. While it made sense for him to get sworn in on the document he's promising to uphold, some constituents saw it as an attack on Christianity. As a First Amendment advocate, Scott says not having any prayer at the town meeting is a guaranteed way to make sure all people feel included.
"Citizens come before public bodies to talk about matters of the common good and there is no reason anyone should be compelled to bow their heads in a show of some type of specific or non-specific religious belief at a government function," he said.
It's a touchy subject not many public officials want to even bring up much less take a strong stance on, but Franklin Councilmember Brandon McMahan says he doesn't need to pray in public to prove he's a Christian. For him, religion is a deeply personal and private aspect of someone's life.
"Personally, I am a practicing Christian. I pray every night for God's guidance in my role as a town councilman, as well as in the other aspects of my life. Before every town council meeting, I say a quick prayer before I leave home, to ask God for guidance," he said. "It is my belief that this is how prayer should be. It is a personal, private and real conversation between two parties. If members of any board want to pray, it should be done on their own time, in the way they choose."