Archived News
The letter and the spirit: Local governments wrestle with prayer
Wednesday, August 02, 2017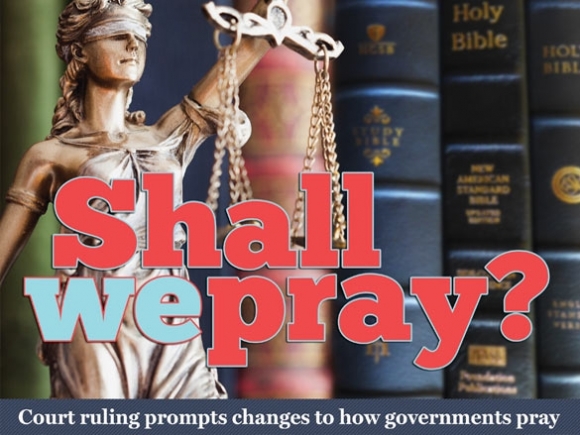 Public prayer in government has long been a contentious issue, but a recent court ruling has North Carolina municipalities scrambling to comply with both the letter and the spirit of the law while awaiting the challenges and changes that will inevitably come.
"I think towns that have practices similar to Rowan County will have to keep an eye on how the case progresses," said William Morgan, Canton's town attorney for the past three years.
SEE ALSO:
• Haywood commissioners asking for trouble in prayer case
• Macon governments avoid praying at meetings
• Public prayer not part of Jackson and Sylva commission meetings
• Elected officials in Swain proud to pray
On July 14, the U.S. Court of Appeals for the Fourth Circuit ruled that the Rowan County Board of Commissioners' tradition of lawmaker-led prayer was unconstitutional.
Citing the Establishment Clause of the First Amendment — "Congress shall make no law respecting an establishment of religion" — the court held in Lund v. Rowan County that the cumulative effect of repeated and overwhelmingly Christian invocations led to the association of the government with Christianity and could alienate citizens of other faiths.
"It's pretty clear that we have one approach we know is not OK," said Frayda Bluestein, a faculty member at the University of North Carolina's School of Government.
Indeed, some argue that no such religions invocations of any kind ought be given in government settings. But the United States — an overwhelmingly Christian nation, founded by Christians — has long been supportive of public prayer, within reason.
A 1983 Supreme Court case, Marsh v. Chambers, reinforced the right of state legislatures to pay chaplains to deliver prayers. Chief Justice Warren Burger wrote in the majority opinion that the "unique history" of legislative prayer in America and its continued practice was "no real threat" to the Establishment Clause.
A 2014 Supreme Court case, Town of Greece v. Galloway, further defined the issue; Justice Anthony Kennedy writing for the majority said that chaplains could begin town meetings with invocations provided they allow people from all faiths the same opportunity, and that those prayers were not coercive.
Both cases reveal a conservative court bending over backward to accommodate Christian prayer in government regardless of the merit; Burger's opinion in Marsh basically says that since it's been going on forever it's not really a hazard, and Kennedy's opinion in Galloway says that while the Town of Greece doesn't have to go out of its way to encourage non-Christian participation, it does have to maintain a modicum of inclusiveness and ensure the rhetoric doesn't become too sectarian.
The Fourth Circuit's ruling in Lund says that's where Rowan County crossed the line.
In Marsh and Greece, guests who were ministers or spiritual leaders gave invocations. In Rowan County, only commissioners did, to the detriment of inclusiveness.
And when they did, they did it in a manner the court held was "pointedly sectarian" in nature and "elevated one religion above all others," to the detriment of anti-sectarianism.
The ruling goes on to cite a number of damning instances that demonstrate such practices; video evidence over a period of almost six years shows that 97 percent of the Rowan County Board's prayers mention Christ, Jesus or the Savior.
Only Christians were represented in these prayers, where forgiveness for sin was occasionally asked on behalf of the community; Christianity was averred to be "the only way to eternal life" and prayers for the conversion of the entire world to Christianity were offered.
Rowan "falls outside the tradition of legislative prayer" in Marsh and Greece, according to the 10-5 ruling; the case was heard "en banc," a legal term that means every judge on the Fourth Circuit Court of Appeals heard the case, rather than the usual three-judge panel. Such hearings are usually reserved for matters of extraordinary public concern.
Morgan is also the town attorney in Lake Lure, Siler City, Tryon and tiny Taylortown in Moore County; he's served in such roles since 1991 and is advising his boards to review their own policies, and keep abreast of the rapidly developing situation.
"Having done this for his many years as I have, at least in this state, it's been my experience that most towns and probably counties do something similar to the Rowan County way of doing it, so it's something all municipal governments need to pay attention to, particularly if it goes to the Supreme Court," he said.
Bluestein said one thing justices do agree on is the fact-specific nature of each case — which makes it hard to draw general guidelines regarding public prayer.
"But it does give us some degree of clarity, at lease for the moment," she said.
There's a pretty good chance the Supreme Court would have to weigh in on the matter, Morgan said, especially if the ruling in an ongoing Sixth Circuit case conflicts with the Fourth Circuit's.
In that case, plaintiff Peter Bormuth says he feels unwelcome at his Jackson County, Michigan commission meetings due to his pagan beliefs and the commissioner-led prayers.
A ruling in Bormuth v. County of Jackson — like Lund, also heard en banc — is expected within weeks. Supreme Court mediation would likely take months or years and no appeal of Lund by Rowan County has yet been filed, so for now, the situation has stabilized.
Morgan is careful to note that neither Lund nor Greece nor anything else prevents board-led prayer, per se, nor does anything to prevent individuals from calling upon a higher being, be it Jesus, Muhammad or Baphomet.
"I would say in general, no, there's not a prohibition on calling upon any deity," he said. "That in and of itself is not the problem — it's the whole group of facts in any given case. It's hard to come up with a bright line ruling in a case like this."
Thus it appears that a commissioner invoking the name of Jesus during a prayer before a government meeting is sufficient separation of church and state, provided it's not overly demeaning to non-Christians, and provided that it doesn't happen regularly.
At least, that's the letter of the law; the spirit of the Establishment Clause, however, is balanced by the First Amendment's Free Exercise clause prohibiting laws that would prevent religious expression, even by elected officials.
That delicate balance will continue to serve as a source of contention between proponents of a more secular state and faith leaders, unless and until the Supreme Court rules specifically on the letter of the law — commissioner-led prayer — as well as the spirit of it.