Archived News
Formed by the mountains: Cherokee elder reflects on 93 years of service to tribe and country
Wednesday, August 02, 2017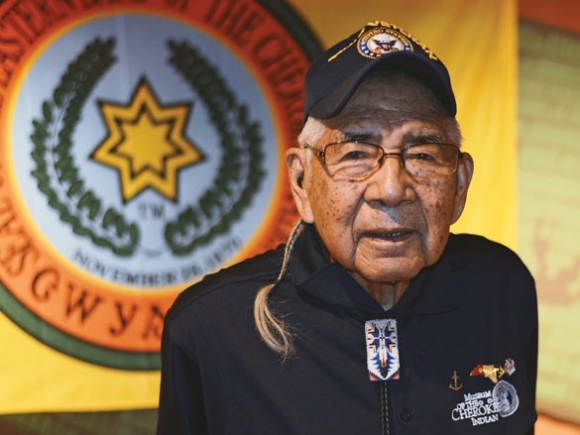 The Cherokee of Jerry Wolfe's early memory is a different place than the Qualla Boundary of today.
Wolfe, 93, remembers hills covered in farmland rather than forest, cleared by hand to keep the trees from encroaching on slopes families coaxed to yield the corn, beans and potatoes that fueled them. The weedy edges of fields yielded blueberries, blackberries and strawberries. The woods yielded fuel for winter heat in the log cabins and, when the family ran out of kerosene, knots of pine sap that could ignite to keep the lights on.
Back in Sherrill Cove, part of Cherokee's Big Cove community, Wolfe lived a 7-mile walk from town on a 500-acre piece of mountain land whose fields his father plowed with a team of oxen.
Or that's where he lived in the summer, anyway. While school was in session, Wolfe resided in a dormitory at the federally run Cherokee Boarding School. The students stayed there fall through spring, even on weekends. They got Wednesday through Sunday off for Thanksgiving and two weeks for Christmas, but otherwise the school was their home.
Life at boarding school
It was an authoritarian type of home. The students marched everywhere they went — to the dining hall, to the dormitories, to the schoolhouse. Every day began with the raising of the flag, and every day ended with its lowering, accompanied by a bugled taps.
And the discipline was strict, especially when it came to the Cherokee language.
"It was rough," Wolfe said. "The disciplinarian, he caught us speaking the Cherokee language he gave us a good strapping with a belt for speaking the Cherokee language. We weren't allowed to speak Cherokee at all."
Wolfe had it easier than some. His father spoke only Cherokee — no English — but his mother spoke both languages. He knew some English when he came to school. For many students, that wasn't the case.
About 80 years have passed since those days, with the men who inflicted that discipline long since deceased. It would be easy for Wolfe, now a beloved teller of Cherokee stories and speaker of the Cherokee language, to vilify those men who punished him and his classmates for speaking the language of their ancestors. Who knows — perhaps, if the prohibition against speaking Cherokee hadn't been so harsh, the language wouldn't be fighting for its survival to the degree it is today.
But Wolfe isn't quick to criticize. When asked what he thinks, now, about the prohibition on speaking Cherokee, he takes a thoughtful pause before giving an answer that attempts to see it from the perspective of the disciplinarians.
"The discipline part was so rugged, but to look at it in the way that they were, they were trying to teach us so we could learn English, to get the Cherokee language out of the way. They wanted us to speak English language because that's what was used nationwide," Wolfe said.
But, he continued, that doesn't make it right.
"They didn't have to punish us like that," he said. "They shouldn't have tried to make us stop using our language, because that's our language. And so the federal government were going at it in the wrong way."
Going to war
Even so, Wolfe saw the stoicism and resiliency he'd developed through the challenges of his early years come in handy when the bombs at Pearl Harbor on Dec. 7, 1941, signaled the USA's entrance into World War II. Wolfe turned 18 two years later and enlisted in the Navy.
"When I went off to the Navy I was used to all that discipline," he said. "It wasn't that rugged in the Navy."
In the Navy, Wolfe was a star student. He went up to Naval Station Great Lakes for training, a drill sergeant yelling commands for the new recruits to execute.
"I was on top of all of it whenever he started barking out the commands," Wolfe recalls. "Well, it wasn't but a few seconds he called me and he said, 'Hey you, come here,' and that was me. I walked over and he said, 'Hey, have you been in the military before? I said, 'No sir.' And then he said, 'Where did you learn to march and how did you learn the commands of the Navy?' And that's when I told him that I'd been to boarding school."
The drill sergeant responded by giving him his own group of people to drill.
Wolfe would eventually be promoted to second class petty officer. He would work on the Queen Mary, the second-biggest ship in the world at the time, and he would sail to Scotland, England and the beaches of Normandy in France, where he would watch from the ship as the infamous D-Day invasion unfolded before his eyes. He found himself transporting a train of soldiers through the madness of New York City as the news hit that Germany had surrendered, and he was aboard the USS Missouri when Japan signed its official declaration of peace there, ending the war.
When it was all over, Wolfe came home to Cherokee and to his soon-to-be wife Juanita, with whom he eventually had seven children.
Wolfe never gave up his proclivity for hard work. He got trained as a stonemason, over the years putting his sweat into "just about every building you see here with masonry or brickwork or blockwork."
In the 1960s, he began to share the trade with others following Lyndon B. Johnson's creation of the Job Corps program, which includes the Oconaluftee Job Corps Civilian Conservation Center in Cherokee. He worked there for 20 years before retiring.
Formed by hard work
Even after decades of retirement and 93 years of life, Wolfe is a busy man. He volunteers at the Museum of the Cherokee Indian three days a week — Mondays, Wednesdays and Fridays — greeting visitors and hosting story-telling sessions. He's involved in the community, and for many years he traveled all over the world with Christian mission teams, journeying to Haiti, Jamaica, Barbados and South Africa. He's more spry than many people in their 60s and 70s, maintaining a persevering, uncomplaining attitude that could well be the result of his upbringing in the mountains and valleys surrounding the town he still calls home.
Wolfe remembers being a 12-year-old kid in the late 1930s when a man came to his class at the boarding school and proposed that they all pitch in and grow a garden. The man had gotten permission to use an acre of land by the school and was going to buy all the seeds out of his own pocket. And he wanted each of the boys to take two days out of their summer to come to school and tend the garden.
"He said, 'When they mature and get ripe, we're going to sell those tomatoes, those cucumbers and those corn — we're going to sell that and we're going to have some money,'" Wolfe recalls.
And that's what they did. Wolfe had to walk 7 miles to get to school from his home in Sherrill Cove, and others had to walk even farther. They packaged up the harvest into bundles of vegetables that they'd sell for 15 or 20 cents, working hard all summer to peddle their wares. They'd be long days, and he'd push through without even eating lunch — his mom would send him out with 15 cents, enough to buy a soda or Moon Pie.
"When I look back on it now, we didn't complain about not getting any pay. We didn't complain about any food, any sandwiches," Wolfe said. "I'd take my 15 cents and the rest of the guys would have a nickel or a dime. We'd pool our money together. We'd go down to the store and buy about three watermelons. That's what we'd have for our lunch."
Months later, school was back in session and Wolfe's class was gearing up for a shopping trip in Sylva.
"I was thinking, 'Well, I don't have any money,'" Wolfe said. "Anyway, just about that time the man that asked us to garden and sell walked in and he said, 'I brought a little dividend that was left over from selling the vegetables this past summer. Each one of you boys will get an envelope.'"
The boys opened their envelopes to see 50 cents inside. It wasn't much money for months of work, but they were elated.
"We worked all summer for that 50 cents," Wolfe said. "I look back on it now and I think, 'Gosh, what would happen today if the kids had to go through the same thing we did.'"
That summer of gardening was the start of the Cherokee Boys Club, an organization that's still around today, offering on-the-job training to Cherokee youth of both genders.
Order of the Long Leaf Pine
Over the course of his life, Wolfe's accomplishments have become hard to ignore, spanning storytelling, stonework, military service and fatherhood. But his humble attitude toward it all is easy to see.
For a man who didn't even finish high school — he left for the Navy before graduation — his list of accolades is impressive. It's impressive for any man, of any education level.
In 2013, Wolf was named a Beloved Man of the Eastern Band of Cherokee Indians, the first time anyone had worn the title since the early 1800s. It's a title traditionally reserved for warriors who are too old for battle but highly valued for their integrity, good character and service to the tribe.
Wolfe won the North Carolina Folk Heritage Award in 2003, the Brown-Hudson Folklore Award from the N.C. Folklore Society in 2010 and received an honorary doctorate of humane letters from Western Carolina University in May. And he does have a high school diploma — it was awarded to him when he returned from the Navy.
Now, he has another honor to add to his ever-growing list. Last week, Wolfe was added to the Order of the Long Leaf Pine, the highest civilian honor given in the state of North Carolina. Former N.C. Rep. Joe Sam Queen, D-Waynesville, bestowed the award in place of Gov. Roy Cooper during a Folkmoot USA performance at the Joyce Dugan Cultural Arts Center Tuesday, July 25, speaking to the accomplishments with which those who know Wolfe are already familiar — his service in World War II, his work to preserve the Cherokee language and culture, his skill as a master stone mason and stickball player, and his status as a spiritual leader of his people.
But through it all, Wolfe maintained his trademark humility.
"I never, ever dreamed of an event like this during my lifetime," he said.