Archived News
What's in the cards? Diversify or die
Wednesday, August 02, 2017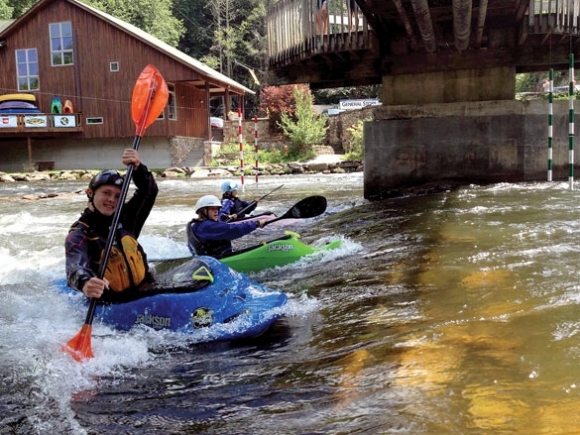 Like bubbles bobbing atop bathwater, the sectors of Haywood County's economy are separate but often attached to each other in ways not always readily seen. Although all the bubbles ebb and swell independently of each other, they also rise and fall with the level of bathwater in the tub.
Likewise, Haywood's economy is just one subset of the global, national, regional and state economy. Within the state of North Carolina, Haywood economically interacts with many other counties, but especially its neighbors to the west.
Although the health of Buncombe County's economy is important to Haywood County, just as important is the vitality of Jackson, Macon and Swain counties, with which Haywood shares many more similarities than Buncombe.
But despite similar opportunities and shared challenges, there are some critical and distinct variations in this mostly rural, mostly mountainous four-county area.
"We're all different," said Ken Mills, executive director of the Swain County Economic Development Commission, which was established in 1991 to both attract and support local industries by conducting industrial surveys and providing consulting advice.
Mills' county is perhaps emblematic of the struggles facing such counties; by far the smallest of the four, Swain was again designated as a Tier 1 community by the N.C. Department of Commerce, meaning it is among the most economically distressed in the state.
Jackson and Macon counties are also thusly designated, while Haywood County was controversially moved from Tier 2 to Tier 3 this year, placing it among the least economically distressed counties in the state.
These designations directly influence how much in economic development incentives a county can provide, meaning Haywood's playing on a slanted table.
But that's ostensibly for good reason.
Given that Jackson, Macon and Swain counties have lower populations, dealing with the same challenges as Haywood County is that much harder.
"We don't have a lot of buildable, developable sites," Mills said, echoing comments made by Haywood Economic Development Council Executive Director Mark Clasby, and probably every economic development planner west of Asheville. "That increases the difficulty of commercial and residential development."
And as much as Haywood County struggles with broadband implementation, it generally gets worse the farther west one goes.
"One internet-based business [in Swain County] couldn't get the connectivity it needed, so he left," Mills said. "And he took three jobs with him."
Haywood's population base — as well as its proximity to Buncombe County's relatively sprawling local economy — seem ultimately to make Haywood a more attractive place to live, work and play for many.
N.C. Department of Commerce data from 2016 show that although Haywood County continues to dwarf its western neighbors in almost every economic sector, there are some counties in which workers and business owners can find a better deal.
For comparison, 2016 census figures show Jackson County with a population of 40,000, Macon with 34,000, and Swain with 14,000, compared to Haywood's 60,000.
One of Haywood County's most important economic sectors — leisure and hospitality — is and has been thriving, but faces increasing competition from Jackson County; with 150 establishments, Jackson is just 20 behind Haywood and has 12 more than Macon County.
But the real surprise is Swain County; with only 95 leisure and hospitality establishments, Swain's employment in that sector is almost double Haywood's, average wages are double and total wages paid is nearly quadruple.
In a related revelation, both Swain and Jackson counties sport a higher average service industry wage than Haywood and Macon do.
Haywood County does, however, run a pretty slim public administration sector, compared to Jackson, Macon and Swain counties, with only about 1,100 employees. Only Macon County has less, but again, the big bucks are in Swain, which boasts the highest average wage and the most total wages paid.
"We're such a high tourist area, we're always looking for diversity," Mills said.
Where Swain falls short is in professional and business services, with 39 establishments, compared to 166 in Macon, 176 in Jackson and 219 in Haywood; Swain's sector lags per capita compared to Haywood's by about 5 percent, and the county's average wage of $27,000 is also far short of Haywood's $40,000.
Conversely, Macon has 20 percent more professional and business services per capita than Haywood County, and Jackson has 14 percent more.
Another area in which Swain seeks diversification is manufacturing. Data regarding Swain's manufacturing sector is suppressed to prevent people from being able to identify the source — meaning there simply aren't enough establishments to mask the identity of the companies involved.
Soon, there will be one less; ConMet recently announced it will shutter its Bryson City plant in 2018, affecting 230 employees with relatively high salaries. But in yet another instance of the economic interrelatedness of this four-county region, more than half of those jobs will move to ConMet facilities in Haywood County.
Jackson County's manufacturing sector has 33 percent fewer establishments per capita than Haywood County, but Macon has about 4 percent more; both counties have small manufacturing footprints — combined they're just one-fourth of Haywood's — and also have average wages 10 to 20 percent lower than in Haywood.
Jackson and Macon do, however, have a much larger trade, transportation and utilities sector than would be expected, complete with salaries comparable to Haywood's. Swain's salaries in this sector are depressed by about 20 percent.
Macon's ace-in-the-hole is the production of goods, with 35 percent more establishments per capita than in Haywood County, and just 18 fewer, although salaries are between 10 and 20 percent lower than in Swain, Jackson and Haywood counties.
"We still have some manufacturing," said Tommy Jenkins, director of the Macon County Economic Development Commission.
Macon County's aging demographics, Jenkins said, contribute to the county's slightly higher amount of education and health services establishments per capita than Haywood County — 4 percent more, to be exact — but that's not the case in Swain and Jackson counties, which have 3 and 6 percent less, respectively. Average wages in this sector make Jackson the place to be; they're 12 percent higher than Haywood's, 16 percent higher than Swain's and 28 percent higher than Macon's.
But these rural counties aren't exactly out of the game just yet. Mills sees encouraging signs in health care as well as in the start-up community, and says one major economic development strategy relies on schools to add value to the county.
"We have a school system that is being both reactive and proactive," he said, referencing the introduction or revival of vocational education in the areas of carpentry, welding and robotics.
Like a lot of economic developers in Western North Carolina, Mills is optimistic, and ready to make lemonade out of lemons.
"We're healthy even with the demise of ConMet," he said. "And it's only about a year until that space opens up for redevelopment."