Archived News
When India comes to town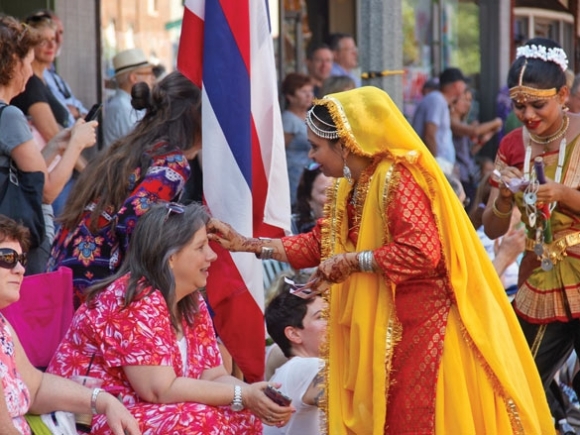 By Jerica Rossi • Folkmoot Guide
When asked which country I wanted to be a guide for during the 2017 Folkmoot Festival, it was a no brainer: India.
It was while I was studying and traveling through the states of Gujarat and Kerala that I fell in love with the vibrant colors and aromatic cuisine that India boasts of. It was then that I also had my first taste of being completely intoxicated by the up-tempo drum beat and the tenacity of the synchronized dancers — a kind of high that hits your stomach and demands you to be completely present and in tune with your senses.
Since moving to this little mountain town of Waynesville, and after spending the majority of my twenties living in Asia, I find myself constantly succumbing to the wanderlust blues and craving the fragrances and sounds that I'd grown so accustomed to in the East. Luckily for me, being a guide for Folkmoot meant I didn't have to break the bank or say goodbyes in order to feed my insatiable appetite for culture.
As a first-year guide, I wasn't sure what to expect, but knew my outgoing nature and ability to thrive on chaos would serve me well. As I stood at the airport awaiting the arrival of the Utkarsh Dance Academy team from Gujarat, I realized that I'd never been the one holding the sign or waiting in baggage claim. Yet here I was, about to be responsible for moving 26 people around Western North Carolina for the next 12 days. And it wouldn't be long before we'd be sharing laughs and frustrations, or bonding on long bus rides and over a shared love for spicy foods.
While the public gets a taste of what Folkmoot is about during parades or performances at local venues, the real energy of Folkmoot seems to happen at the center when the performers casually come together to share their love for movement — always engaging in impromptu dance parties.
After the "Gala on the Green" last Thursday (at the Folkmoot Friendship Center in Waynesville), the auditorium was bursting at the seams with energy as musicians from 10 different cultures came together to play music, with the dhol (a double headed drum used in northern Indian music) sweeping everyone off their feet and setting the room on fire.
As I looked out over the crowd, I couldn't help but be in awe of how dance was being used as a common language, the rhythm creating community, and how the sounds of India aroused enormous joy amongst everyone present. It was the same spirited energy the dancers would send pouring down Main Street during the parade in Waynesville on Saturday morning, leaving onlookers enamored with the colors spewing from the twirling skirts and lively rhythm.
As we walked out of the Hickory International Council after a recent performance, a young girl shouted from aside her parent's car, "Thank you for coming," and continued to wave until the colorfully dressed dancers loaded onto the bus, the bells on their feet jingling with every step.
In that moment, I saw the world through the eyes of a child and felt this overwhelming sense of unadulterated admiration. We grow up being told to dream big, that the world is your oyster, and the sky is the limit. Then, somewhere along the way, we become realistic about our aspirations, about how to maintain stability, and also fulfill societal responsibilities.
Yet, here was this moment that perhaps inspired a child to go and see and learn about what exists outside the state of North Carolina, just for the sake of feeling it. Perhaps, she had her first taste of that indescribable feeling you get in your chest when you experience new forms of beauty, one you are in constant search of after you've been captivated by its power.
I've chased that feeling of wonder to South Africa, where I was introduced to the omnipresent giver of life that is Mama Africa and marveled at the click language of the Xhosa; to the island of Java, where I became entranced by the gamelan (a musical ensemble usually consisting of drums, xylophones, and gongs) and infatuated with Islamic mysticism; and to the countryside of Laos, where my soul was shaken awake by chanting Buddhist monks at sunrise.
It's music and culture that have ultimately been my vehicle to that feeling of enchantment, to knowing what it means to be alive in the purest sense of the word. Now, here I am, transported to India via the enchantment bus for 12 days straight.
It delights me to hear the buzz of the audience following the end of my group's performance, excited to have had a glimpse into a culture that seems worlds away without having to leave their backyard.
For me, being a guide for Folkmoot isn't just about paying forward all the times friends of friends, or family of friends of friends, have welcomed me to their country and showered me with hospitality. It's about wanting others to value and embrace diversity as much as I do and to be inspired to tap into those moments that make them feel alive.