Archived News
Sixth time's the charm: Folkmoot comes full circle, enters new era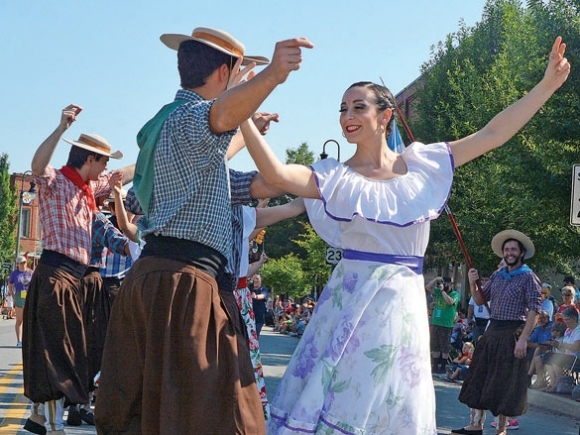 I kept glancing over at the signs.
Strolling the long and busy corridors of the Folkmoot Friendship Center (Waynesville) this past Sunday evening, I couldn't help looking at the signs posted on the walls next to the doors. "Argentina." "Israel." "Russia." "India." "Taiwan." All of these foreign countries, these ambassadors from every corner of the world, each with their own set of social and economic issues, many mirroring our own.
Whereas some of these countries may even have cultural differences between each other, there they all were, in dorm rooms right next to each other, sharing bathrooms, sharing dance moves and instrumental techniques, maybe even a laugh, as the 34th edition of this beloved and vital Folkmoot International Dance & Music Festival rolls on through Western North Carolina.
For me, personally, Folkmoot is my anniversary of arriving in Waynesville, where my job interview assignment for The Smoky Mountain News was to track down two stories on the festival, submit them over the weekend, and hopefully be offered the gig come Monday. That was exactly five years ago this past weekend, with this Folkmoot being my sixth as a journalist covering it.
That first Folkmoot I attended in 2012 was also a presidential election year. As heated of a political race it was between Obama and Romney, one could never imagine the turmoil that the 2016 campaign would bring. A lot has changed in the last five years, but one thing has remained the same, and for just and important reasons — the underlying mission of Folkmoot.
When the festival was created in the early 1980s, Folkmoot was championed as an olive branch between the United States and the world (but mainly aimed towards the Soviet Union — aka Russia) as the once red-hot Cold War was beginning to thaw, the 1990s and eventual fall of the Berlin Wall visible on the horizon.
And as Folkmoot grew through the 1990s, so did the optimism on the world's stage, where relations between completely different ideologies and political spheres were beginning to find common ground, some even shaking hands after decades (and centuries) of shaking angry fists towards the heavens of an unforgiving god.
But, those several years of positive ground became instantaneously unstable and easily forgotten once those two airplanes slammed into the World Trade Center on Sept. 11, 2001. Suddenly, it was "us versus them," with "them" being whatever or whoever it was we were told to be weary of as the colors of fear fluctuated daily between red, orange and yellow.
By the time I found myself in Haywood County in 2012, Folkmoot was, by all accounts, kind of fading into the background of Western North Carolina's priorities and cultural attractions. Sure, the groups — like clockwork — arrived every year, and were greeted with smiles of pure love and appreciation by locals and visitors alike.
But, it seemed — at that time — the event as a whole was running on fumes. A lot of familiar faces keeping Folkmoot going all those years either had moved on into other endeavors, or simply were ready to hand off the heavy reigns of responsibility.
As an arts and entertainment editor, I've found myself constantly trying to encourage people to not lose sight of what Folkmoot means — economically, socially, and spiritually. Those links are not only important for Western North Carolina, but also for international groups who take home with them the compassion and honest connection with their American and Southern Appalachian counterparts. And, in recent years, Folkmoot has not only regained its footing, but also its purpose as a bastion of world culture, a beacon of hope in dark times.
Regardless of where you stand politically, I find the more one exposes themselves to things, perhaps, outside of their daily bubble that is their life, the more you begin to see and interact with the bigger picture — a chance to step outside of yourself, in hopes of, in all actuality, finding your true self.
This 34th edition of Folkmoot might prove to be the most crucial year in the long and bumpy history of not only the festival, but this planet and all its inhabitants. I think it also ushers in a new and exciting era for the event. This is truth, every single time I step into the Folkmoot Friendship Center, I see the beauty that emerges when faces and voices and thought processes from all over the world are placed in one building, having dinner together, watching each other perform, and, at the end of the event, heading back home as part of a global family that stretches back over three decades, all originating right here in our own backyard.
Life is beautiful, grasp for it, y'all.