Archived Arts & Entertainment
Field of Dreams: If you build it, they will come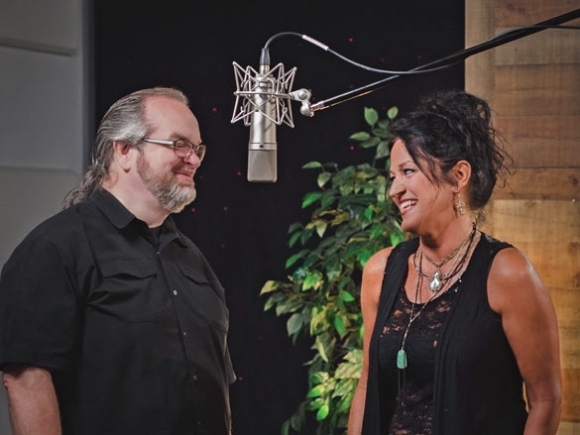 By Kurt J. Volker • Contributing Writer
In a sense, Warren and Phil Drake and Warren's wife Ronda have created their own field of dreams in the magical mountains of Macon County.
Tucked between Dalton's Christian Bookstore and Angel Urgent Care at the Georgia Road and N.C. 64 in Franklin, is a rather non-descript storefront, marked by the corporate logo Myriad Media. While not open to the general public as a regular business normally is, Myriad Media is available by appointment and does provide a complete service for those seeking to create their own unique musical identity.
In The Beginning
"When I was a teenager, working in my father Clyde's accounting business, Phil and I had a dream about someday getting into the music business," Warren Drake said.
As is often the case with young dreamers, that plan was put on hold until just recently. The young Drake brothers had grown up in the church with their other three siblings and Christian music was an integral part of their daily lives. Warren, a bespectacled 56-year-old with a graying ponytail, began singing gospel music at an early age. He proved so adept at his musical ability that he applied to the Eastman School of Music in Rochester, New York, auditioned, and was accepted. He decided at the time however, not to pursue that opportunity.
Meanwhile, his older brother Phil ("I'm the younger, better looking one," jokes Warren) had completed his studies in math at the prestigious Davidson College near Charlotte. "He was (and still is) one of those genius guys at pure math," Warren continues.
Phil Drake had been teaching math in the Greenville, South Carolina metro school system, but when their father's health started to fail, he came back to help with the business.
"I had done tax returns with a pencil before," said Phil Drake, "but I didn't want to stay in the accounting business under those circumstances."
So, as any "typical" math genius might do in 1977, the senior Drake bought an IBM 5100 computer.
"They called it transportable because you could move it with a hand truck," he recalled.
He then taught himself coding, and created the accounting software used today by more than 60,000 independent tax accountants across the U.S.
As a teenager, Warren joined his brother in the family accounting business and since the mid-'80s has been in charge of marketing, sales, and training. He travels regularly and is responsible for a territory encompassing Ohio, Kentucky, and Tennessee.
Today, Drake Software is one of the largest, if not the largest, privately held companies of its kind in the U.S., employing about 600 people in their software division (900 total) with offices in Franklin, Dillsboro, and Hayesville, and Nashville, Tennessee.
A Match Made in Heaven
It was 1994 when Warren met his future wife Ronda. Music was the glue that brought them together.
"I was singing at an Atlanta church where Ronda's sister and her husband were on staff," he said.
Both Warren and Ronda were married with children at the time and they only saw each other "for two or three minutes that first time," said Warren.
Ronda and her family were very active in the church gospel choir, and as fate would have it, both singers' paths would cross from time to time. By 1996, both had separated and Warren was singing in Atlanta with the all black Charles Westmoreland Chorale.
Again, by chance, Ronda would join the Westmoreland Chorale in 1998, the only two white singers in the all black gospel group. Although there was no romantic involvement, Warren recalls, that event would literally transform their lives.
By 2002, both realized their love for music, the church, and their growing interest in each other sparked some discussions about the possibility of marriage.
"We started talking and spontaneously asked each other if we did marry, what date would we choose," Ronda said with a smile.
They both scribbled a month and day on a piece of paper and gave it to each other. May 15, each had written. As it turned out it was a Wednesday.
"Who gets married on a Wednesday?" Warren laughed. But they did.
And the couple have been making beautiful music together ever since, singing gospel music wherever it leads them and touring occasionally with their Elvis Presley Tribute Band, featuring Mark Eskew as Elvis.
Divine Intervention
Flash forward to 2016. Reviving the dream they had years ago, Phil Drake approached Warren regarding a possible location for their long-held dream.
"I had been collecting sound and lighting equipment for years and needed a space for it," Warren said.
And perhaps by divine guidance, the perfect venue appeared. It just happened to be the same storefront as the former Franklin gospel radio station many remember as "The Dove" and most recently, the Tech Place.
So an agreement was reached and the brothers began revamping the storefront into what today is a joint operation with the recording studio in one half and Back Lot Productions, a Drake Ventures audio/video service in the other half.
"We wanted Myriad Media to be a full-service recording, audio/video facility for use by the general public," Warren said.
"With affordability being a key factor," Phil added.
Ronda Drake, 55, a vivacious lead singer of note herself, lent her interior decorating skills to create a homey, welcoming effect as you enter the studio. Here, you are greeted by splashes of color and an ambiance of a comfortable living room, complete with leather couches, an upright piano, a stainless steel Roland drum set, abstract art, and Andy Warhol type portraits of Marilyn Monroe and James Dean.
Down the polished hallway on the left are colorful, seven-foot poster-style renderings of Frank Sinatra, Ray Charles, The Beatles, Jimmie Hendrix, Sammy Davis Jr., and Keith Morrison. To the right are the audio/video production offices of Back Lot Productions.
Further down the hallway on the left is the Band Cave, a large, beautifully appointed recording studio, complete with an ebony Ibach baby grand piano, comfortable lounges, coffee tables, rugs, backdrops, and lighting. A smaller recording studio is located just off the Band Cave to the back right as you enter.
The sound room "where the magic happens" is the next door down the hall on the left. In addition to the ultra hi-tech sound board, comfortable couches, coffee tables, soft lighting, and an electric fireplace complement the colorful décor.
This is the lair of sound engineer Luis Diaz, a classically trained guitarist who attended the Conservatory of Music in Puerto Rico. He then went on the Berkeley College of Music for Music Production and Engineering. Diaz also attended Western Carolina University.
"I made a career with the U.S. Air Force Band and had the opportunity to perform with Jaime O'Neall, Restless Heart and others," he said.
Diaz has also recorded with Vince Gill, Amy Grant, Cece and Bebe Winans and has studied with a number of iconic jazz legends. In addition, Diaz worked for Vine Records out of Nashville as a mixing engineer, utilizing his skills with a variety of well-known gospel singers.
It's here in the sound room that Diaz uses all his experience to produce just the right mix of background, blending, and a bit of magic to render a flawless, finished product.
Rounding out the facility are a well-appointed changing room and a break room complete with an old-fashioned, rotary dial, red wall phone, checkerboard tile, gumball machine, and a jukebox. On the far wall is a small painting of The King, Elvis Presley.
Revelations
"We're really proud of what we've created here," Warren said. "The name Myriad means a variety, in this case, the variety of services we provide."
From an in-house band, to graphic design, to vocal support, to videos, to jingles, to voice overs, and more, Myriad Media is poised to literally do it all.
"We've assembled a great staff from our scheduler/receptionist Rebekah George, to sound engineer Luis Diaz, to video editor Kim Dahn, to graphic artist and voice over specialist Jeff Laurance, and copy writer Carol Gill," Warren said.
Myriad has already had a number of Nashville artists visit the facility and express their interest in recording here. Drake said his long-term goal is to publish, have their own label, and offer complete management services.
The facility, located at 185 Franklin Plaza Drive, in Franklin is planning a grand opening for Friday, July 28, with a ribbon cutting at 2 p.m. There will be studio tours open to the public beginning at 2:15 p.m., with three live bands performing from 5:30 to 8:30 p.m.
For more information on the studio, visit its Facebook page Myriad Media.
Visit Myriad Media
Myriad Media, located at 185 Franklin Plaza Drive, in Franklin, is planning a grand opening for Friday, July 28, with a ribbon cutting at 2 p.m. There will be studio tours open to the public beginning at 2:15 p.m., with three live bands performing from 5:30-8:30 p.m.
If you think you have what it takes, schedule an appointment with Myriad Media to create your own demo. 828.349.5800.
(Kurt J. Volker is a writer/photographer living in Otto. He may be reached at This email address is being protected from spambots. You need JavaScript enabled to view it..)