Archived News
EBCI could provide broadband relief in Swain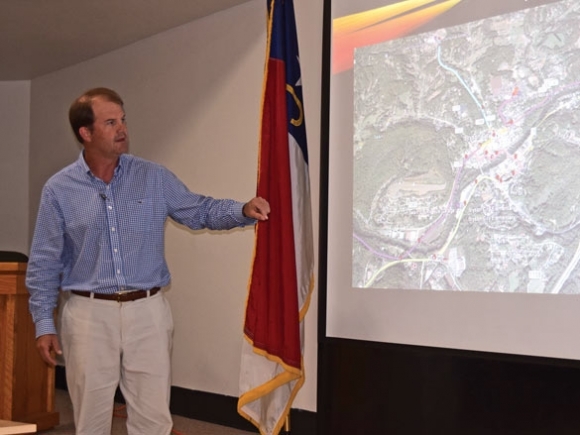 For many Swain County residents, waiting until 2020 in hopes Frontier Communications will be able to provide them with any kind of broadband internet service is not a realistic option.
Residents made it clear during a town hall meeting last week with Rep. Mike Clampitt, R-Bryson City, that they wanted better service now — and a company started by the Eastern Band of Cherokee Indians might have a quicker solution.
Jeremy Brown, who works in the IT Department for the EBCI, explained how the EBCI's collaboration with Balsam West and the creation of Cherokee Wireless could benefit Swain County in the near future.
Back in 2003, the EBCI and Drake Enterprises in Franklin were experiencing the same internet challenges as others in Western North Carolina — except when the internet goes down at Harrah's or at Drake, it could cost them millions in revenue. The inconsistent coverage led to the EBCI and Drake taking matter into their own hands by going in 50/50 to start Balsam West, the provider that now supplies bandwidth.
"It was created in 2004 out of necessity because EBCI and Drake needed infrastructure to support their mission and applications," said Matt Singer with Balsam West. "We constructed a fiber-optic network in Western North Carolina that is a 400-mile ring network mostly underground."
That fiber-optic network created what people in the industry call the "middle mile." While the middle mile serves as the backbone of any broadband internet network and is successful in providing service to many businesses, the last mile is still needed to deliver internet capabilities to homes in the far corners of the region.
"The infrastructure is here to support businesses … but we can't get to individuals cost-effectively with fiber," Brown said.
Since installing the fiber, Brown said the business plan had evolved to begin looking at fixed wireless to expand the network to more people and businesses on the Qualla Boundary, which is how Cherokee Broadband got started. With an access point attached to the fiber network, wireless signals can be sent out further to homes as long as the line of sight isn't obstructed by a mountains or trees.
Rick Strohm, office manager with Cherokee Broadband, said he sympathized with folks in Swain County who still don't have reliable service in a time when it's no longer a luxury but a necessity.
"We were promised for years 'it's coming, it's coming,' and it never came," he said.
Strohm said the goal of Cherokee Broadband right now is to provide service to every family and business on the Qualla Boundary, and when that goal is complete, the company will begin branching out to serve surrounding areas like Swain County. Six new wireless towers are currently being installed on the boundary that the company hopes will increase service from the current 25 megabytes of internet speed to 100 MB of speed.
"Our main goal when founded in 2008 was to bring high speed to enrolled members," he said. "We hope to do the same thing for surrounding towns when we're done — Maggie Valley, Robbinsville, Bryson City — we hope to fill in the gap."
Cherokee Wireless currently has 460 customers but at any one time can be serving 30,000 people because of the casino and hotel.