Doing business in Haywood County
What's in the cards? Entrepreneurs go face-to-face with customers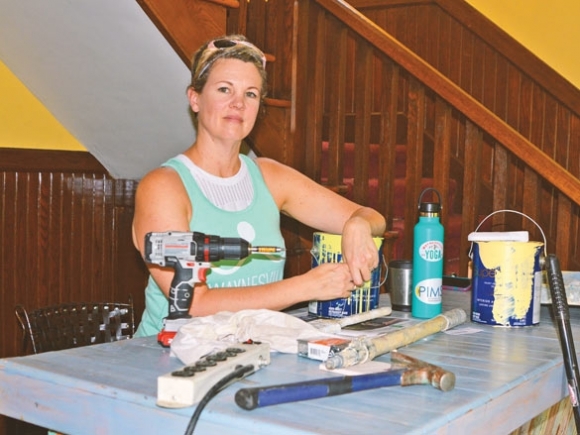 Since late April, The Smoky Mountain News series on economic development has focused on the financial health of Haywood County, the mechanisms by which state, local and national governments encourage economic development and the various sectors that make up the county's economy.
Those sectors — tourism, manufacturing, retail, real estate, health care, agriculture — all play roles of varying importance locally despite holding wildly divergent business models, product offerings and pay scales.
The one thing they do share in common, however, is that they're all underlain by entrepreneurs — those brave souls who strike out on their own to perhaps stake out a small claim on their own little piece of the American dream.
Sure, many of them don't make it — 20 percent of all small businesses don't survive their first year, and a full 50 percent aren't around after five years, according to the U.S. Small Business Administration.
But the ones that do can grow far beyond the mom-and-pop shops like Chip Singleton's Custom CNC shop in Clyde, or Michelle Rogers' Select Homes in Waynesville or Justice Rogers' Not So Old Toys and Collectibles in Canton.
Apple was started by one person, as was Nike; although businesses of that scale are one-in-a-million, entrepreneurs who start operations like Steve Jobs and Phil Knight did back in the '70s drive economic growth in counties all across the United States, including Haywood County.
"I think Waynesville is a good place to start a business because people want to live here. And if they don't want to live here, they want to visit here," said Jay MacDonald.
The Atlanta native MacDonald moved to the area in late 2001 after closing a security and investigations company she'd owned in Georgia; she's currently in the process of renovating a grand old home at 274 South Main Street, which will become the Waynesville Yoga Center after it opens Aug. 12.
"I realized Asheville is sort of a Mecca for yoga on the east coast," MacDonald said. "I think Waynesville is really changing. You've got lots of younger families moving here, an interesting melting pot of all different kinds of people."
MacDonald hopes to cater to locals as well as tourists who don't want to interrupt their healthy lifestyles just because they're on vacation.
MacDonald's yoga studio will offer a variety of classes like Pilates, tai chi and barre in small groups or privately as well as workshops, retreats and possibly even nutritional seminars and cooking classes once it fully occupies the bottom floor of the house.
But the yoga studio will only occupy the bottom floor of the house; what's going on upstairs can only be described as the "anti-yoga."
Virginia Tech alum Ian MacDonald — Jay's husband — is also an entrepreneur; originally from Virginia, he found himself working on laboratory information management systems in Atlanta.
"It bloomed and then sort of shrank, and in that time I found a job up here in Asheville," MacDonald said.
About a year later, that job wasn't panning out, so he began working for the Atlanta company from home.
"I didn't have to move back, and they were happy with me, so it worked out really well," he said.
After a few years of that, friends who started a psych practice approached MacDonald to create from scratch an electronic health record.
"I went and looked at what they had and I was like, 'Oh man, I can do better than this,' so I just dove in," he said.
He began getting up at 5 a.m., coding until 9, working until 5 p.m. on other projects, and then putting in a few more hours of coding. After eight months, he was pretty much finished.
"We're celebrating our 10th anniversary this month," he said of his Waynesville-based company, Pimsy EHR.
Initially, Pimsy was intended to be a local company.
"I had thought that word of mouth would work, and it kind of did," he said.
Just a few years prior, President George W. Bush signed a mandate requiring all medical service providers to switch from paper records to electronic systems of the type MacDonald built within 10 years.
The thought was that electronic records would eliminate dangerous diagnostic and prescription errors and increase efficiency, especially on the insurance billing side of things.
As the scramble for the pricey systems ensued, MacDonald began to branch out nationally.
"As soon as I did that, I was getting 30 leads a month," he said. "And then I had to hire a salesperson. Now we get 60 to 70 leads a month, and we're in 40 states."
MacDonald's currently trying to navigate patient privacy laws — which vary from country to country — so he can take his business international, but seems to like being in Waynesville just fine.
"We sell an internet product," he said. "It's a cloud based service, so we can be anywhere."
As it turns out, the only better state Pimsy could be in is Utah; according to Forbes Magazine North Carolina was again ranked as the second-best state in which to be in business.
The 2016 report cites North Carolina's low business startup costs, unobtrusive regulatory environment and future prospects for growth as reasons for the high ranking.
Western North Carolina holds the additional advantage of having some pretty substantial natural assets.
"We've got a lot of cool stuff here, and as I grow it's becoming more and more important to have people here. Especially with developers, it's complicated, so face-to-face is best. I try to hire good people first, but if I can get somebody good that's local, I'll do it," he said.
It is precisely this type of job creation that makes the entrepreneurial sector so important in Haywood County's economy, but those without the resources of the MacDonalds can still get the help they need to become, like the MacDonalds, job creators.
"The primary objective when I meet a client is to ensure that their passion has a market," said Katie Gould, director of Haywood Community College's Small Business Center.
Gould said the SBC is part of the most extensively funded state business development network in the nation; the SBC provides resources to entrepreneurs free of charge, and also does some micro lending.
"We see everything," Gould said, referring to the types of businesses she's worked with at the SBC; recent successes include Waynesville Soda Jerks and Elevated Mountain Distillery.
Gould, who was recently recognized as the 2015 N.C. Small Business Center Network's Rookie of the Year, joins certified economic developer Mark Clasby of the Haywood Economic Development Commission and certified Chamber Executive Cece Hipps of the Haywood Chamber of Commerce as an important resource for entrepreneurs looking to locate in Haywood County — not that most people need a lot of arm-twisting to do that.
"We love it here," said Ian MacDonald. "We're vested in this community, we just bought that big building, and we're here to stay. What's nice is, this whole area pulls people from everywhere. I can't tell you how many programmers have shown up in the last two weeks, and that's really encouraging to me."