Archived Opinion
Finding the light in an RV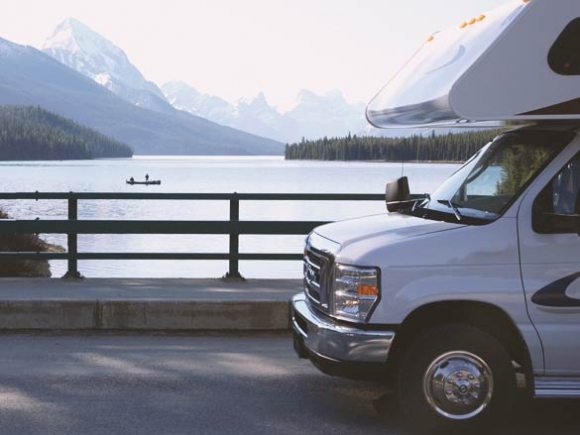 Since my mom's passing almost a year ago, my dad and I have become very close. Without her here as our anchor, we've relied on one another. I now talk to him about things once reserved for my mom or sister.
We ladies didn't want to bother him with our drama, however big or small. We didn't want him worried about his girls.
I didn't give him enough credit though because now with my sister far away and my mom no longer living, I talk to him about everything. And he surprises me with his wisdom.
Likewise, he now talks to me about everything. Without his life partner here to discuss finances, large purchases, real estate decisions, etc., those conversations are deferred to me. He and I have had more cups of coffee than I can count over discussions concerning money, probate court, medical bills, assets, life insurance and the like.
As someone who's basically inept with anything involving numbers, these conversations take diligent focus, but I do it. I'd do anything for him.
Two nights after my mom died, my dad walked into the house, sat on the couch and turned on the TV. He never watches TV. I don't think I've ever seen him sit through an entire show or movie. But in her absence, the silence of the house was deafening so he clicked on the tube.
The opening credits for "The Bucket List" with Jack Nicholson and Morgan Freeman were on the screen that night. He sat there and watched the entire film. When it finished, he pulled out a piece of paper and created his own bucket list.
One of the items on the bucket list says, "Buy a camper."
So last week when he called me up to "come look at a camper," I told him I'd be right over.
I arrived at my parents' house in Weaverville, which is still admittedly hard to walk into. The presence of my mom is everywhere.
My dad then tells me it's less of a camper and more of an RV. I nod my head slowly and take in everything he is saying. His original plan was to buy a camper and a truck to pull it with. But, then this RV opportunity opened up and he could get two for one.
He then tells me he wants to sell the house sometime soon and live in the RV indefinitely until he finds or builds a smaller home in Haywood County, so he can be closer to me and my two boys. Sounds like a good plan to me.
My dad knows the folks selling the RV so we went to their house to look at it. As we drove to their home, I looked over at my dad and his eyes were sparkling, which made me smile to myself. I could sense his excitement.
Once we parked and were greeted by his friends, we stepped into the RV. He immediately went to the driver's seat. He sat down, put his hands at 10 and 2 and looked back at me with the biggest grin.
At that moment, I realized I hadn't seen him smile like that in a year. The kids make him smile all the time, but this was a smile full of hope and potential.
He nodded to the passenger seat signaling me to sit down.
As I plopped down on the leather passenger seat, he says, "We're going to have a lot of fun in this thing."
His joy was infectious, and I decided one way or another this man was going to have that RV.
The price they quoted was excellent and a better deal than him buying both a truck and a camper, so he's now the proud owner of an RV.
He can check off at least one bucket list item.
After our tour of the RV, we went to a diner in Weaverville owned by a Greek family. Over two cups of coffee, his Salisbury steak and my spanakopita, we talked about the RV.
My dad was like a kid at Christmas. He wants to drive it up to my sister's house in DC. He wants us all to go to Ocean Lakes campground in Myrtle Beach, South Carolina, for a commemorative trip in my mom's honor. He wants us all to travel around the U.S. He even said if we start renting his house as an Airbnb, he'll sleep in the RV in Walmart's parking lot.
Oh, dad.
To him, this RV is like a symbol of freedom and newness. He has survived this last year with such bravery. Not only has he survived it, but he's held up my sister and me.
I just finished a book called Love Warrior by Glennon Doyle, and in this book she says, "Grief is love's souvenir."
In another part of the book, she says, "The word disaster comes from astro: stars, and dis: without. This will only be a disaster if we lose all awareness of light."
When someone dies, it's a personal disaster. While the world at large may not feel the impact, those closest to the deceased feel like they've survived something traumatic. It would be easy to stay in the darkness. Very easy, indeed.
My dad, sister and I have experienced the souvenir of love for almost a year now. It can be the saddest, worst souvenir in the world, but only if you lose all awareness of light.
With things like buckets lists and new RVs, the three of us have somehow, some way, found a little light over the past year.
With my dad behind the wheel and an open road ahead of us, I believe we're going to be just fine after all.
(Susanna Barbee is a writer who lives in Haywood County. This email address is being protected from spambots. You need JavaScript enabled to view it..)