Archived Arts & Entertainment
This must be the place: 'Everywhere I turn, here we are…'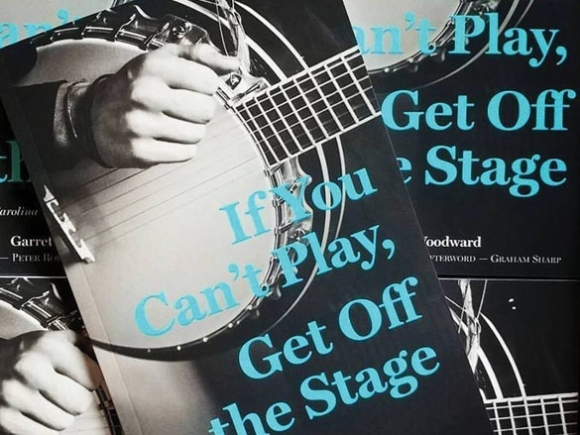 I was about an hour late.
Rolling up to the Swain County Business Education & Training Center in Bryson City last Saturday morning, I slammed the brakes of the old truck into the parking space, grabbed my box of books and headed for the front entrance.
It was "Book Day," where several local authors and historians gathered to display and sell their years of hard work. Books on Hazel Creek, Plott Hounds, moonshine, mountain cooking, and seemingly everything in-between. And there I was with my one book, If You Can't Play, Get Off the Stage, which covers bluegrass in Western North Carolina (and beyond).
An elderly woman greeted me in the lobby and directed another elderly man to show me to my table. Atop the table was a name card: "Garrett Woodward." I popped open the box and placed the books on the table. Sat down. And awaited the books sales sure to breeze through the door as the day rolled along.
Two hours later, I hadn't made a single sale. Not one. There was one elderly lady who stopped by my table and quickly wandered off when she asked how much my book was, with "$20" as, I guess, the wrong response. It was humbling to sit there, trying to sell my book, and the attempt seemingly falling on deaf ears.
I had to get up and walk around. And the more I browsed the other tables, the more interactions I had with the most valuable resources in your community — the elders. They knew the history of these parts, the lore and the hard-earned truths. And I couldn't get enough of the conversations I kept finding myself in with these folks.
Beloved Southern Appalachian storyteller (and personal friend) Gary Carden was scheduled to speak in the conference room at 1 p.m. So, I went out to my truck and grabbed my digital recorder. Why not get something of value recorded to, at least, make use of time driving all the way out there from Waynesville, eh?
For the better part of the next hour, Carden (winner of the 2012 North Carolina Award for Literature), age 82, rambled on in his mesmerizing, maniacal ways. His stories weaved through the tall — yet true — tale that is his actual life. His father being shot and killed when Carden was a kid, being an orphan and getting beat up in school, witnessing the "Great Flood of 1940," diving into his wild imagination and love of comic books, onward to the multiple times his ex-wife tried unsuccessfully to kill him. The darker the stories got, the wider the grin on Carden's face became, and the heartier the laughter coming from those lucky enough to sit in on the presentation.
With Carden, he unequivocally sees "humor in everyday life." And, for good reason, too. Because, if you didn't see humor in everyday life, how would you ever survive? Carden's stories and swagger are telltale signs of someone destined to become a writer, a storyteller, an antenna picking up the ingredients of the human condition, for good or ill.
I walked out of Carden's talk refreshed, with a new set of eyes and ears, something that happens when you're a writer with your antenna always honed to the magic constantly swirling around you, where you can simply reach out and touch flawed beauty — the finest kind of beauty.
And there I was, packing up my books (the exact number of books I showed up with), helping a couple little old ladies carry out their boxes to their cars. We all waved goodbye. "Hope you can come back next year," one elderly lady smiled. "Can't wait," I responded, sincerely.
Less than 24 hours later, I was rocketing down U.S. 74 towards Charlotte for a concert. Sunday afternoon sunshine, cruising with the windows rolled down, and great live music that evening. What more could one want? I also was looking forward to seeing my aunt and cousin. Although they moved to Charlotte almost two years ago, I hadn't seen them in over a year-and-a-half.
After the small talk about "who, what, and where," the three of us poured another drink and kicked back in the shade, occasionally kissed by the hot metro air trying to make its way onto the deck. It meant a lot to see and spend time with my aunt and cousin. For someone who has lived in Western North Carolina for the last five years, and also is 1,100 miles from home, I really don't get to see family, let alone interact with faces and voices that know my whole story, where I came from and who I really am.
My aunt asked about my bluegrass book. I went to the truck and grabbed her a copy. As I handed it to her, it dawned on me that it was my cousin who was the first person to read the first article I ever got published. December 2006. I was 21 years old, and my dream was to be a writer, one with a deep focus on music. I picked up the fresh copies of the magazine with my feature and scurried home, only stopping at my cousin's apartment to show him the piece.
"I'm just so proud of you," my cousin piped up. "You always said that this is what you wanted to do with your life — and you're doing it. You're actually doing it."
"Yeah, I guess so," I replied with a slight chuckle, thinking of all those endless miles and tireless days trying to get to where I am today.
I raised my head, made eye contact with the two of them, smiled, and then gazed out onto the large housing complex. I thought of "Book Day" and not one book sold. I thought of other similar events in the future where I probably wouldn't sell a single copy. But, none of that matters, especially when I thought of the long road, the "dream scenario," at least in my mind, years ago, when all I wanted to do was just be able to have something published. Onward and upward.
Life is beautiful, grasp for it, y'all.
Hot picks
1 Rising country/rock star Joe Lasher Jr. will perform during the Groovin' on the Green concert series at 6:30 p.m. Friday, July 21, at The Village Green in Cashiers.
2 The "An Appalachian Evening" summer concert series will continue with The Snyder Family at 7:30 p.m. Saturday, July 22, at the Stecoah Valley Center.
3 "Fiddler on the Roof" will hit the stage at 7:30 p.m. July 20-22 and 27-29, and at 2 p.m. July 23 and 30 at the Haywood Arts Regional Theatre in Waynesville.
4 Acclaimed hard rock act Seether will perform at 7:30 p.m. Saturday, July 30, at Harrah's Cherokee.
5 Legendary doo-wop group The Coasters will perform at 7:30 p.m. Friday, July 28, at the Smoky Mountain Center for the Performing Arts in Franklin.