Archived Arts & Entertainment
Above the distraction: The Swag celebrates old traditions, welcomes new era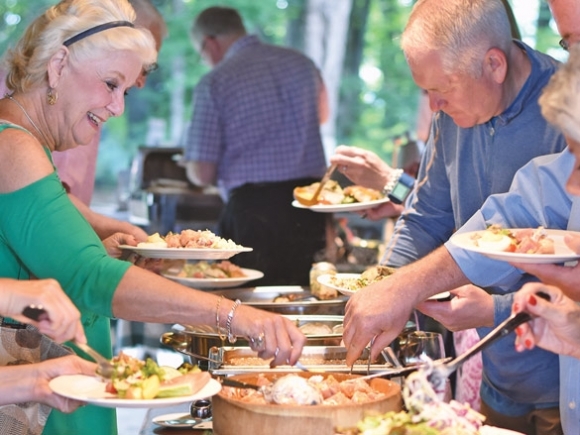 Heading up Hemphill Road, just outside of Maggie Valley, the lush fields and bungalow homes of Jonathan Creek fade into the rearview mirror. Pulling up to a large metal gate, it opens slowly and you soon find yourself meandering a dirt road, pushing ever so carefully toward the top of the 5,000-foot ridge.
At the end of the dirt road, where you feel as if you'd drive off the edge of the earth if you went any further, a large wooden guesthouse appears, surrounded by several small cabins, all tucked underneath large trees and thick vegetation — welcome to The Swag.
"I've been the owner and innkeeper since 1969, when my husband, Dan, and I bought this property and developed it," said Deener Matthews. "People from all over the world come here, and it's so exciting. I get so energized when I see just how far people are traveling to be part of what we're doing."
But, in their decades of proud ownership, The Swag is turning a new corner in 2017. With the recent passing of a law that ends the longtime stance of Haywood County being dry (in terms of alcohol being purchased or sold outside of the city limits of Waynesville, Maggie Valley and Canton), the mountaintop retreat is aiming to change things up a little bit.
The Swag will not only be able to do alcohol sales onsite, they're also planning on hosting craft beer tastings. They held their first event last Thursday, as Hi-Wire Brewing of Asheville poured their wares in celebration of the craft beer boom that has taken over Western North Carolina in recent years.
"We're hoping to do craft beer tastings about once a month up here," said Haley Stevenson, beverage coordinator for The Swag. "With craft beer, we're also looking to draw in new faces up to The Swag, and also younger guests, who can come up here and enjoy the beauty for the first time."
Although The Swag is a well-known international high-end travel destination for lodging and culinary delights, Stevenson noted the inn is trying to get the word out that you don't have to reserve a room to enjoy a one-of-a-kind fine dining experience.
"We're trying to get more locals to come see what we're all about, more people from Asheville," she said. "And I think the more new faces we bring in, the more that ideas will emerge on what else we can do and offer up here."
Following the Hi-Wire tasting, The Swag then showcased their new executive chef, Jake Schmidt. Though he's only been at the inn for the better part of four months, the culinary wizard comes with a long line of credentials, including stints as an executive chef at the Grove Park Inn in Asheville and the executive sous chef at The Signature Room, a renowned restaurant on the 95th floor of the John Hancock Center in downtown Chicago.
"My style is ever-evolving, ever-changing," Schmidt said. "We get whatever we can locally and seasonally. We're also bringing in fish from the coast three times a week. We like to show our staff and our guest perhaps things they've never seen before. And it's nice to work with fresh ingredients right from our garden, where we have a master horticulturist onsite."
Corralling the guests who are scattered around the property — many enjoying the priceless view over Haywood County with their wine glass held high, several wandering the picturesque garden, a handful disappearing for a quick jaunt down hiking trails into the Great Smoky Mountains National Park (which borders The Swag) — Deener thanked everyone within earshot for being part of her lifelong creation.
Her sincerity for all of those in attendance is only matched by Schmidt's joyful explanation of "Tonight's Menu," a never-ending long table of intricate salads, tantalizing finger foods, fresh vegetables, lean proteins and scrumptious desserts. It's a feast "made for a king," or a queen in all actuality, when you see the ear-to-ear smile on Deener's face, sitting at the head of one of the large dining tables, immersed in conversation about these mountains and their intricate history with friends and guests from down the hill or across the country.
"This is one of the few places I've ever worked where you really get to meet the people and know what they like," Schmidt said. "And saying goodbye to the guests, and them saying how much they loved the food, and how they can't wait to come back — that's what makes this place so welcoming and so special."
Even after all these years, one finds themselves sitting there — facing other dinner guests, now fast friends — in awe of the scene unfolding in front of you. It's proof positive that The Swag remains a place where you're "above the distraction," a unique mountain property where one shakes off the trials and tribulations of everyday life with each curve in the road leading to the inn — an escape route back to nature, back to the essence of yourself.
"At 5,000 feet, we're the highest inn in the eastern United States. And it's been thrilling to do this," Deener noted after the commotion of the dinner had died down. "When I first opened as an inn, I was the key employee. And we had a man who slept on Gooseberry Knob in a tent who helped mow the lawn, get firewood and wash the dishes. And to see it now? It's just incredible."
Peach gazpacho, granola and country ham
For the gazpacho:
• 10 peaches: split and roasted in the oven at 300 degrees with olive oil and salt until very tender.
• 2 onions, tossed with olive oil, smoked paprika (a small amount) and salt and roasted in foil until very soft. 300 degrees for about 45 minutes
• 2 cucumbers-juiced
• 1 cup rice vinegar
• 3 limes zest and juice
• ¼ cup white soy sauce
• Cayenne to taste
• Method: Blend away, adjusting with peach roasting liquid, roasted onions (and their liquids) cucumber juice, vinegar, lime juice and zest, soy and cayenne. Emulsify with additional olive oil, if necessary.
Granola:
• 1 cup rolled oats
• 1 cup toasted apricot kernel
• ¼ cup plus 2 tablespoons dark brown sugar
• ¼ cup plus 2 tablespoons maple syrup
• ¼ cup vegetable oil
• ¾ teaspoon salt
• 1 cup small diced dried apricots
• Method: Preheat oven to 250 degrees. In a large bowl, combine the oats, kernels and brown sugar.
• In a separate bowl, combine maple syrup, oil, and salt. Combine both mixtures and pour onto 2 sheet pans. Cook for 1 hour and 15 minutes, stirring every 15 minutes to achieve an even color.
• Remove from oven and transfer into a large bowl. Add dried apricots and mix until evenly distributed
Crispy country ham:
• 3 sliced of good quality country ham, diced and cooked until crispy in a sauté pan. Drain, cool and reserve for soup garnish.
By The Swag Executive Chef Jake Schmidt