Archived News
The power of conviction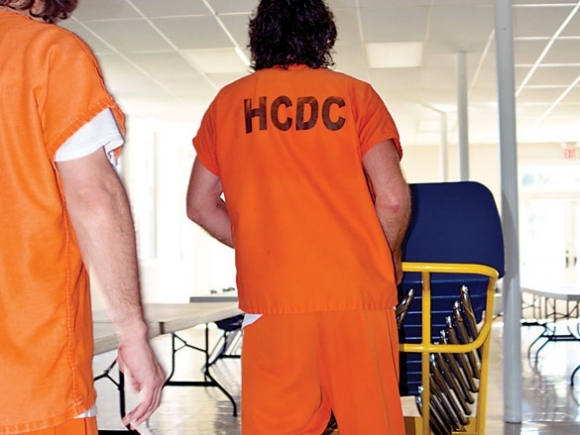 The Folkmoot Friendship Center on Virginia Avenue in Hazelwood is central to the festival's operation.
Some of the former classrooms are occupied year-round by staff offices; others serve as classrooms or dormitory space for the nearly 300 international performers who visit each year. An auditorium, cafeteria and ample green space also make the 40,000-square-foot building a tremendous tool for the organization's use.
But without the help of a couple of guys in orange jumpsuits (detention center inmates) and at least one in the brown-and-black uniform of a Haywood County Sheriff's Deputy, it wouldn't be nearly what it is today.
"As a nonprofit in Haywood County it's tough to find the manpower and the money," said Folkmoot Executive Director Angie Schwab. "We are staffed at minimal levels and at the same time we have a community jewel in this historic Hazelwood school, and without these guys' help it's not useful to the community. People don't want to come into a building with peeling paint or leaking roofs."
The building was in rough shape when Folkmoot recently purchased it from Haywood County; enter Haywood County Sheriff Greg Christopher.
Christopher's personal convictions hold that recidivism and the ever-climbing cost of housing inmates — about $75 a day — can be greatly reduced by clearing a path for inmates who will one day reenter the community and hopefully never come back. His advocacy for the Haywood Pathways Center has been vigorous, as has been his zeal for the inmate work crews that help with Folkmoot's upkeep.
"It saves the taxpayers money in some way and it's a big benefit to our inmates because it gives them purpose as opposed to them just sitting up there in that detention center with nothing else to do," Christopher said of the three to five inmates who show up a few times a week for a few hours a day to clean, paint, polish, wash and do what needs to be done.
"If we were to have paid for it, we would have gone out of business," Schwab said. "We are in a $1.2 million capital campaign; we have raised and spent more than $700,000 and we've completed the entire phase one and part of phase two. They've saved us between $100,000 and $200,000."
Folkmoot isn't the only organization that benefits from the work crews.
"We help all the nonprofits in the county," said Deputy Glen Biller, the former military policeman who now supervises the crews. "They pick up litter. We help Haywood Christian Ministries with whatever they need done. We help here at Folkmoot. We've been up to the watershed, the Haywood County Fairgrounds. Wherever we're needed we go."
And it isn't just organizations that benefit from the crews, who are selected based on their behavior in the detention facility as well as the nature of their convictions; the inmates themselves – as well as the community – realize Christopher's Sheriff's Department is turning a negative into a positive.
One inmate, serving a three-year sentence for DUI, has worked at Folkmoot for the last 19 months; he has three months left on his sentence and says it's better than sitting in jail.
"It makes this place look better, it helps everybody that comes here and makes their life easier, and it makes us feel better," he said.
Christopher revealed an additional benefit.
"It builds relationships, and it also may give these inmates an opportunity to come back and work for someone that they have already been working for while they were incarcerated," said Christopher.
Schwab said Folkmoot has hired three former inmates.
"We've helped people in these crews moved back into society," she said. "This year part of our cafeteria staff are former people that we think are hard workers, trustworthy, honest, good people. We wouldn't have thought that unless Deputy Biller had brought them here."