Archived News
Folkmoot Festival: an international presence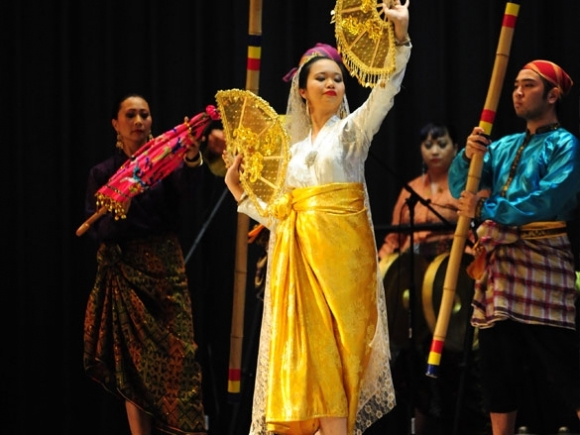 The 34th annual Folkmoot Festival in Waynesville kicks off Thursday, July 20 and will again feature close to 300 performers from 10 countries eager to introduce Americans to their native clothing, culture, dance and music during almost 30 appearances across Haywood County and the surrounding region through July 30.
After more than three decades, Waynesville's annual Folkmoot Festival is just as popular as ever; trying to keep it that way is Folkmoot's Executive Director, Angie Schwab.
"We continue to fine-tune and expand," said Schwab, who's helming her third Folkmoot.
Fine-tuning a family-friendly, fan-favored fest can be a tricky affair, but perhaps the biggest tweak to the regular lineup a no-brainer.
This year, all groups will report to Cherokee for Cherokee Ambassadors Day; in the past, only a few would get to experience the rich culture of Western North Carolina's indigenous inhabitants.
The events at Cherokee this year will also take on a greater importance, as Schwab revealed that a major presentation would be made.
The expanded Cherokee performance will be joined this year by a few other old events that bear a new twist.
"We're having our gala in the yard this year," she said. "It's kind of a big deal."
Traditionally, the opening night gala has been held in Maggie Valley, but Schwab said that this year after losing that venue, Folkmoot looked a little closer to home.
"We're having our gala in the yard," she said. "It's kind of a big deal."
Folkmoot's facility — a former school on Virginia Avenue in Hazelwood — continues to undergo improvements and renovations, which allow it to serve Folkmoot's larger purpose of promoting cultural understanding.
Holding the event in-house also saves money and transport time for the groups.
"We like the idea of moving in that direction, but it's kind of a younger, more festival-type version of an event," she said of the Gala on the Green scheduled for July 20. "I'll tell you we've already sold 20 percent more tickets than we have [in the past]. So we're expecting a nice crowd."
Schwab also said there would be improvements to Many Cultures Day (July 22) as well as round two of the "cultural conversations" forum held last year at the First United Methodist Church for Waynesville.
New additions this year include Camp Folkmoot (July 21) where kids can learn international folk dance from festival performers, The Smoky Mountain News-sponsored Sunday Soiree Series (see SKIDOO, page 6) and, for the first time, two performances at the Haywood Arts Regional Theatre (July 21 and 28).
"People may be surprised by the content of those particular shows, because it's not just dance," Schwab said. "Our groups will talk about the symbolism, the intangible culture behind their dance and what they're wearing."
Another new event — only because last year the facility was still a dilapidated former auto service station — is the after-hours at newly-opened Bearwaters Brewing in Canton (July 25).
"I'm not sure how he's going to hold us," she said. "We bring a circus."
Schwab's circus will again hit all of the municipalities in Haywood County, as well as Asheville, Hickory, Flat Rock and, for the first time, Greenville, S.C., which represents a renewed effort to build on the festival's established popularity.
"We need to expand to more metropolitan markets where there's more international presence," Schwab said.