Archived News
Utility bills to disappear for Cherokee elders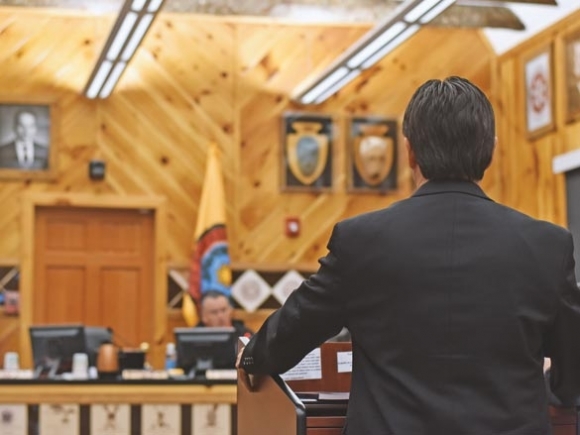 Cherokee elders will no longer have power, water or sewer bills to worry about following a divided Tribal Council vote July 6 to pass legislation that former Principal Chief Patrick Lambert had put forward during his term.
"This is a major accomplishment that will help so many of our elders receive much-needed energy assistance … As I have said before, our Tribal elders have built this Tribe, raised this Tribe, and continue to give wisdom to our Tribe everyday," Lambert wrote on his public Facebook page following the vote. "With the passage of this legislation, we once again recommit ourselves to the ideal that we respect our Elders and the traditions passed down from our ancestors."
Called "Power to the People," the program will provide a monthly credit of up to $120 per month to the electricity bills of Cherokee elders — meaning any tribal member older than 59.5 years — living in the five-county area of Haywood, Jackson, Swain, Graham and Cherokee counties. In addition, those who are Cherokee Water and Sewer customers will no longer be charged for those services.
"This could be something that will be fairly inexpensive yet potentially life-changing to help elders," Lambert told Tribal Council last week. "A lot of them are watching kids and grandkids, raising them basically, and that's where this concern came from."
About 1,150 Cherokee elders live in the five-county area, Lambert said, meaning that the total cost of paying their electric bills would be about $2 million annually — roughly 0.3 percent of the tribe's $586 million budget. The true cost of the program, he said, would likely be even less than that, as many of the elders are married to each other and therefore share a power bill.
Reasons for opposition
Support for the program was not unanimous around the horseshoe. Vice Chairman Brandon Jones, of Snowbird; Councilmember Travis Smith, of Birdtown; Councilmember Marie Junaluska, of Painttown; and Councilmember Anita Lossiah, of Yellowhill, voted against it, with Councilmember Adam Wachacha, of Snowbird, abstaining. Chairman Bill Taylor, of Wolfetown, was absent. The remaining six councilmembers voted to pass the resolution.
Reasons for opposition varied. Smith said that he felt any energy assistance program should be housed under Family Support Services, which already has a similar program, and should be funded as part of the regular budget process rather than through a separate resolution.
"I'm not going to support this, but it's not that I don't support our elders," Smith said. "There's a program in place to take care of this now."
The Low-Income Home Energy Efficient Program focuses its service on elders and people with disabilities, enrolling those categories of people exclusively from Oct. 1 to the end of December. After December, the program is open for anybody to apply. However, the federal grants that fund the program are prone to run short.
"We've run out of money this year," Barbara Jones, program manager for Family Support Services, told Tribal Council during a July 5 work session.
If the program's underfunded, Smith said, that's an issue that should be addressed as part of the budget process. But committing to $2 million in annual funding for a new program isn't the way to go.
"Throwing $2 million out there to pay everybody just isn't a fix," he said. "We have recurring costs here that I don't believe we can keep supporting it year after year."
Wachacha also hesitated to add another recurring cost to the tribe's budget.
"As long as gaming's good that will work, but we need to be financially responsible that what if gaming is not so good," he said. "When you give something, you don't want to have to take it back away."
He struggled with the idea of creating a new entitlement program, saying that energy assistance should be needs-based rather than a guarantee for anyone over a certain age.
"My phone's been blowing up from underage — less than 59.5 — saying, 'Why don't you just pay for everybody's power bill?'" Wachacha said.
In addition, he said, the idea of writing a big check to Duke Energy every month isn't appealing.
"The goal that I was looking for yesterday was to try to put renewable energy in every home," Wachacha said, referencing the June 5 work session.
Joey Owle, the tribe's secretary of agriculture and natural resources, criticized the proposed program as being poorly planned and based on questionable numbers — he asserted that there were 2,228 members over 60 who would be eligible for the program, meaning the program would likely be more expensive than anticipated.
A long-term plan
Lambert countered that the program was in fact one part of a larger plan to expand renewable energy on Cherokee land. The Power to the People Program, he said in a follow-up interview, grew out of a resolution that tribal member John McCoy submitted last year seeking to install solar power on tribal buildings and homes.
"One thing I've worked on for many years is to make this tribe net zero on the power grid," Lambert told Tribal Council July 6.
During his administration, Lambert said, he was in regular communication with Duke Energy on the topic and found that the Qualla Boundary uses about 30 megawatts in total, with the casino and hospital combining to account for half of those. The remaining 15 megawatts power all the homes, businesses and tribal operations on the boundary. The tribe currently has a $1 million grant from the U.S. Department of Energy to use for alternative energy projects, with a solar array to be installed near the Valley River Casino in Murphy. That's a start, but much more solar development would be required to fully meet the tribe's energy demands. It will be a long-term endeavor.
"The payback time on that — of course, it's an investment — would be several years, and my thought on the elders was there's an immediate need now," Lambert said in a follow-up interview. "Let's go ahead and start this program and work toward getting the size of our consumption to zero."
In reference to Owle's question on the number of people to be served, Lambert said he pulled the 1,150 figure from the number of Christmas checks that are delivered to elders each year — the same qualifications would apply for the energy program, he said.
Comments from the community
With passage looking uncertain during the discussion, disagreement turned contentious at times, with Councilmember Teresa McCoy, of Big Cove, telling her fellow councilmembers that it would have been "a more proactive thing" for those with concerns to "spend some time researching" before coming to the meeting.
"If you don't want it in your community, then back off and be quiet when Richard (Councilmember Richard French, of Big Cove) and I ask for it for our community, because the people in my community deserve some assistance," she said. "That rainy day has been here all their lives and they need help."
Smith took offense to McCoy's comments, saying, "that's about enough of her sitting here and belittling this part of the government."
Multiple community members came forward to express their support for the program, though it was clear that they wanted to see further solar investment as well.
"I would like to see this happen to make sure that they're (elders are) able to put food on their tables," said tribal member Lea Wolf, "so they're not missing money on other things like shoes for their feet or batteries for their hearing aids … those solar panels could save millions of dollars yearly and not feed this giant uncaring corporation."
"I am an elder, and I have been on disability for about 10 years," said tribal member Barbara Miller. "Well, two weeks ago I got a letter in the mail from the government, and they cut my check in half. And it said it was due to changes in the government in Washington. I'm just saying I don't know if anybody else was affected by it, but this would sure help me a whole lot."
Amy Walker, also an elder, said that she's been working for years to make her home energy independent but allowed that those projects are expensive.
"I'm able to do that because I had an education that put me in a good job," she said.
With the program now established, the next step is to develop guidelines and details to govern it. Cherokee's Department of Public Health and Human Services will then implement it.
Lambert originally introduced the resolution during the April 4 Budget Council session, when he was still principal chief. It was tabled. The resolution then appeared during the April 18 Grand Council Lambert held, with 95 percent of the 1,242 people voting on the question in favor of approving the program. The resolution was tabled once more after resurfacing at the May 31 Budget Council meeting — which occurred just six days after Council voted to remove Lambert from office — and Tribal Council held a two-hour work session on the topic July 5 before ultimately passing the resolution July 6.