Archived Opinion
Meadows once again fighting the wrong fight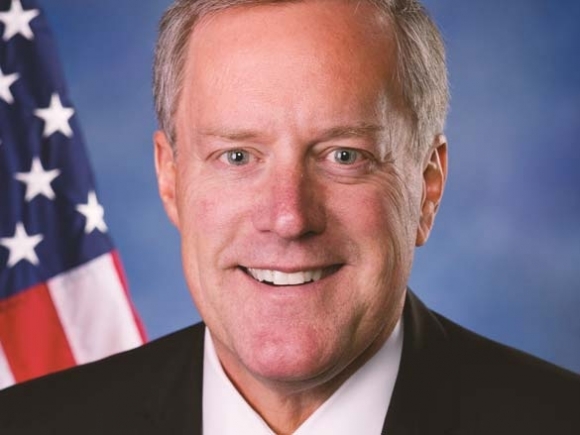 The chairman of the conservative House Freedom Caucus says there could be a government shutdown if money isn't included in a spending bill for President Trump's border wall with Mexico.
Rep. Mark Meadows (R-N.C.), the caucus chairman, said Monday that conservatives will block any spending bill that doesn't include the funding.
He told Breitbart News that "without a doubt" there are "enough conservative members who will not support any funding mechanism that does not include border wall funding."
Meadows said Trump could veto a funding bill if the House passed it without wall funding.
Current government funding runs out in September, and the government would face a shutdown if Trump doesn't sign a bill passed by Congress by Oct. 1.
"My conversations with the president have led me to believe that there is nothing less than a full and total commitment on his part to only sign into law a funding bill that actually allows for us to start construction of a border wall on our southern border," Meadows told Breitbart.
He said there is "nothing more critical that has to be funded than funding the border wall."
…. "One is it is a commitment that the president made to the American people and one that he intends on keeping, but the second part of that is for our national security we must secure our borders. And the American people will accept no less," he said.
— From The Hill, a Washington, D.C., news site that reports on Congress
With all due respect, I think Rep. Meadows, who represents our region in Congress, is completely wrong when he says there is "nothing more critical that has to be funded than funding the border wall."
Really? Of course Meadows is aware that in March the Border Patrol recorded 12,193 apprehensions at the southwest border, the lowest in at least 17 years. In fact apprehension rates — the number generally used to track illegal immigration trends — have been declining since the recession, and significantly so since a peak of 1.6 million in 2000.
There is also some evidence that the supposed border would keep more people in this country who want to go back to Mexico and other parts of Latin America than it would keep out.
But, to put this wall as his top budget priority is just out of whack for many other reasons. What about the North Shore money? The feds promised Swain $52 million and have only paid $12 million. One of the poorest counties in his district is in desperate need of help and is getting swindled by the federal government, but Meadows seems more concerned about grabbing national headlines.
We've seen this story before, on two occasions. Meadows' two biggest PR splashes have been his recent role in the health care debate and his role as the architect of the government shutdown in October 2013. Health care is going nowhere at this point, and the government shutdown of 2013 caused hundreds of small and large businesses in our region to suffer. When the national park and the Blue Ridge Parkway, along with all our national forests, are shut down or have services and hours curtailed — the last one was in October, no less — our region suffers.
Speaking of priorities, what about a solution to the health care issue that doesn't kick millions of Medicaid and keeps health insurance premiums affordable? What about tax reform that will help working people in this district?
I just wish our congressman would concentrate more on his constituents than trying to make a splash with big pronouncements on issues that really aren't that relevant to our region. You work for us, Mr. Meadows, remember?
(Scott McLeod can be reached at This email address is being protected from spambots. You need JavaScript enabled to view it.)