Archived Arts & Entertainment
Theme for a celebration: Empire Strikes Brass to headline Folkmoot 'Sunday Soiree'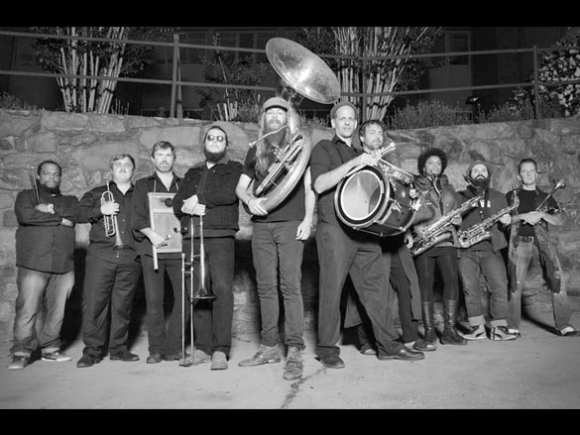 At the heart of Asheville is a funky soul. And providing the soundtrack to that carefree and self-less attitude of the city and greater Western North Carolina is Empire Strikes Brass.
Coming together in 2013, the 11-member group has found a niche around not only Southern Appalachia, but also the world, with their unique blend of jazz, ska, hip-hop, and rock. It's such an enjoyable mesh of sound and intent, the word "kitchen sink" comes to mind, where you'd probably see it onstage alongside the group if it conjured a beautiful tone.
As part of the Folkmoot International Dance & Music Festival, Empire Strikes Brass will headline the "Sunday Soiree" concert series on Sunday, July 23, at the Folkmoot Friendship Center in Waynesville. Festivities will kick off at 7 p.m. with Secret Agent 23 Skidoo, the Asheville-based "kid-hop" group, fresh off their Grammy win earlier this year for "Best Children's Album."
Smoky Mountain News: What was the original idea behind Empire Strikes Brass? And how has that idea and intent grown and evolved in the years since?
Pauly Juhl (saxophone): The original idea was to bring a New Orleans 2nd Line to Asheville and develop our name on the streets versus playing in small venues with no attendance. That idea worked bringing us to larger stages rapidly. The parades are still a major staple of our shows even now. We've evolved in other ways since, including collaborations with other artists of all genres. We started mainly as a cover group, but now we have a good handful of originals.
SMN: What sets your style of jazz and funk from, perhaps, other groups and approaches within the genre?
PJ: It's all about how you write it and present it to the other players. We have multiple writers in the band, so it's hard to pin-point an exact sound for us. We celebrate that we can play multiple styles of music all in the same night. It's all about the crowd and how the songs are tied together that sets out sound apart from other [acts] similar to us. Done well, our shows put on more of a story than just a statement.
SMN: And what is the importance of jazz and funk music, as we push further into a modern world of technology and distraction?
PJ: Jazz and funk are exciting to us because they're built for improvising. Being able to bring new ideas to a song every time you play it keeps things wonderfully interesting to the musicians and the fans that have seen those exact same songs more than once. Technology is an exciting (thing) to me with music. There are a lot of pros and cons. I feel the fusion of jazz and funk to electronic music is amazingly fun to play.
SMN: What is it about instrumentals and the idea of communication through sound instead of words that speaks to you? What does jazz/funk instrumentation provide, physically and emotionally, that other forms of communication do not?
PJ: I feel like everything else disappears when making music with other people. There's a bond and connection that can't be reached any other way. After playing a show I always have a period of euphoria.
SMN: When you're onstage and everything is dialed in, what is that feeling like for you? What goes through your head when it all aligns seamlessly?
PJ: Extremely grateful. A million things can go wrong at any given moment. There's nothing better in my world than when everyone playing and everyone listening can all be connected together.