Doing business in Haywood County
What's in the cards? Health care, social services provide double impact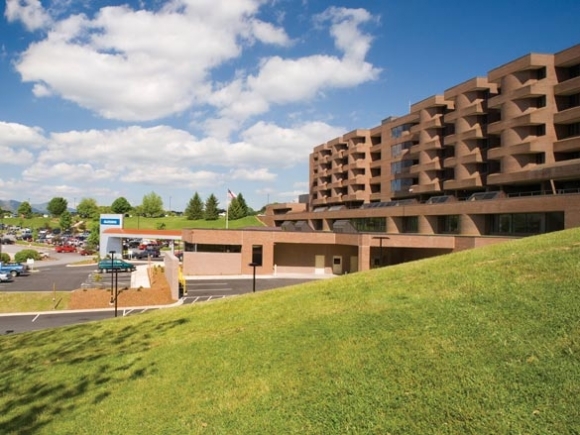 A robust and vigorous health care sector is the cornerstone of any community; convenient access to health care facilities is a make-or-break issue for many, including the elderly, the disabled or even young families expecting children.
Regardless of who's paying or how — still the subject of ongoing national debate — communities that can't accommodate patients seeking health care or social services also lose out on the jobs associated with that industry.
But in the health care and social services sector of Haywood County's economy, it's about more than just the jobs the industry provides — its also about maintaining a healthy, productive workforce that can go out and wait tables, plow fields or manufacture the goods that bring home the greens.
Help us help you
Haywood's economy isn't overly dependent on health care and social services, per se; with more than 2,600 employed at approximately 138 establishments countywide, it ranks below tourism, retail and the service industry as a major employer.
However, the average weekly wage for those in this sector — even including the relatively low-paying world of nonprofit social service agencies — is among the highest.
According to the North Carolina Department of Commerce, the average weekly wage of industry workers in Haywood County in 2016 was a healthy $808, second only to manufacturing and almost treble that of the lowest paying sector, tourism.
As the DOC amalgamates the wages of health care workers with social service workers together in its data collection models, that wage data is somewhat skewed, but is relevant for comparison purposes nonetheless. According to Forbes Magazine, even the poorest physicians — pediatricians, family practitioners, and psychiatrists — can expect a base salary of $190,000, which is about $3,653 per week.
Back in May, Haywood County Chamber of Commerce Executive Director CeCe Hipps said that for a community of Haywood's size to have a hospital is a huge asset.
But it hasn't always been so.
In 2014 after years of weak performance, the Haywood Regional Medical Center — at the time, a public hospital — was purchased by Duke and became part of the for-profit, LifePoint Health system.
Prior to that, HRMC saw the Centers for Medicare and Medicaid Services yank reimbursements in 2008, meaning the hospital could no longer accept patients using those methods as primary forms of payment.
Hipps called that particular era "rock bottom."
Now that the hospital is privately owned, however, it's better funded and has system-wide resources to call upon.
Hipps also welcomes the presence of nonprofit Mission Health's Haywood Family Medicine facility in Clyde, which competes with HRMC, to help keep costs lower for consumers. It also contributes to a large contingent of dependent industries.
As a result, this formerly anemic sector appears poised locally for continued growth, no matter what might happen on Capitol Hill.
Of particular import to any local economy is stability. A traditional boom-bust cycle in such a critical economic sector is almost worse than having no health care sector at all, due to the fact that he sector contains many of the county's largest employers.
Luckily for Haywood County, this sector has since at least 2000 experienced strong growth, even through the Great Recession.
From 2000 through 2016, the number of health care and social service establishments is up 12.1 percent, the number of employees is up 9.5 percent, the amount of wages paid industry-wide is up 74 percent and the average weekly wage is up 59 percent, from $508 to $808. Adjusted for inflation, that $508 would be worth $736 today, meaning wage growth — an important economic indicator — has more than outpaced inflation over those 16 years.
This particular economic sector, however, plays an important role that no other sector does — especially on the social services side of the equation — in that it supports every other employment sector by maintaining the health of workers, helping workers acquire new skills, keeping workers in the workforce and transitioning unemployed or underemployed into the workforce.
"We touch at least 7,000 people a year with unduplicated services," said Patsy Davis, executive director of local social services agency Mountain Projects.
Davis said she employs around 150 workers; average wages are hard to pinpoint because of the varying educational and experiential requirements for each position she hires, but they're certainly a far cry from $3,653 a week.
"Funding allocations just don't keep up with inflation," Davis said. "Our salaries are not competitive with the private sector in many cases."
The work of Davis, her colleagues and those like them around the country is more of a "calling," she said, like teaching — people don't do it for the money.
"I come to this establishment every day, hoping to put it out of business," she said, echoing remarks made by NAACP leaders over the years that say they, too, want to eliminate the need for such groups in society.
Until that occurs, social service agencies provide a variety of programs that ultimately benefit not only the people who are served but also the community — and the economy — of the service area as a whole.
Davis cited the Workforce Innovation and Opportunity Act of 2014, spearheaded by President Obama but passed with strong bipartisan support. WIOA helps job seekers find access to education, employment, support services and training, that helps them enter the workforce, advance in the workforce, or simply remain employed, thus replacing a possible entitlement program recipient with an entitlement program contributor.
"Basically this helps people get better jobs," she said.
As Haywood County has no real "public transportation" of it's own, Mountain Projects' transportation service provides a critical link between employee and employer that solves what usually would be an insurmountable challenge in the mountainous, sprawling region of Western North Carolina.
"A lot of people who relocate here come with a spouse or partner that drives them around," she said. "When they pass away or otherwise depart, that essentially leaves some people homebound."
Davis called Mountain Projects' transport service "a lifeline."
"Many people can't afford a car," she said, adding that she'd like to expand the service to better accommodate retail workers who often start and/or finish work well after the service's 5 p.m. cutoff time.
Other programs like Head Start and Circles of Hope all contribute to the education and ability of Haywood County's workforce — something critically important to employers seeking to locate or relocate in the area.
Many who avail themselves of MP's Head Start program — low-income single parents, mostly — end up working for Mountain Projects after utilizing Davis' agency for their children's educational needs.
The health care navigator program operated by MP also plays an important role in the lives of those it touches, as well as those who have nothing to do with it at all.
All this on about $13 million a year, almost all of which is spent locally.
"We've seen people with life-threatening conditions be able to return to the workforce and lead normal lives," she said. "How's that for economic impact?"