Archived Travel Guide
The American Museum of The House Cat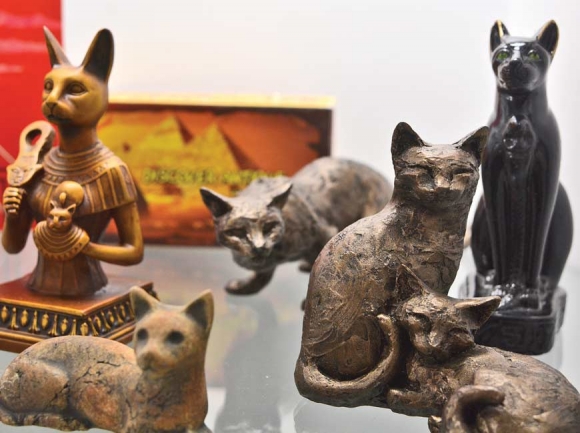 It took over 30 years, but Harold Sims can now show the world.
"It's been very rewarding," he said. "I wanted to have a cat shelter, I made that come true. I wanted to have a cat museum, and I made that come true. It's like the movie 'Field of Dreams' — 'if you build it, they will come.'"
With the hustle and bustle of U.S. 441 right outside his door, Sims sits on a couch and gazes around the large room. Branching off an old river rock elementary school (now an antique store), The American Museum of The House Cat (between Dillsboro and Franklin on U.S. 441 South) is filled with over 5,000 items, all covering the immense and rich history of our beloved felines.
"People are very impressed, they're just blown away by what they're seen," Sims smiled. "There's Egyptian mythology, wind-up toys, everything — it's a place to learn, it's educational and entertaining at the same time."
Sims has lived quite the life in his 82 years. After serving in the Navy, he became a marine biologist in the Florida Keys, observing and perfecting techniques in growing lobsters. And for several years, he ran a chicken farm in Upstate New York, which is where his appreciation for cats began.
"There were cats in the barn, cats all over," he said. "And [my wife and I] decided to get a cat from the shelter, a Persian. He was very active, great personality, would walk with us in the woods."
But, Sims real affection for felines grew from his years teaching biology. While in Florida, he was invited to lecture in nearby Brevard. The couple fell in love with the area and eventually purchased a house in Glenville. From there, Sims wanted to get involved in a new cat shelter that was going to be built in Cashiers. When he found out it was going to be a kill shelter, something he detested, he decided to start his own thing.
"Why you would do that was beyond me, because the county [kill shelter] does that," Sims said. "So, I went down the road. I had a shed there that I put kayaks in. I got some 2-by-4s, some chicken wire and started catching cats in dumpsters and places like that."
Sims' shelter, "Catman 2," which is now located in Cullowhee, is a no kill, no cage shelter. In the 4,000-square-foot building, cats can run loose, intermingle with other cats and exercise. Sims estimated over 3,000 cats have come through "Catman 2" in the last 15 years, with 60 housed there currently.
"We also offer a low cost or no cost spay and neuter program," Sims said. "We've gone from hundreds a year in the Jackson County kill shelter to only eight last year to none this year so far."
And throughout his efforts to save local cats, Sims has been collecting cat memorabilia. Over the last three decades, he's amassed around 7,000 items that are cat related, from advertisements to toys, statues to ancient artifacts. With over 5,000 of those items in the museum, Sims is constantly amazed by the folks that come in everyday, cat lovers and the curious alike, from across the county and around the globe.
"Cats are very clean, very independent, but still loving, where they come up to you when you're feeling bad, rub against you and make you feel better," Sims said. "They're beautiful animals, very smart. They can do so many things, and a cat will keep on loving you as long as it lives."