Archived Travel Guide
Creating a community: Haywood Arts celebrates 40 years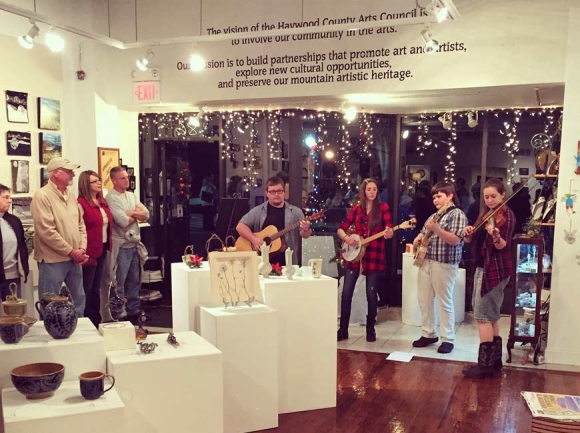 In her short tenure, Executive Director Lindsey Solomon has righted the unknown direction of the ship that is the Haywood County Arts Council. But, Solomon — who came into the fold a year and half ago — will be the first to point to the countless volunteers and artisan members who have made the HCAC a viable and valuable entity within the Waynesville and greater Haywood County communities.
"It really is a huge group effort, with all of our amazing volunteers who kept the door open when we didn't have an executive director — we wouldn't be here if it wasn't for those people," Solomon said. "And I want the HCAC to be seen as being a continuous place of activity, of things to look forward to, where we have events and activities that live way beyond our time within it."
At 30, Solomon is one of the youngest in her field. But, she looks at her age as an asset to an organization celebrating 40 years in 2017, with the bar being raised high for the next four decades.
"If you keep doing things the exact way you have been, things will continue to be the same," Solomon said. "So, we're trying to step things up. If we want to grow, we need to grow our membership and donor base, and our community involvement."
Beyond its numerous artisan member showcases and exhibits, Junior Appalachian Musicians (JAM) programs, live art demonstrations and library concerts, the HCAC will continue to find new and bountiful partnerships amid its own backyard, which, in recent years, has included the Haywood Arts Regional Theatre, The Strand at 38 Main, and other businesses dotting downtown Waynesville.
"Most of our artists are visual members, and we include them in all kinds of things, but I'd also like to find more ways to serve our musician artists and other mixed media members," Solomon said. "We're looking at fundraising parties once a quarter, our big gallery show in May — the upcoming Ruby anniversary show. We'd like to do different young adult events and artist spotlights, which will tell the story of the arts council — we're all very invested."
And atop the expanding horizons — that also means blurring county lines with other neighboring art councils in terms of resources and ideas — Solomon noted the HCAC has increased membership from around 40 artists to more than 85 nowadays. But, that number is a drop in the bucket compared to the amount of creative minds and souls roaming the mountains and valleys of Western North Carolina.
"We're trying to increase our capacity. It's not just wishful thinking anymore — there's a lot of enthusiasm," Solomon said. "There are so many more artists here than there are members. We're here for them. We have events to attend, artist member receptions and exhibits. By becoming a member, you're also supporting all of the other artists in the community, and vice versa."
Thinking about the 40th anniversary knocking on the door of the HCAC, Solomon, the HCAC board and artisan members all view the milestone as not only a moment for celebration, but also an opportunity for grassroots action that will ensure the future and survival of the arts in the county.
"Renewing our energy and focus at 40 years is important," Solomon said. "The arts have been, and will always be, important to a community, especially in this time of political turmoil and picking sides, where the arts become that space to express yourself and come together."