Archived Outdoors
Becoming a trail town: Sylva embraces the Mountains-to-Sea Trail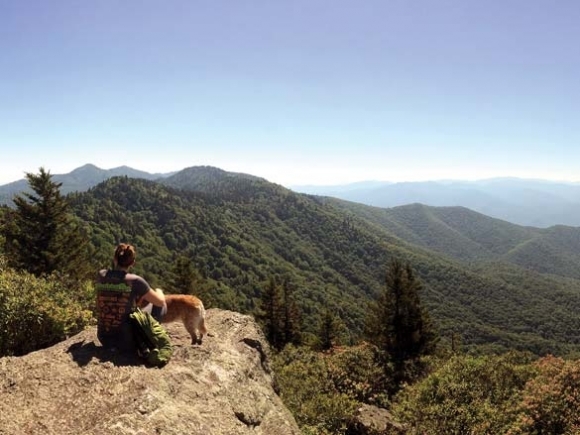 White dots will soon pepper the sidewalks of downtown Sylva as the town sets out to claim its identity as a trail town and mark the official route of the Mountains-to-Sea Trail, which runs through Sylva on its way from Clingmans Dome to the Outer Banks.
The trail traverses the state of North Carolina, offering a walking route 1,175 miles long that, true to its name, takes hikers from the state's highest mountains to its interface with the sea. And a section of the trail travels right through downtown Sylva, something that Sylva attorney and Friends of the MST board member Jay Coward is urging town leaders to capitalize on. He also has plans to speak to the Dillsboro Board of Aldermen.
"Trail towns and trail communities we think have an element of economic development very much like trail towns do for the Appalachian Trail," he told town commissioners during their June 22 meeting. "We think that if you look at the impact that a trail town has on the community that you would welcome it being something you would want to promote."
Unlike the A.T., however, the MST is not a completed trail. While the goal is to create a continuous off-road trail across the state, 500 miles of the route currently run alongside back roads rather than on backcountry trails. The section that comes through Sylva goes down from Deep Creek to the edge of Bryson City and then up Thomas Valley to travel through Dillsboro and Sylva before climbing up to Waterrock Knob through Pinnacle Park. An alternate segment goes through the Great Smoky Mountains National Park and along the Blue Ridge Parkway.
The route is laid out in the MST trail guide available free online, but it's not all marked on the ground. Adding trail markers would make the town a more welcoming place for thru-hikers, raise awareness for the trail's location and allow the town to give input as to where exactly the route should pass. For example, Coward said, trail guides currently connect downtown and Pinnacle Park via Chipper Curve Road, but sending hikers up U.S. 23 and down Hospital Road to Skyland Drive might be a better way to go, as that would route them past a variety of businesses that would be useful to them as they continue their trek — grocery stores, restaurants and a pharmacy, for starters.
"It goes that way better than it does through Chipper Curve in terms of the things that the town of Sylva has to offer," Coward told commissioners, who seemed to agree. "I think with a little emphasis on the way finding you could change that route."
Lessons from the Appalachian Trail
Compared to the Appalachian Trail, thru-hiker traffic on the MST is low, with just over 70 people completing the trail since its founder Allen de Hart hiked it in 1997. However, interest has increased along with the number of trail miles constructed and publicity surrounding the trail. The number of completed hikes per year varied between zero and five until 2010, but since then the tally has grown substantially, with 13 people completing the route in 2016 alone.
It's likely that number will continue to grow. Even the A.T. was once an obscure route with completed thru-hikes few and far between. The trail was planned and built over the course of 16 years from 1921 to 1937, with only 59 people completing a thru-hike in its first 33 years, according to the Appalachian Trail Conservancy website. However, use began to rise in the 1970s with 785 completions that decade and continued to grow by leaps and bounds, with 6,008 people thru hiking so far since 2010.
That rise in popularity has translated into economic gains for trailside towns that have worked to capitalize on their proximity to the A.T.
"There is an economic benefit to a town that's known as a trail town, regardless of what the trail is," said Bob Scott, mayor of Franklin, a designated Appalachian Trail Community. "It draws a lot of people."
During thru-hiker season, backpack-strapped hikers are a common sight on the streets of Franklin as they stop to spend a night in the comfort of a hotel, replenish their food supplies, get their gear fixed or replaced at one of the area outfitters, or attend to any one of a number of needs. That all lifts up the local businesses. And being able to market itself as a trail town also makes Franklin a more attractive destination for families and other folks who might not want to thru-hike but do want a vacation full of day-hiking with a comfortable bed at night. Scott called the designation "a win-win" and congratulated Sylva for orienting itself as a trail town.
"I don't really see a lot of downside," he said. "Your hikers when they come in for resupply, they're not really impacting your infrastructure like the motorized tourists are. And the hikers, they just tend to be very down-to-earth, literally. We enjoy having them. I don't know of any problems we've ever had with the thru-hikers."
A feather in the cap
Sylva's leaders are well aware of the beauty of the place where they live and the economic value of outdoors-related tourism. Hiking, fly fishing and paddling are already marketing focuses for the county's Tourism Development Authority. But pushing its status as a trail town would further bolster Sylva's outdoors credentials.
"I'd love to support all of this," Commissioner Greg McPherson said following Coward's presentation. "It's another feather in our environmental cap."
"I think that there is a great economic benefit for it," agreed Town Manager Paige Dowling in a follow-up interview. "And I will allow since Sylva's already on the map, it lets us showcase attributes we already have, like Pinnacle Park."
Sylva is one of three places in the state that are identified as optimal trail town locations, Coward said, with the others being Hillsborough and Elkin. Elkin has already put MST trail markers through its downtown — Dowling said that she'd been to a conference in Elkin and learned how the trail had people stopping at restaurants, hotels and various stores in town.
In the future, Coward said, Friends of the MST would like to develop a formal trail town application process, much like that the Appalachian Trail Conservancy maintains. However, the new trail markers will go in long before any of that is figured out. Friends of the MST is planning a statewide event Sept. 9, during which every inch of the MST will be hiked in a single day — it's important that the markers be in place by then.
"We'll try to move it along as quickly as we can, particularly because it's summer, and summer and fall we have the most hikers," Dowling said.
One day, 1,175 miles
Friends of the Mountains-to-Sea Trail is recruiting hundreds of North Carolinians to ensure that all 1,175 miles of the MST get hiked during the MST in a Day event Saturday, Sept. 9.
"I am very much wanting the mayor of the town of Sylva to hike part of that trail that day," Friends board member Jay Coward told Sylva commissioners June 22.
The statewide hike will commemorate a speech that Howard Lee, then N.C. Secretary of Natural Resources and Community Development, gave on that day in 1977 telling a National Trails Symposium in Waynesville that North Carolina should create "a state trail from the mountains to the coast, leading through communities as well as natural areas."
The speech was the catalyst for a walking route that now stretches through 36 counties from Clingmans Dome to the Outer Banks. About 700 miles of the route use actual trail, with connecting back roads comprising the remainder.
The typical hike for MST in a Day participants will be 3-5 miles, with registration open at www.mstinaday.org. The route includes legs in Swain, Jackson and Haywood counties.
The event is part of Friends of the MST's 40th anniversary celebrations, which includes a $200,000 fundraising campaign to purchase bridges, boardwalks, signs, tools and materials.