Archived Arts & Entertainment
The next chapter: Blue Ridge Books celebrates 10 years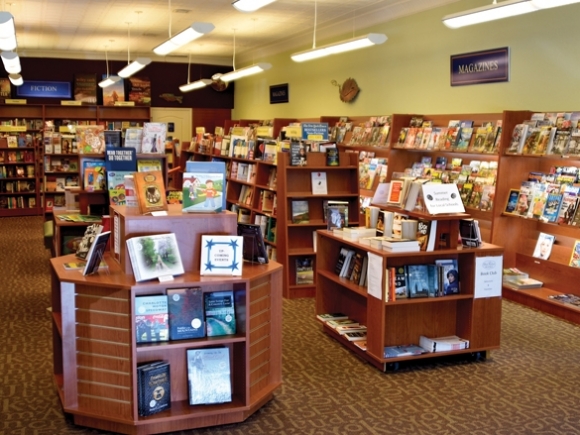 Sitting at a booth in the back of her store on recent morning, Allison Lee remembers the days long ago when her father ran a small-town business.
"My father was an independent store owner, a dime store, then later a hardware store," she recalled. "I grew up on a Main Street in a small town, and when I was young I worked for my parents. I learned to count back change, ring things up on the old register. And it always meant a lot to my family about who the customers were, and how you serve the community. When he passed away some 17 years ago, some of the first people to land on my mother's door were longtime customers."
Co-owner of Blue Ridge Books in downtown Waynesville, Lee has run the store with Jo Gilley for the last seven years. And as Blue Ridge Books celebrates 10 years of operation this month, Lee can't help but be thankful for the countless customers that look to the business as something of importance — economically, academically, and intrinsically.
"Ten years is a long time," Lee said. "Ten years is a long time in this day and age, in this economy, with technology and online purchasing. It's a long time for a Main Street business — and we're proud of that."
Finding herself in and out of the publishing industry throughout her life — working at a women's bookstore during graduate school in Durham and later at the highly-touted Quail Ridge Books in Raleigh — Lee sees the importance of what she and Gilley do, each and every day.
Of the many initiatives and partnerships Blue Ridge Books has garnered, none stand taller than the one with the Head Start programs in Haywood and Jackson counties. Atop the register at the bookstore, there's a change jar. And all of that change, along with generous donations from the Smoky Mountain Chess Club (which plays in the store every Thursday afternoon), has provided hundreds of books for young children.
"Each student has been able to take home three books a year, all purchased by our customers and using discounts," Lee smiled. "And the kids learn about how you care for a book, how you open a book, and how you read a story — it's so important to get children reading early on."
So, what about the "Amazon question"?
"I remember working in Raleigh when the first big box stores arrived. How do you stay in business when you have these big box bookstores? Well, you focus on what you do, and what you do well," Lee emphasized. "[With Amazon], it is what it is, and people are going to make decisions on the priorities they have, and to the ability that you are able to buy within your community is so very helpful. Amazon can track your purchases and try to suggest things by some algorithm, but it's never going to be like somebody that knows you. We have customers where over the years I'd help choose their Christmas gifts for their grandchildren, and it's because I've known their family for years."
When asked about what, perhaps, her hopes are for the next decade at Blue Ridge Books, Lee is quick to respond, with a smile and glint in her eye of someone who's genuinely tapped into her surroundings.
"We love coming to work, we really do," Lee said. "It's about being led by your love of books, trying to respond the best you can to your customers, and knowing who your customers are — what they want, what they need, and how to be involved in the community.
Want to go?
In celebration of its 10th birthday, Blue Ridge Books in Waynesville will host an array of events throughout the month of July, including a special event with New York Times bestselling author and Western Carolina University Professor Ron Rash on July 25.
• 1 p.m. Tuesday, July 11: "Mountain Writers of North Carolina — Reading and Writing to be Relevant." The Mountain Writers meet each month at Blue Ridge Books. Anyone interested in writing is welcome to come to the celebration and join the discussion on relating to your reader in today's world. The conversation will be led by Shane McElrath, MA, lecturer in English at WCU. Cake will be served.
• 10 a.m. to 2 p.m. Wednesday, July 12: "Hand-made Ecuadorian Treasures — READ Sale." READ stands for "Rural Education, Advancement and Development" and is a nonprofit organization. Come browse and purchase items (jewelry, alpaca blankets and more) made by the indigenous people of the rural Andean Region of Ecuador. All proceeds will go to supply libraries in that area.
• Thursday, July 13: "It's a Party!" The official 10th birthday of Blue Ridge Books. There will be free cake and coffee all day until they run out.
• Friday, July 14: "Indoor Yard Sale!" Don't miss the opportunity to stock up on some great bargain books and more.
• Saturday, July 15: "Share the Love of the Smokies" The Friends of the Smokies welcome Daniel S. Pierce, author of Hazel Creek: The Life and Death of an Iconic Mountain Community. Dr. Pierce will discuss the once thriving community of Hazel Creek and how it vanished as the Great Smoky Mountains National Park was established.
• Sunday, July 16: "Get a 'Head Start' on Reading." For the past few years, Blue Ridge Books customers have donated pennies, dollars and more to help purchase books for children enrolled in Head Start in Haywood and Jackson counties. The bookstore has also donated hundreds of books for the children to take home and now invites you to help purchase books for the classrooms. Just purchase a book to donate from the Head Start display and they'll discount your entire purchase.
• 11 a.m. Monday, July 17: "Barks and Books." Come meet Blue Ridge Books' furry friends — therapy dogs, Julip, Mavis and Raya Sunshine. Blue Ridge Books loves dogs, and are inviting dog lovers of all ages to come and meet these wonderful working animals. Children may choose to bring a book and read a story to a dog or just come to meet these loving pooches.
• 6:30 p.m. Tuesday, July 18: "Book Club Bash." The Haywood County Public Library has helped Blue Ridge Books plan an evening for book club members (although all book lovers are welcome). They will welcome Eric Svenson, who was raised in the book business and has worked for HarperCollins publishers for over 25 years. Svenson will give a sneak preview of books that will be released in the fall and bring lots of prizes.
• 3 p.m. Wednesday, July 19: "An Afternoon with a Scientist!" Join children's science author and college biology instructor Dawn Cusick for a time of science exploration for children. Cusick will be joined and helped by the women from Parents as Teachers, who specialize in learning activities for the very young.
• 1 to 4 p.m. Thursday, July 20: "Free Chess Lessons for All Ages and Levels of Players." Every Thursday afternoon you'll find members of the Smoky Mountain Chess Club playing Chess in Blue Ridge Books meeting room — friendly games, rated games and sometime tournament play. At this event, the members will offer free chess lessons to anyone with an interest in the game. If you already know how to play, come and challenge one of the most experienced players.
• 11 a.m. Tuesday, July 25: "Ron Rash reading." Rash will be at Blue Ridge Books to help celebrate its anniversary and also the release of his novel, The Risen, in paperback. Rash will read, answer your questions, and sign books. Blue Ridge Books will have copies of all of Rash's books available for purchase.
www.blueridgebooksnc.com or 828.456.6000.