Archived News
Frog Level facelift: Funds flowing into streetscaping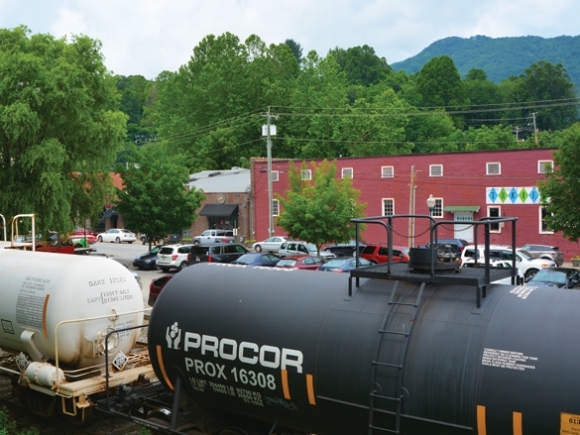 With all the attention paid to downtown Waynesville's bustling Main Street, the Frog Level Historic District is often overlooked by tourists and the town board alike.
But that could all change as a slate of improvements scheduled for forgotten Frog Level could signal the resurgence of a community ripe with potential.
"Main Street [and the Downtown Waynesville Association] does a good job, but we want to give people the opportunity to understand that there is life in Waynesville off of Main Street," said Mel Fergenbaum, president of the Historic Frog Level Merchants Association.
Located just downhill from Main Street — literally and figuratively — the small business district centered around Commerce and Depot streets is home to the highly-regarded Panacea Coffeehouse as well as one of the area's best creekside drinking spots at Frog Level Brewing.
Frog Level, however, isn't part of the DWA, and likely never will be; its tax base is much lower than the DWA's, meaning that large-scale improvements are few and far between and incorporation into the DWA would drain resources away from the very Main Street merchants who fund it — a tough sell.
One glaring need for years in Frog Level has been the Commerce Street parking lot that abuts the Blue Ridge Southern Railroad tracks that support nearby Giles Chemical.
Waynesville Town Manager Rob Hites recently renegotiated the town's lease on the lot — last done with the Norfolk and Southern Railroad back in 1992.
That lease was $200 per month on a month-to-month basis even after Norfolk and Southern sold the track to BRSR, according to Hites; the new lease with BRSR has a term of 10 years at $167 a month with a three-year, 3 percent escalator — just enough to cover BRSR's property taxes on the lot.
After 10 years, the contract becomes month-to-month, but BRSR could only break the lease if it were to install another track, assuring town officials that improvements made to the property could be justified.
"They can't just come in after we've done the work and take the property back and park a semi truck on it or use it for storage," said Hites.
Town Engineer Preston Gregg has been directed to begin costing out grading, paving and a decorative fence meant to separate pedestrians from the railroad tracks, but will also have to solve an engineering challenge relating to the increased rainwater runoff expected when the gravel lot becomes pavement.
Although work wouldn't commence until after tourist season is over, Fergenbaum thinks the upgraded parking lot will be a game-changer for Frog Level.
"As far as tourists go, we want to project the image of a safe and historic place," he said.
Aldermen approved the new lease June 27, at the same meeting where the town's 2017-18 budget was adopted; within that budget's special allocations was another fortuitous Frog Level first — $4,500 (see Spending, page 15).
Fergenbaum thinks it's the first-ever grant from the town to his merchants association, and town records seem to agree.
"There are a couple of things we have that earmarked for," he said, adding that decisions would probably be made at an upcoming association board meeting but they were likely to be of the beautification and streetscaping variety.
The grant is notable not only in that it's Frog Level Merchants' first from the town, but also that it comes in a tight budget year that also saw reduced special allocation funding to the DWA from $17,000 in 2016-17 to $14,000 in 2017-18.
The Frog Level parking lot makeover is similar to an ongoing effort in Waynesville's Hazelwood neighborhood that will bring lights, restrooms and public art as well as a pave job and chargers for electric cars.
Both efforts — located a ways away from the retail/tourism powerhouse that is downtown Waynesville's Main Street — signal a new effort by the town to augment other urban cores.
"Whatever we do in Frog Level," Fergenbaum said, "it will benefit the town of Waynesville and Haywood County as a whole."