Archived Opinion
Long may they sing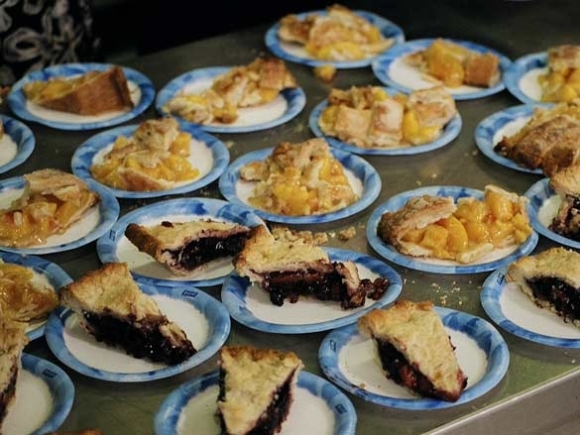 It's a Saturday night in Sparta, and the three sisters — all of them widows — are heading off to church in Cherry Lane for a singing. The kids and I just rolled into town for a family reunion on my mother's side, but that's not until Sunday afternoon, which gives us the evening and Sunday morning to visit with Janie and Louise and Lillie, all three of them sisters of my late father. But first, they're going to Cherry Lane to sing hymns.
When we get to Janie's house, she has a huge spread already laid out on the kitchen counter: half a dozen or so barbecued chicken halves wrapped in tin foil from the VFW, a platter of deviled eggs, some cut-up cucumbers, a bowl of pork and beans, a plate of sliced tomatoes, a big bowl of slaw, and a chocolate pound cake.
There is enough food here to feed a football team, but Janie tells us if there's not enough, there is plenty of meat in the fridge to make sandwiches and to make ourselves at home. If we haven't had our cake by the time they get back from church, maybe we'll have cake and ice cream.
"You know that Lillie," she says. "She's going to want to have her some cake and ice cream."
Lillie, now in her mid-80s, is the oldest of the three sisters. She lives a few miles down the road off Highway 18 in a little community called Vox, where they all grew up. A good many of our people still live there, and a good many are buried there. When I was a kid, I stayed with Lillie and Uncle Elgin every so often. Around mid-morning, Lillie would make us giant bowls of popcorn, and we would sit and eat it with bottles of Dr. Pepper while we watched "Dialing for Dollars" and "Let's Make a Deal" on TV. Elgin was out building houses and Betty and Diane, their two daughters, spent all their summer days lying out in the sun listening to FM radio.
Lillie always kept ice cream sandwiches, which we ate a little later in the day, when it was hottest. She really has always loved her ice cream.
Janie bought her house, which is no more than six miles or so up the road, a few years ago and had it completely remodeled. She has a sprawling lot with a breathtaking panoramic view of the rolling countryside. After we ate dinner, the kids and I ventured outside to explore and soak it all in. We bunched up on the porch swing and made the requisite selfie to send to back to mom, who stayed back home to work on some projects and enjoy a little "quiet time." Then we each went our separate ways. Jack commenced to climbing an enormous oak tree with a boost from a picnic table, and Kayden disappeared inside to call her boyfriend in New Jersey.
I wandered over to the edge of the yard where the mowing stopped, and stood transfixed by the majesty of the view. A hawk wheeled over the valley, marking a parenthesis on one side of the mountain. A herd of cattle was scattered across the mountainside, most of them grazing in their places. A couple of calves suddenly scampered up the hill in their spritely way, while an old bull about a hundred yards down the hill away from the others bellowed some complaint underneath the quarter moon, waited a beat, and then bellowed again.
Everything about this moment, here in the mountain twilight, was perfect. Every detail, every sensation. The music of rural country life, the birds and the cattle, the wind tousling the leaves, a boy kicking a soccer ball to his brother behind their family's brick rancher a mile away, shouting some epithet that would not translate across the valley and then laughing about it. I thanked God for this place, and these women, and this moment, and … my son shouted from his position high in the oak tree.
"Hey, Dad, let's go down to the creek," he said. "I'll show you where we built the dam."
The dam turned out to be a few pieces of dried wood and a couple of fair-sized river rocks stuffed in a narrow spot in the stream, much like the dams I once constructed with my cousins decades ago. I bragged on it for a minute or two, and then we turned over some smaller rocks looking for crawdads until we could hear noise back up at the house. By the time we made the long trek back up the hill and around the bend, the sisters were inside plating up the cake and spooning out the ice cream.
After Louise and Lillie left, Janie and I stayed up pretty late, just sitting there at her kitchen table sharing stories about the family, about my father especially, gone now nearly 17 years. He never could sit still, was always on the go. Was his daddy the same way? He died when I was just 9 years old, and there is so much I can't remember about him. Janie told me that he was just the same, always on the go, walking when he couldn't drive anymore. We stayed up closed to midnight, laughing with watery eyes as the memories flooded back.
On Sunday morning, Janie fixed us some eggs, sausage, and biscuits, and we went with her down to Pleasant Home Baptist Church, where my family has been going to church for more than 50 years. Never a big church to begin with, the attendance has dwindled in recent years, a trend in a lot of rural churches. Including the kids and I, there were 13 souls there for the Sunday morning service. We stood in a semicircle in front of the altar and sang some old hymns. Then we sang happy birthday to my Aunt Evalena, and then my Aunt Louise read from the Book of Psalms.
After church, my daughter and I walked behind the church and into the cemetery to visit the graves of my father, my Uncle Elgin, and my grandmother and grandfather. I told her a few stories as I brushed traces of lichen from my dad's headstone and fluffed up some yellow plastic flowers left over from Decoration Day.
"We better get going, Dad," my daughter said. "The reunion is starting pretty soon."
Yep, got to keep moving. The Cox men would surely understand. And so would these sisters, who still abide in their perfect little corner of God's creation. Long may they sing.
(Chris Cox is a writer and teacher. He can be reached at This email address is being protected from spambots. You need JavaScript enabled to view it.)