Archived News
Win some, lose some: State's education spending gets mixed reviews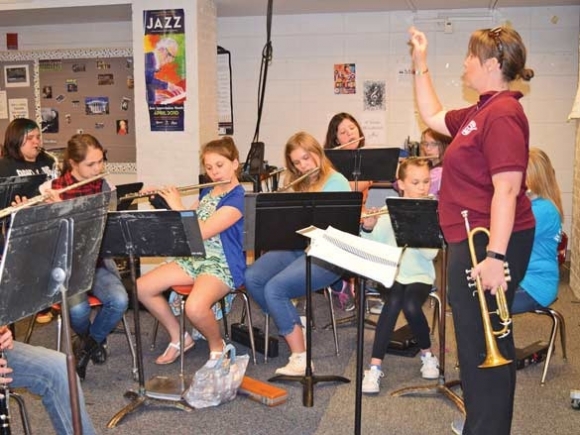 A legislative majority of House and Senate members have reached a state budget agreement, one that is providing nearly $700 million more in public education spending over the next two years — but not everyone is happy with where that funding is going.
"The budget deal proposed by the legislative majority damages public schools by doubling down on tax cuts for the wealthy and large corporations, siphoning off more money for private school vouchers, and shortchanging many of our educators who work hard every day to ensure our students are successful," said Mark Jewell, president of the North Carolina Association of Educators. "Thousands of educators will pay more in skyrocketing health insurance premiums than they will receive in a raise. Just like Gov. Cooper, we are disappointed in this budget deal."
A host of education spending priorities were hotly debated this year, among them teacher pay, classroom size requirements, fair funding formulas, school vouchers and charter school funding. As of press time Tuesday, Gov. Roy Cooper had vetoed the budget, though an override vote from the General Assembly is all-but certain.
"With a budget that increases education funding in North Carolina by almost a billion dollars, it is absurd that the governor would veto this bill," Rep. Michele Presnell, R-Burnsville, said Tuesday in her weekly email update.
But a compromised budget agreement means no one gets everything they want. Rep. Mike Clampitt, R-Bryson City, who completed his first budget cycle this year, said this year's budget is a step in the right direction for Western North Carolina as well as the rest of the state.
"I think the budget is overall good for North Carolina," Clampitt said Monday. "We had some positive impact items in education spending — an increase in teacher pay and an increase in principal and assistant principal pay. We also passed a measure to address the overcrowding in classrooms."
K-12 school funding
Rep. Kevin Corbin, R-Franklin, also went through his first budget cycle in Raleigh after being elected last fall. As a former school board chairman and commissioner in Macon County, education funding was a top priority for Corbin. While not all of his education bills made it into the budget, he was able to get more funding for K-12 schools in the state — two of which are located in Macon County.
These isolated schools — Highlands School and Nantahala School — have a low student population, which means the per pupil allotment provided by the state isn't enough to cover the number of teachers truly needed for each classroom. Busing kids to Franklin from Highlands or Nantahala isn't feasible either given the terrain and winter weather, but legislators to the east have a hard time grasping that obstacle.
Corbin's bill would have appropriated $1,527,006 for the 2017-18 fiscal year and $1,527,006 for the 2018-19 fiscal year to implement, and the compromised budget came fairly close to meeting his goal by providing $1.4 million over two years for K-12 schools.
Corbin also introduced a bill to give local school systems more control over their calendar schedules instead of being constrained by the state's requirements of when to start and end classes. But as in years passed, the measure wasn't able to make it out of committee.
Classroom constraints
Since gaining the majority in the General Assembly in 2011, Republican legislators in Raleigh have been pushing for smaller classroom sizes, especially in kindergarten through third grade, as a way to improve student performance. The Legislature passed a bill last year restricting K-3 class sizes to no more than 18 students in a kindergarten class, 16 in first grade and 17 in second and third grade.
Smaller class sizes sound great in theory, but without more funding guaranteed from the state, the new requirement would mean local school systems would have to pull money from local coffers to hire more teachers.
Under the 2016 legislation, Haywood County Schools was looking at the possibility of having to hire 10 new teachers for the 2017-18 school year. Macon County Schools were also looking at the additional expense of teachers plus trying to figure out how to cram more classrooms into its elementary schools that are already at capacity.
Other schools were worried they wouldn't be able to fund "extras" like teachers for music, P.E. and art without additional funding from the state to cover the curriculum teachers needed. It costs Haywood County Schools $928,000 a year to cover salaries and benefits for 17 music, art and P.E. teachers.
Corbin introduced House Bill 13 to give school districts more flexibility with class size in K-3 by allowing a classroom to exceed the state maximum by no more than six students. School districts were all on pins and needles waiting for the outcome of the bill before completing their budgets, but ultimately a compromise was reached.
Under the compromise legislation, school districts will basically have one more year to meet the more stringent classroom size reductions passed in 2016. The new law also calls for more accountability by creating a system of reporting on whether the requirements are being met in the classrooms. That reporting can also result in additional funding for local systems.
Dr. Bill Nolte, associate superintendent for Haywood County Schools, says the school system will now only need to hire four to five teachers for 2017-18 school year and that administrators have no problem with the required state reporting.
"I was encouraged that the Senate actually went back and gave us a transition year," Nolte said. "They put in the bill that they would gather info on what we fund for art, music, and P.E. and fund that separately to keep us from having to do that."
Teacher pay
Clampitt said the budget continues a plan that was launched by former Gov. Pat McCrory to boost teacher pay by 3.3 percent in the first year, and 9.6 percent over two years.
This year's budget includes $204 million to increase teacher pay, and many mid-career teachers will see an average 3.3 percent raise. Legislators hope the increase will help North Carolina improve recruitment and retention levels as well as improve its national standing for teacher pay — the state is currently ranked 41st in average teacher pay.
"Our budget gives teachers an average 10 percent pay raise over the next two years. $142.8 million more will go to teacher salaries in 2017-18 than was spent this year, as well as an additional $420.1 million in 2018-19," Presnell said.
Gov. Cooper said he would like to increase and broaden teacher pay raises, including for both new and veteran teachers, and include a classroom supply stipend as he included in his proposed budget.
School vouchers
The budget has been deemed a win for school choice advocates with more funding dedicated to private school vouchers and education savings accounts. While the governor's proposed budget would have begun to phase out the private school voucher program, this year's budget compromise increases the Opportunity Scholarship Program, which provides public funds for low-income children to attend private schools, by $10 million for a total of $44.8 million in funding. Critics of private school vouchers and charter schools say that public dollars shouldn't go to private and public charters that don't have to meet the same accountability standards as traditional public schools, but supporters claim that parents should have more options for educating their children.
Lottery funds
The legislature did include a one-time $11 million expenditure in the budget for more textbooks and digital resources, but that still leaves funding well below what it was before the recession. Tax revenues are still being supplanted by revenues from the North Carolina Education Lottery, and local school districts aren't receiving the amount of lottery funds they were promised when the lottery system was launched in 2006.
While schools were promised they'd receive 40 percent of lottery revenues for capital projects, most schools say they've only received 17 to 20 percent in recent years as lottery money continues to be supplanted into the general fund.
"Lottery funds played a big part in the budget process this year," Clampitt said. "We changed the formula — it had been 24 percent net from lottery going to local counties and 66 percent for overhead. We're hopefully going to get it back to 40 percent funding (for counties) like it was originally funded."
This year's budget includes more than $100 million in lottery funds over two years to be directed to grants to rural counties for school building needs.
Pre-K funding
An additional $27 million has been budgeted over two years to increase the N.C. Pre-K program to reduce the extensive waiting lists that have formed over the last few years. The additional funding will create more than 3,500 new slots for pre-K students.
Higher education
While most attention was given to K-12 funding this year, the state legislature also had to figure out how to fund the N.C. Promise program that was passed during last year's budget session. The program created a $500 per semester cap on tuition for in-state students at three public universities in the state, including Western Carolina University in Cullowhee. The new tuition costs will begin to be implemented in 2018, which had WCU and the other universities nervous about funding and sustaining the new program.
The legislature established a reserve fund for N.C. Promise — $11 million is slated for 2018-19 to establish the reserve, while the total net appropriation is projected to be $51 million.
By the Numbers
Proposed education funding in the proposed state budget for 2017-18
K-12: $9,046,403,622
Community Colleges: $1,121,815,001
University System: $2,893,775,349
Total Education: $13,061,993,972