Doing business in Haywood County
What's in the cards: Manufacturing starts small, thinks big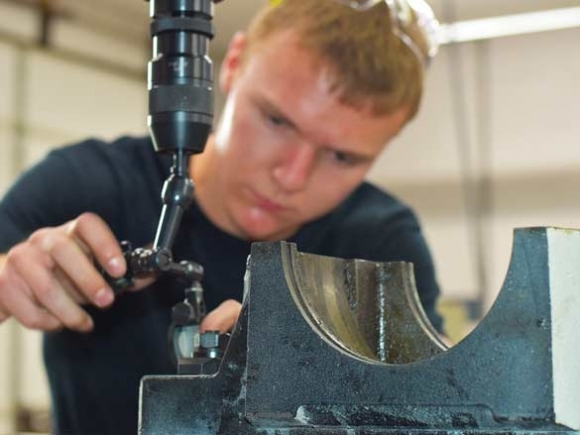 Inside a nondescript miniature warehouse off Carolina Boulevard, Drew Singleton hovers about an imposing, intimidating metalworking machine; adjusting a knob here, spinning a wheel there, tweaking an armature and then stopping to assess the situation, he pauses and looks up to re-check his settings.
"We're working on a big bearing housing," says Drew's dad, Chip, who is seated a few yards away but is nevertheless looking over his son's shoulder. "It's for Sonoco plastics in downtown Waynesville. Sometimes they get in a bind and have a machine go down and need some work done to get up and running as soon as possible, so when it comes to emergency stuff like that we put everything else on hold make sure we get them going."
Getting Haywood County's manufacturing economy going has been easier said than done in recent years, but after dramatic downturns prior to the late 1990s, things seem to have stabilized in what many consider the most important sector of the county's economy.
Chip Singleton's small business is a far cry from the single megalithic entity that has dominated Haywood County manufacturing for more than a century, but local economic developers know that the future of industry lies not only in operations like Evergreen Packaging in Canton, but also in Singleton's Custom CNC in Clyde.
Starting small and thinking big is the new manufacturing mantra. And as industry leaders struggle to attract and retain an educated, experienced workforce in an attractive, affordable location, they sometimes come to find that Haywood County's holding all the cards.
Heavy Metal
Squaring up to the machine, Drew Singleton makes one final adjustment to the heavy metal piece before he again looks up.
"It's a big bearing housing," said Drew, a student at Western Carolina University majoring in engineering technology. "It holds a giant 600-pound rotor that chips plastic."
The part he's working on for Sunoco is new, and also a bit too big; Drew will mill millimeters off its base to make it smaller, so that the 600-pound rotor and all its associated mechanisms will line up in synchronicity so Sonoco can get back to manufacturing a dizzying array of thermoformed plastic food trays, paper tubes and protective packaging for some of the world's biggest brands, like Energizer batteries and Campbell Soup.
"I like mechanical engineering, but engineering technology is something I'm more used to, because I like working with my hands — not just designing on the computer," he said. "I like being able to design and actually make the part."
Although he's presently engaged in making something big smaller, he's also making something small bigger; Drew's work for his father's company helps support that business, while also supporting Sonoco's and many like it.
The amount of economic activity associated with that single hunk of metal is almost fractal-esque in nature, infinitely branching out from the Singleton's shop in Clyde to a larger company in Waynesville to shippers, handlers, wholesalers, retailers and consumers across the world — and it's all in the hands of a 20-year-old.
But Drew is no ordinary 20-year-old; his dad, Chip, who co-owns the shop with business partner Jeff Franklin, teaches metals manufacturing at Pisgah High School and has been an important figure in the county's manufacturing industry for some time now — without many even knowing it.
This past spring, GE Aerospace's Rick Kennedy told The Smoky Mountain News that Asheville and the surrounding region — including Haywood County — was "the microcosm of a national crisis."
"We have jobs around the United States, but we don't have the people to fill them. We see this in aerospace all over the United States," Kennedy said. "You can't just walk in off the street and work at a General Electric plant. The equipment is getting more sophisticated, and so the challenge is getting people who are experienced in operating sophisticated equipment."
Kennedy happened to be at Pisgah High School April 26 on the occasion of a $100,000 check presentation from GE's CEO Jeff Immelt that, according to Haywood Schools Foundation's Jenny Wood Valliere, could be put towards equipment, training and possibly even curriculum expansion for Pisgah's metals and manufacturing program, which currently has a waiting list.
"Approximately 16 percent of all the employees of our Asheville operation graduate from this high school," Kennedy said.
Drew Singleton — bearing down on the bearing up on the hulking machine's deck — was a student in his father's class at Pisgah and looks to have a lucrative career ahead of him.
According to the N.C. Department of Commerce, the highest average weekly wage of all economic sectors in Haywood County in 2016 was in manufacturing.
Coming in at more than triple that of the lowest-ranking sector (leisure and hospitality) and 50 percent higher than Haywood's largest sector (service), the county's 53 manufacturing establishments pay on average $964 a week to almost 2,500 workers.
Those workers are probably laughing all the way to the bank; when Chip Singleton's dad was a student at Pisgah — and then well on through the late 1990s — students were pushed to pursue college degrees while vocational, technical and trade education was viewed as a last resort for the dimwitted or maladjusted.
As a glut of nearly worthless bachelor's and master's degrees hit the market following the Vietnam War, the newly-matriculated found themselves bound with fantastical debt and dim prospects for relevant employment.
Meanwhile, someone like Drew today will have earned more than $2 million in constant 2017 dollars over a 40-year career, not even taking into account inflation, raises or employer-matched retirement benefits.
To say the stigma surrounding the good old-fashioned manufacturing jobs that helped America win the largest global conflict in the history of humanity — World War II — is gone would not be completely accurate, but in a coffee shop packed with factory workers where every barista has a master's degree, it is.
Green Grass
Chip Singleton says all four or five of his employees are part-timers, including son Drew. They do "a little bit of everything" from repair work to prototypes.
"If it comes to metalworking, we can do it," Chip said.
Chip spent a number of years at Smiths Aerospace Components in Asheville — which later became GE — manufacturing parts for jet engines; thanks to that and to teaching high school students, he has a comprehensive view of the industry and is frank in his assessment of the modern manufacturing climate.
"You have to have a good building," he said of his start in business four years ago. "When we first started out, that was the hard part. We couldn't find floor space at a reasonable price."
Evergreen Packaging has never really had that problem; located in the heart of downtown Canton, "the mill" as it's called locally, has cast a colossal economic footprint upon the area since 1906 and sprawls across an impressive 185-acre site assessed at $20 million.
Its loss to the area would be backbreaking, just as its importance to the local economy cannot be understated; it is probably the county's largest employer, and has likely held that title most years since it opened in 1909.
Haywood Economic Development Council Executive Director Mark Clasby maintains that an aging supply of building stock in the commercial market presents a continuing challenge to businesses that, unlike Evergreen, are start-ups like Singleton's or are established businesses looking to find greener grass on the other side of a city, county or state fence.
Singleton was lucky enough to find the Carolina Boulevard unit, which he outgrew within a year. He expanded into the unit next door — adding a welding shop to his outfit — and was also able to purchase the building, gaining the third and final unit, which he rents to a similar business with which he sometimes works.
But just as a mushroom sprouts from an unbecoming yet fertile spot, the Beaverdam Industrial Park on Great Oak Drive in Canton sprouted up directly as the result of the demise of Dayco.
Founded in the early 1940s, Dayton Rubber Company's Hazelwood plant was a bankrupt brownfield by 2000, owed back taxes and was in need of environmental remediation.
Haywood County and the Town of Waynesville issued matching $650,000 grants to the Haywood Advancement Foundation — of which Clasby also serves as executive director — which then bought the property and flipped it to Walmart developers for $2.1 million.
Clasby and the foundation repaid both the county and the town, and plowed some of the profit into work at the Beaverdam Industrial Park.
Playing partially with house money, Clasby and the EDC created a solution to the type of challenge Singleton — and businesses far larger, like mid-sized manufacturers and BIP tenants AmeriPride and ConMet — faced in terms of space.
And the good news? There's still room up there on that panoramic hill north of Canton just off Interstate 40.
Given the supply — and the demand — of and for manufacturing professionals in Haywood County, it hopefully won't last long.
"You can get a job anywhere you want," said Drew Singleton. "You can go to GE, or Borg Warner, or a big company like that that hires lots of engineers. They're always looking for people that can do research and development work — not just design — and can actually make all the one-off parts and stuff like that."
Keeping well-paid young workers like Drew in Haywood County, where the rate of natural population increase is negative, is crucial to the very fiber of the community — economically, culturally and physically.
Chip Singleton's work — and the work of others like him at Tuscola High School, Haywood Community College and Western Carolina University — helps maintain and advance this important economic sector, just as Clasby's work at the EDC does; space remains available at Beaverdam, and Pisgah picked up another $15,000 donation for manufacturing scholarships just weeks after Immelt's presentation.
"I think it's very important," said Chip of the recognition given to manufacturing education in the county. "They're raising their families here, making good livings. Their kids end up in our school system, because they are staying here. They're paying taxes locally, and helping out the economy by spending their money in Haywood County."