Archived Arts & Entertainment
This must be the place: Ode to Lloyd, ode to the faces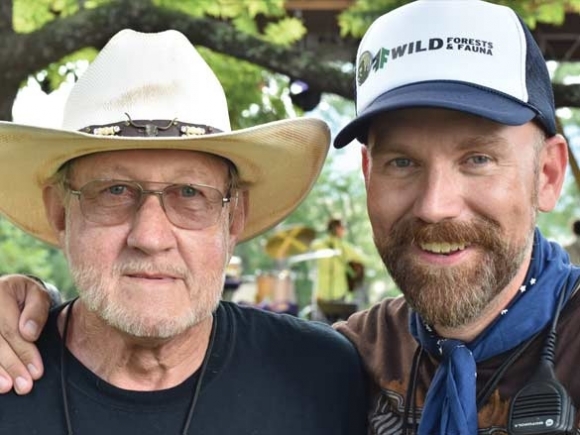 It's the hardest part of this gig.
As a journalist for just about a decade, I've been lucky enough to interview and photograph hundreds of folks, from all walks of life, that, perhaps, I may have never had the chance to interact with had I pursued another career path.
And the toughest thing about doing this is seeing these incredible faces and voices disappear six feet under the cold ground beneath your feet. All that knowledge and wisdom, all those stories and laughs, gone in an instant, but never forgotten, at least in the hearts of those that knew and loved them.
Sure, there are all kinds of sectors within journalism (political, education, etc.), but I've always felt there's a special thing in being involved in the arts and feature stories. With the arts and "John Q. Public" features, you're dealing with the idea of "passion," where you're meeting somebody who does something, either really well or has done it for a long time (or both).
With writing about passion, you track down these strangers in your community or by happenstance, and find out just what makes them tick within about five minutes of your first interaction. For some, that seems like an odd, maybe even daunting task, but I sincerely live for it. I revel in the notion that this human being standing before you does something unique or indescribable, and there you are, recorder and camera in hand, ready to capture their essence, the magic they possess and share with the world.
Last week, a friend of mine passed away after a brief, yet traumatic illness — Lloyd Johnson, beloved in bluegrass circles around the world. While covering the Jam In The Trees festival last year at Pisgah Brewing (Black Mountain), I befriended the festival organizer, Steve Johnson. And while backstage, he introduced me to his dad, Lloyd.
While Steve and everybody were running around at the festival, Lloyd and I ended up talking for quite a while. A longtime bluegrass lover, and also someone personally and professionally involved in the music industry, he was as funny as he was wise (and boy was he hilarious). He told me great stories about spending time with Bill Monroe, the "Father of Bluegrass," and many other tall tales.
The last time I crossed paths with Lloyd was backstage at Merlefest in Wilkesboro in late April. A big smile and warm hello, followed by a firm handshake, all signature moves of Lloyd. He was happy to hear about my bluegrass book being published, to which I was soon handed a jar of moonshine for a couple sips, with a slight grin rolling across his face when he said, "Here, you didn't get this from me." I may have only known him for a year, but Lloyd was the kind of person you truly felt like you'd known your whole life, a kindred spirit in the grand scheme of things.
And throughout my years writing and roaming this rolling landscape we call America, I've seen so many of those once-in-a-lifetime faces disappear from the daily conversation. But, not from my memory, at least. All of them have left an everlasting impact on my life and how I see and make sense of the great mystery that is life in this largely unknown universe.
There was Verl Bagley, the 90-something Mormon farmer in the Teton Valley of Eastern Idaho. I crossed paths with Verl when I was looking for someone interesting to write about. In the same vein as the book Tuesdays with Morrie, I started a weekly column for the Teton Valley News (my first job out of college) aptly titled, "Thursdays with Verl."
Each week, I'd go over to Verl's house and have lunch, this great big ole homestead in the high desert of the Rocky Mountains. We'd talk about him seeing the first automobile roll into Teton Valley, cruising around in a horse-drawn sleigh or what life was like during The Great Depression. The column continued for several years after I left Idaho, and I was saddened when I heard he eventually passed away, but not before he became a local celebrity when he released a book of our columns.
Then, there were the ladies of my mother's decades-long "Gourmet Club," whose monthly culinary gatherings I wrote about for my hometown newspaper when the economy tanked and I was scraping by for work following Idaho. Many of those wild and wonderful women I wrote about are no longer with us. But, I felt honored to have known them for so long, and also to have interviewed them about just what made these gatherings so special, or memorable.
"I remember my first dish," the late Pat Glaude chuckled. "It was Cornish pasties. I got annoyed because they were getting cold, and no one was eating them."
And there are all those musicians — now gone — that I'd spent years trying to land an interview with. Names like Scott Weiland of Stone Temple Pilots and Butch Trucks of The Allman Brothers Band.
"What I'm really enjoying is that my youngest daughter just had a child, and I'm sitting here [in Florida] with my blood pressure as low as it's been in decades because I get to rock him to sleep every night," Trucks told me. "You know, sometime when he grows up he's going to wonder why the second movement of Dvorak's Ninth Symphony resonates so much, and that's because I sing it to him every night."
Life is beautiful, grasp for it, y'all.
Hot picks
1 The annual "Week of Rock" celebration returns June 30 through July 8 at Nantahala Brewing in Bryson City.
2 Acclaimed Nashville artist Shawn Camp will perform at 8 p.m. Monday, July 3, at Cataloochee Guest Ranch in Maggie Valley.
3 The Eastern Band of Cherokee Indians' 42th annual "POW WOW" will be held June 30-July 2 at the Acquoni Expo Center.
4 Bluegrass act Unspoken Tradition will perform at 8 p.m. Saturday, July 1, at The Strand at 38 Main in Waynesville.
5 Rock/Americana act Andalyn will perform during the Groovin' on the Green concert series at 6:30 p.m. Friday, June 30, at The Village Green in Cashiers.